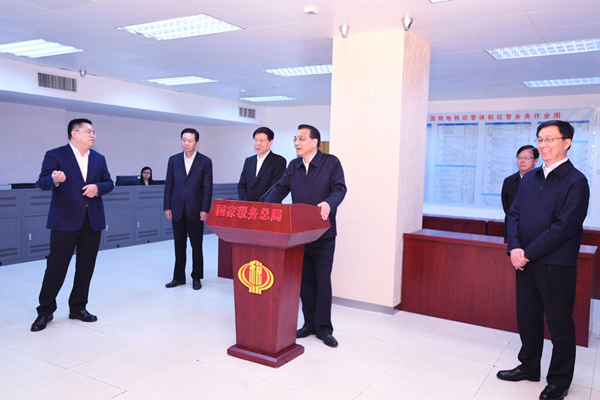 Premier Li Keqiang visited the Ministry of Finance and the State Taxation Administration on March 21, to learn about progress in large-scale tax cuts.
It was the first visit by the Premier to government departments since the wrap up of the two sessions this year, the annual meetings of the national legislature and the top political advisory body.
In the Government Work Report this year, it was proposed that the government will provide more incentives for market players by implementing larger-scale tax cuts, promoting value-added tax (VAT) reform, and reducing the VAT rates, which will take effect starting April 1.
At the State Council executive meeting held on March 20, annual targets and tasks were detailed to different departments, and support measures for VAT cuts were announced.
The visit by the Premier came as an encouragement to the two departments, which are responsible for the implementation of tax cuts.
Vice-Premier Han Zheng and State Councilor Xiao Jie also joined the visit.