The Chinese government will issue a series of action plans and policies based on the Foreign Investment Law, step up protection of intellectual property rights, and shrink the negative list, Premier Li Keqiang said on March 25.
"The reason we replaced the current regulations on foreign investment with the Foreign Investment Law is that we want to better protect foreign investors' rights with the rule of law, treat them on the competitive neutrality principle, and adopt a pre-establishment national treatment plus negative list," he said.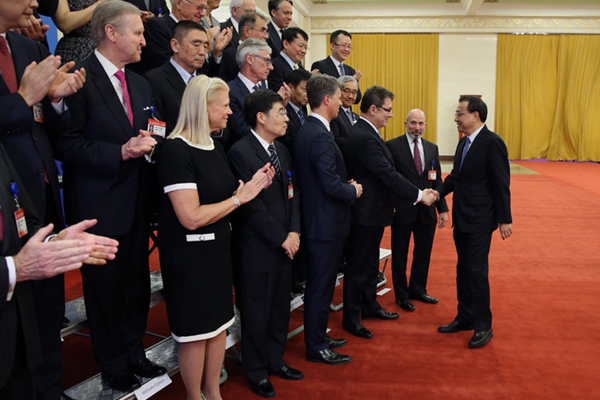 The Premier made the remarks while meeting with overseas attendees of the China Development Forum 2019, which included Fortune 500 business leaders, renowned researchers, and delegates from international organizations.
"It is the 12th time that I have attended the forum, so I can be seen as a long-time collaborator," he said.
When asked about how the Chinese government sees self-driving and promotes innovation, Premier Li said, "We have no other option but to open our arms to it," as self-driving is both an opportunity and challenge in the new-round industrial revolution, like many other new technologies and industries.
The Chinese government takes an inclusive and prudent attitude on innovation in terms of oversight, the Premier said. We will allow abundant room for development of new technologies and industries, but at the same time, correct their problems and ensure public safety, he added.
"China missed advanced technologies many times during modern history. We won't let that happen again," he said.
Albert Bourla, CEO of Pfizer, raised the question of how the Chinese government would provide incentives to pharmaceutical innovation while trying to improve the accessibility of medicine for severe illnesses such as cancer and rare diseases.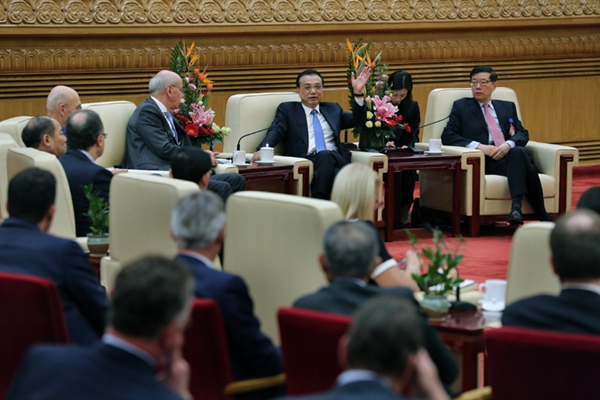 Premier Li said that the Chinese government has taken a series of actions to ease the burden of cancer patients since last year, including abolishing tariffs for anti-cancer drugs, accelerating registration and approval of new anti-cancer drugs, and cutting the price of 17 anti-cancer drugs and including them in healthcare insurance.
"Those actions have not only offered more freedom of choice for patients, but also stimulated domestic companies' passion for drug research," he said.
The Premier said China will continue to make healthcare insurance better, enable more patients to use the drugs they really need, and ease their economic burden.
Jean-Sebastien Jacques, chief executive of mining magnate Rio Tinto, asked, "This year, the Government Work Report conveys an optimistic prospect for China's economy, but how will foreign enterprises share the achievements with China in the short, medium or long term?"
Premier Li said although the report presented a positive outlook, the government keeps a clear view as the economy is still facing many challenges.
In the face of downward pressure, China will roll out more measures in tax and fee cuts and cultivate new growth engines instead of expanding the deficit and relaxing monetary policy, the Premier said. "With reform and opening-up, we will focus our efforts to stimulate the market to make sure the economy operates within a proper range."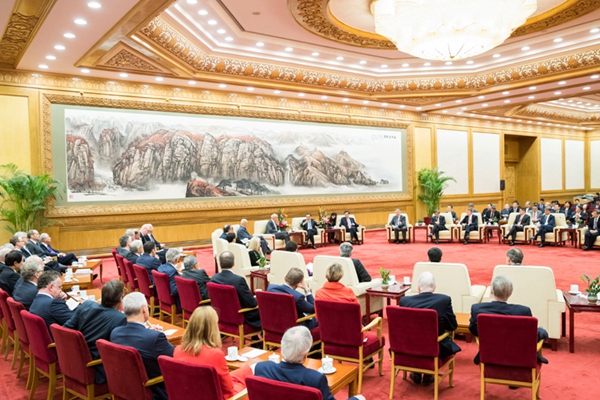 The door has already been opened, and Chinese consumers' will of free choice is unstoppable. Therefore China will step up creating an international, market-oriented and law-based environment for businesses. "I believe, at present or in the future, in short term or long, you will share more benefits in China," the Premier said.
In answering how to break up monopolies, Premier Li said equal opportunities matter a lot to the market economy, which requires fair supervision from the government. Only in this way market vitality can be unleashed and social justice can be guaranteed.
Premier Li also said China welcomes foreign venture capital, and regulations will soon be formulated to protect the legitimate interests of those investors.
Responding to a Sino-US trade issue raised by a professor from the National University of Singapore, the Premier said that Chinese and US economies are highly complementary in spite of some problems. Bilateral cooperation in industrial and trade chains should keep improving for win-win results.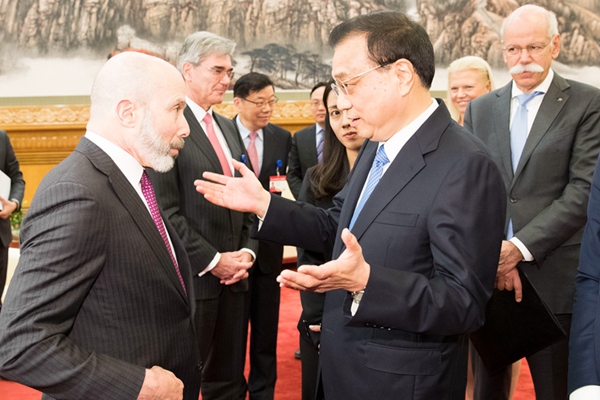 The last question was from Ben van Beurden, CEO of Royal Dutch Shell, an international energy company. He first expressed his condolences over the victims of the big explosion on March 21 in Tianjiayi Chemical Co Ltd in Xiangshui county, East China's Jiangsu province. Then he asked how the Chinese government will enhance security supervision in the future.
The State Council dispatched an investigation team the day of the accident. No matter what they find out, one thing that needs much attention is that security supervision must be a priority, as the chemical industry is high-risk, the Premier stressed.
If there was a human factor contributing to the accident, harsh penalties will be wielded. "Otherwise," the Premier said, "we will be ashamed to the souls of the departed and their bereaved families, and the development of the whole industry will be affected."
Premier Li said that China will conduct stricter security checks to eliminate hazards and formulate more stringent regulations. And China welcomes overseas advanced chemical firms to set up sole proprietorships or joint ventures to bring China their advanced security management experiences.
"We welcome enterprises from all over the world to invest in China and scholars to give suggestions on China's cooperation with the world," Premier Li added.