China will not take strong stimulus measures to boost short-term economic growth that may harm long-term development, Premier Li Keqiang said on March 28.
Instead, it will look to reform and opening-up and energizing market players, in order to maintain the long-term momentum of economic growth, the Premier said at the opening plenary of the Boao Forum for Asia (BFA) annual conference held in China's southern island province of Hainan.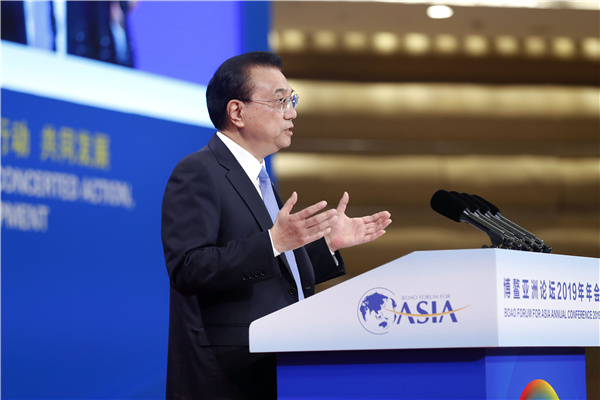 "We will for sure deliver the promise of larger-scale tax and fee cuts, which is a crucial measure to energize the market and tackle downward pressures of the economy," he said.
The tax cuts and reduction in employers' social insurance premium payments this year would cut companies' burden by nearly 2 trillion yuan ($297.9 billion), which is good news for enterprises but pressure for the government, he said, adding that governments at all levels must cut expenditures and manage existing assets and funds to support tax and fee cuts.
Premier Li said that China's economy has been operating smoothly since the start of this year, with some positive changes emerging and market expectations being remarkably improved.
According to the Premier, data from the first two months showed that major economic indicators, such as employment, consumer prices, and international balance of payments, have been relatively stable; fixed asset investment has recovered steadily; indexes of consumer confidence and new orders in the manufacturing industry have increased; and transactions in the capital market have been active.
In March, the growth rate of average daily power generation and consumption reached double digits, and the increase in imports, exports and freight volume were accelerated, Premier Li said.
The Premier also mentioned that China's economy is facing increasing factors of uncertainties and externally generated risks this year. He said that some fluctuations in monthly or quarterly economic growth could not be ruled out, but China has enough policy tools.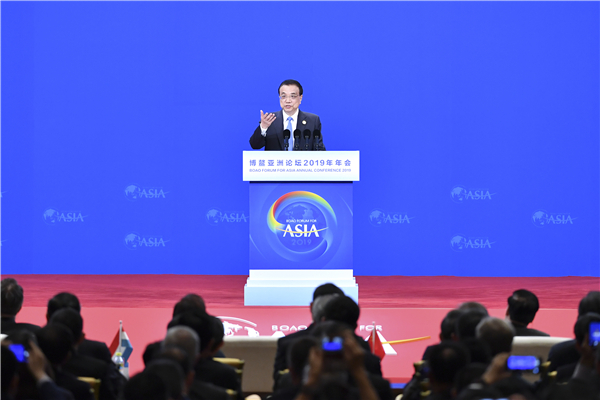 Developing together
In the speech, Premier Li also commented on the cooperation of Asian and world economies. He said that all parties can develop together through cooperation, defend the international system with the United Nations at its core and the multilateral trade system based on rules.
China supports free trade as well as fair trade, he said, urging reform of the global governance system to make it more just and equitable. But it should not aim to start a new structure, or to serve the interests of the minority, but to seek the broadest possible consensus, he said.
The Premier also reconfirmed China's support of reforming the World Trade Organization, while maintaining that its basic principles and core values must be reserved.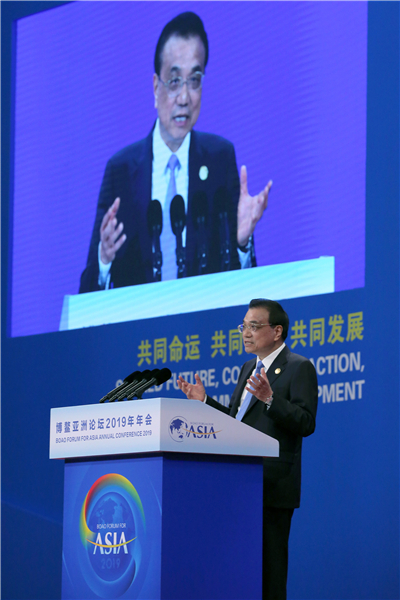 On the current world economy, Premier Li said that the growth rate is slowing down and driving forces are weakening, which results in unstable market confidence.
Although challenges and obstacles should not be underestimated, it is unnecessary to be pessimistic because there are still many positive factors, he said.
On the cooperation of Asian countries, he urged all parties to reach a win-win deal on the Regional Comprehensive Economic Partnership (RCEP) as soon as possible and build a more energetic Asian market.
He called for Asian countries to link their development strategies with the Belt and Road Initiative and create an open, fair, transparent and predictable business environment together.
China is willing to join Asian countries to address challenges and risks and expand development room, the Premier said.