Premier Li Keqiang held talks with more than 200 representatives attending the Boao Forum for Asia annual conference on March 28. The representatives were renowned figures from all walks of life, including the commercial, industrial and financial sectors as well as media and think tanks.
Leif Johansson, chairman of AstraZeneca, a British biopharmaceutical company, said the strong will of the Chinese government to deepen reform and opening-up is exciting. As a pharmaceutical company, it is willing to take China as an important part of a global strategy and it hopes to learn more about China's policies and measures in medicines and healthcare.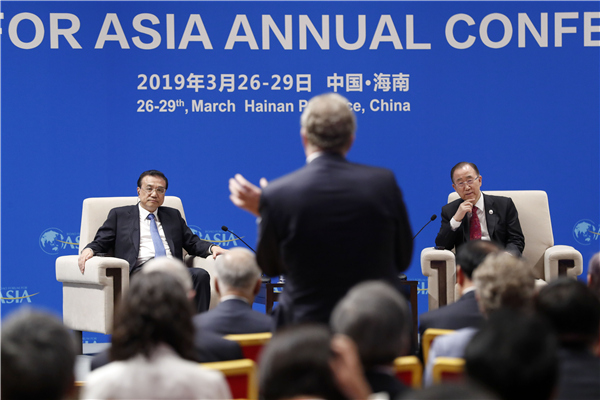 Carrying on reform and opening-up is the Chinese people's own choice, Premier Li said. Over the past 40 years, the Chinese people have enjoyed real benefits from the move, so the door will only open wider. "There is large potential in the Chinese medical market, and you are welcomed to expand research input here to develop safe medicines suitable for the Chinese people," he said.
The Chinese government treats domestic and foreign enterprises equally and protects intellectual property rights according to the law. And the government is committed to cutting the approval time for medicines to make them accessible to patients as soon as possible, the Premier said.
Myron Brilliant, executive vice-president and head of international affairs at the US Chamber of Commerce, said that China-US ties call for strengthened cooperation, enhanced mutual trust, and an urgent consensus on economy and trade with practical implementation.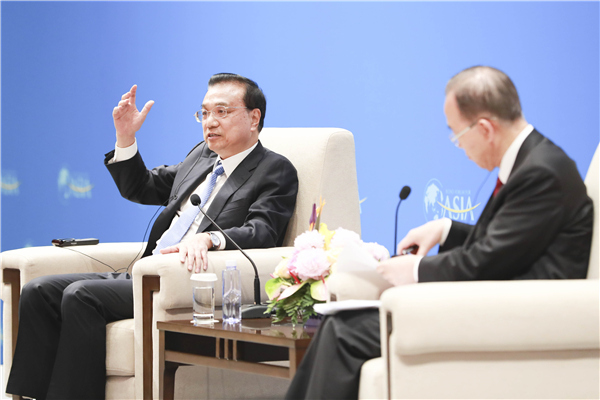 China-US relations, Premier Li said, have made momentous achievements over the past 40 years despite ups and downs, greatly contributing to the stability and development of the world as well as the well-being of both peoples.
Though the two parties do not always see eye to eye with one another, dialogues and cooperation remain in the mainstream, the Premier said.
According to the consensus reached by the heads of China and the US, both sides are making positive results after several rounds of negotiations based on mutual respect and reciprocation.
That serves both peoples' interests and is also the unanimous expectation of the world.
Takeshi Uchiyamada, chairman of Toyota, while recalling Premier Li's visit to the company's Hokkaido branch, also extended his wish to step up cooperation with the Chinese automotive industry, with an emphasis on hydrogen-powered and autonomous vehicles.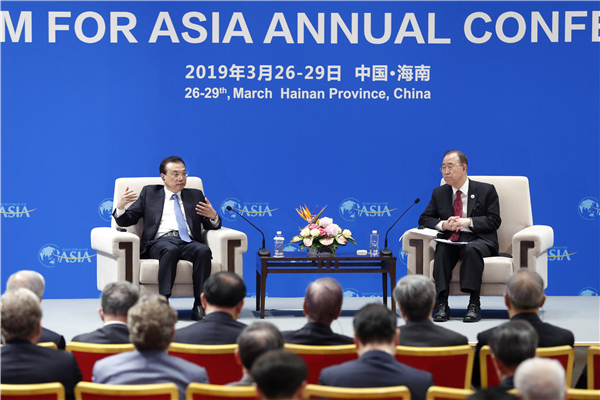 The Premier said that, as the new round of industrial and technological revolution unfolds, China is implementing an innovation-driven development strategy, promoting mass entrepreneurship and innovation, and cultivating new economic driving forces.
China is accelerating the development of new industries such as artificial intelligence, self-driving and hydrogen energy. It will create a better business environment that favors the commercialization of research, he said, citing it as a crucial opportunity for enterprises around the world, including Japanese companies.
Han Yong Hong, an associate editor of Lianhe Zaobao, a Chinese-language newspaper in Singapore, said many observers are paying much attention to China's economic development, especially on whether large-scale tax and fee cuts can be delivered.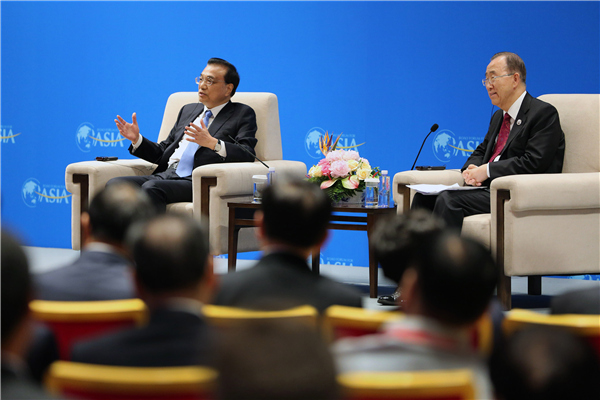 The Premier said that China's economy has remained stable this year and market forecasts look optimistic, but under such complicated circumstances, difficulties and challenges cannot be underestimated.
He added, once the vitalities are unleashed from the huge domestic market, with a population of 1.4 billion and 100 million household market entities, the long-term and promising development of China's economy can be achieved.
The Premier also said that a total of 2 trillion yuan in taxes will be cut this year and work will be strengthened to make sure real benefits flow into enterprises' pockets. Arbitrary fees are forbidden, and punishment will be imposed once violations are found.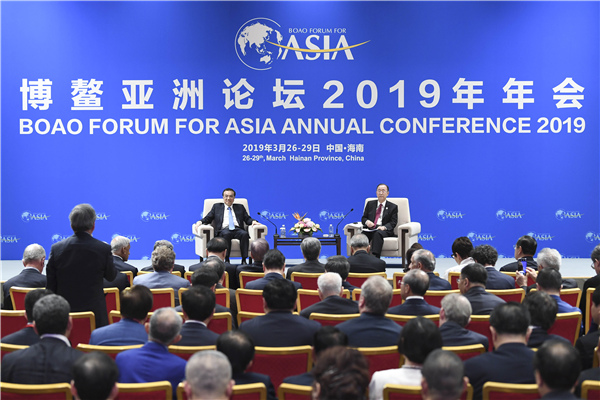 Guests at the conference offered positive comments on the Premier's keynote speech at the 2019 Boao Forum for Asia annual conference, saying that the speech was insightful, honest and constructive, deepening the understanding of China's development and policies.
Xiao Jie, state councilor and secretary-general of the State Council, attended the conference.