Premier Li Keqiang held talks with New Zealand Prime Minister Jacinda Ardern at the Great Hall of the People on April 1.
Premier Li expressed his sincere condolences to Ardern for heavy casualties from a recent shooting incident in New Zealand.
Ardern expressed her gratitude.
The Premier said that China-New Zealand relations have maintained a steady momentum of development.
He said the two sides have continued to enhance political mutual trust, deepen pragmatic cooperation and expand people-to-people exchanges on the basis of mutual respect and equal treatment. The two nations have been working to find the greatest common denominator in the interests of both sides, and to promote the continuous development of the China-New Zealand comprehensive strategic partnership.
"This is not only in the fundamental interests of the two peoples, but also conducive to peace, stability and prosperity in the Asia-Pacific region," he added.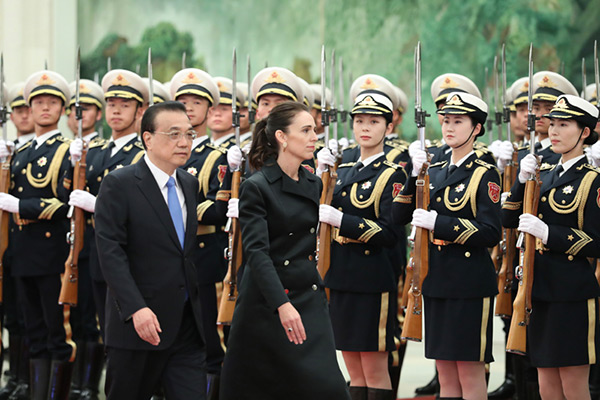 China's cooperation with New Zealand has long preceded other Western nations, said the Premier, and now the two countries are facing new opportunities. China is willing to align the Belt and Road Initiative with New Zealand's development strategy in order to push forward bilateral economic cooperation.
Both countries should offer an equal, unbiased, transparent and convenient business environment for investment, Premier Li said.
Negotiation on a free trade agreement between the two countries should be accelerated to bolster upgrading of the cooperation. In addition, cooperation in agricultural, fiscal and financial sectors is expected to be expanded, as well as in infrastructure, tourism and people-to-people exchanges, he added.
Premier Li noted that the current global situation is undergoing complex and deep changes. Both China and New Zealand are responsible countries with independent diplomatic traditions in the Asia-Pacific region. China is willing to strengthen communication and coordination with New Zealand within the multilateral mechanism, jointly support multilateralism and multilateral trading system, respond to global issues such as climate change, and promote peace and development in the region and the world at large, said the Premier.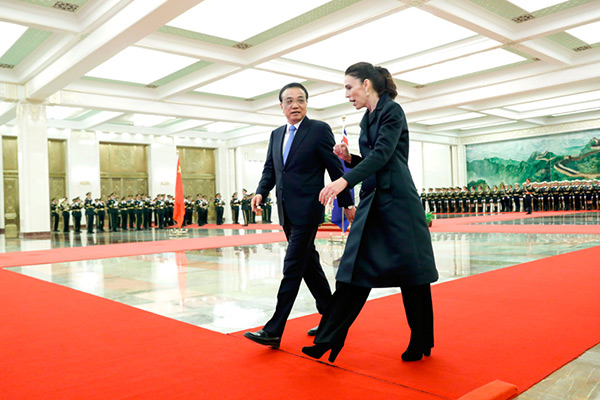 Ardern said her country highly values its relationship with China. New Zealand is among the first group of Western countries to establish diplomatic ties with the People's Republic of China. And it is also one of the first countries that signed a free trade agreement with China.
New Zealand firmly adheres to the one-China policy, said Ardern. Chinese businesses are welcome to invest in New Zealand, and the country will offer a good, non-discriminatory business environment for enterprises from all over the world.
With an independent diplomatic tradition, New Zealand will independently make decisions in its own national interests when dealing with major issues, said Ardern.
She also said New Zealand is willing to join hands with China to speed up the negotiation on upgrading the free trade agreement, enhance cooperation in tackling climate change and reform of the multilateral trading system, and jointly safeguard international order and rules-based multilateral trading system.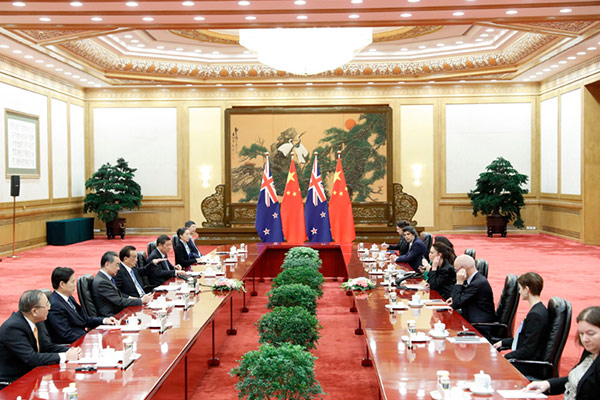 Both sides exchanged opinions on international and regional issues of common concern.
After the meetings, the leaders witnessed the signing of cooperation pacts in the fields of taxation, agriculture, finance, science and research. And a China-New Zealand leaders' statement on climate change was also issued.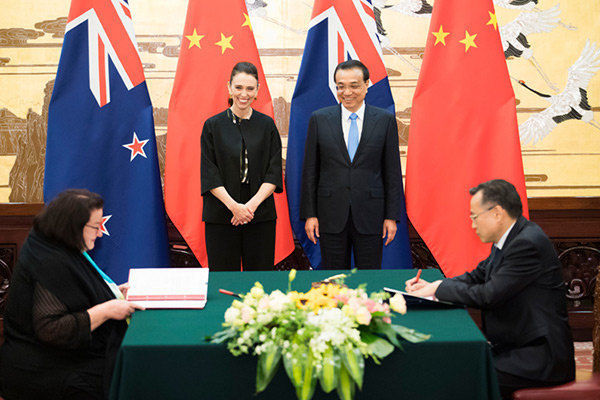 Before the meeting, Premier Li held a welcome ceremony for Ardern at the Great Hall of the People.
Wang Yi, state councilor and foreign minister, and He Lifeng, vice-chairman of the National Committee of the Chinese People's Political Consultative Conference and head of the National Development and Reform Commission, also attended the meeting.