BRUSSELS — China is willing to expand imports from Belgium of high value-added products that suit the demands of the Chinese market, Premier Li Keqiang said in Brussels on April 9.
Premier Li made the remarks when meeting with Belgian Prime Minister Charles Michel.
He also invited Belgium to attend the second China International Import Expo slated for later this year.
Hailing the current bilateral relations, Premier Li said China stands ready to enhance cooperation with Belgium in various areas and intensify coordination on international and regional issues in open, substantial, exploring and innovative spirit so as to well implement the consensus reached by both sides and promote the development of bilateral all-round partnership of friendship and cooperation.
He said China will implement the Memorandum of Understanding (MoU) on third-party cooperation and forge ahead bilateral cooperation in Africa.
Premier Li arrived in Brussels on April 8 for the 21st China-European Union (EU) leaders' meeting.
Calling China-Belgium relationship an important part of China-EU ties, Premier Li said China wishes to see a united and prosperous Europe with its integration process keeping moving ahead.
China is willing to expand two-way opening with Europe and jointly uphold free trade, Premier Li said, adding that China looks forward to seeing Belgium continue to play an active role in promoting China-EU ties.
For his part, Michel said Belgium attaches great importance to the relationship with China and is ready to further strengthen communication and dialogue with China and deepen cooperation on trade, agriculture and vessels.
He wished the EU-China leaders' meeting a success, hoping that the two sides could jointly safeguard multilateralism and boost EU-China trade.
Belgium is glad to see that China plays a bigger role in international affairs, he added.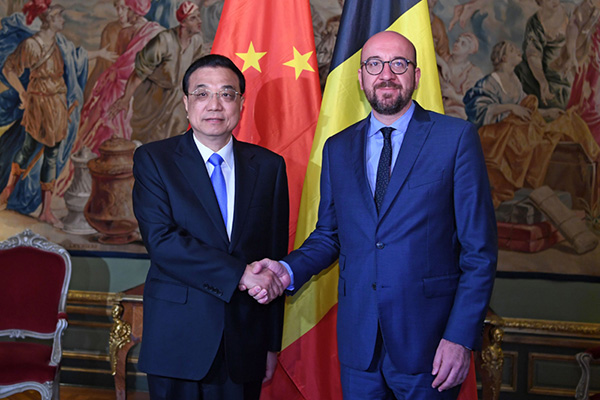 Premier Li Keqiang meets with Belgian Prime Minister Charles Michel in Brussels, Belgium, April 9, 2019.[Photo/Xinhua]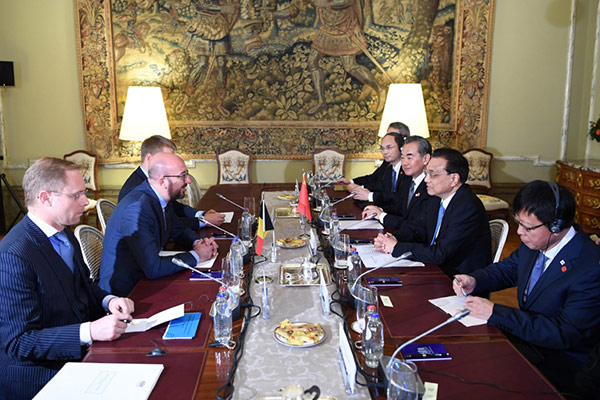 Premier Li Keqiang meets with Belgian Prime Minister Charles Michel in Brussels, Belgium, April 9, 2019.[Photo/Xinhua]