Bridges represent connection and communication, and it's an image widely embraced by cultures worldwide. It is also a sign of broad prospects and hope.
There is no country that wants to stay isolated from others. Throughout human history, isolationism sometimes prevailed, but will surely be replaced by the growth of bridges, uniting cultures across the board.
It's one reason that bridges are a recurring theme in the 16+1 cooperation between China and Central and Eastern European Countries (CEEC).
The seventeen-arch bridge in China's Summer Palace was once compared to the "16+1 cooperation" by Premier Li.
Five years ago, at the completion ceremony of the Mihajlo Pupin Bridge, the first new bridge in Serbia over the Danube in 70 years, Premier Li said the bridge is a friendship bridge between the Chinese and Serbian people, as well as a bridge of win-win cooperation between China and Europe.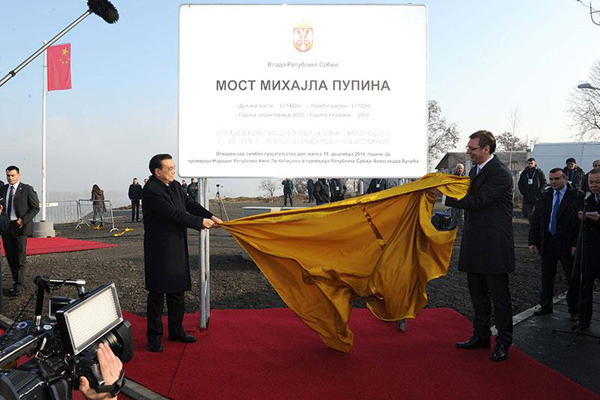 At this year's "16+1" leaders' meeting and his first official visit to Croatia, the trip to the Peljesac Bridge was an important part of Premier Li's busy schedule.
The Peljesac Bridge, a Croatian dream for many years, marks the first time that Chinese enterprises found inroads into a project initiated by the EU foundations. After the bridge is completed, it will connect the territories of Croatia.
At the construction site, Premier Li said that the Peljesac Bridge is an emblem of people's welfare as well as the friendship and cooperation between China and Croatia.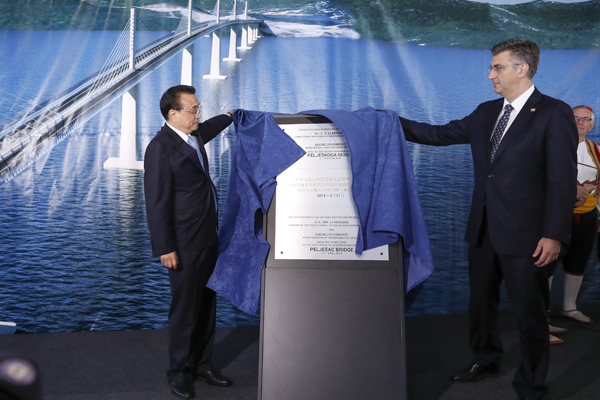 Over the past five years, Chinese enterprises went from building their first bridge in EU to acquiring EU-funded projects through public bidding and fair competition.
That growth reflects the change in the range of cooperation, as well as in its quality and depth.
The two projects are both undertaken by Chinese enterprises, but it wasn't easy to use EU's fund, with its strict standards.
It is a test for Chinese enterprises, but will also improve the quality of the "16+1 cooperation" and expand the overall space for China-EU cooperation.
As a symbol of the "16+1 cooperation", the bridge is also a link with central European countries, which echoed this year's theme of 16+1 leaders' meeting-- "setting up a bridge of openness, innovation and partnership."
In a signed article published in Croatian newspapers, Premier Li expressed his prospects through bridges: "CEE countries and China, 17 of us altogether, form a palette more colorful and diverse than a rainbow. If we can turn 16+1 cooperation into a colorful bridge linking Asia and Europe, we will create an ever brighter future for all of us."