Premier Li Keqiang met with Japanese Foreign Minister Taro Kono and some members of the Japanese cabinet, who are in Beijing to attend the fifth China-Japan High-Level Economic Dialogue, on April 15.
Noting China and Japan are important neighbors, Premier Li said Sino-Japan relations have been back on track and made new progress since last year, thanks to joint efforts.
The two sides should make efforts to promote the long-term, healthy and stable development of Sino-Japan relations on the basis of four political documents and face the future while taking history as a mirror, the Premier added.
After congratulating the success of the fifth China-Japan High-Level Economic Dialogue, the Premier said China and Japan are two major economies in the world, and enhanced cooperation between the two sides is not only in the interests of the two countries, but also conducive to regional and world peace, stability and prosperity.
Hailing the two countries for both supporting free trade and abiding by the rules of the World Trade Organization (WTO), the Premier called for a fair and nondiscriminatory business environment for enterprises from the two sides.
"China will deepen reform and opening-up, and welcomes Japanese companies to expand their investment in China," he said.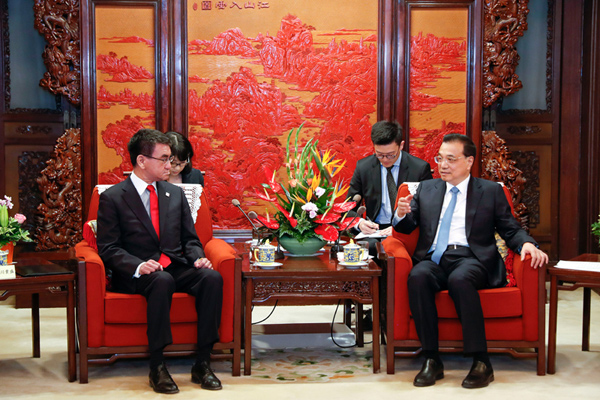 The two sides established a Sino-Japanese innovative cooperation mechanism last year, with its first meeting a success, Premier Li said. He hopes the two countries will strengthen cooperation in innovation for more pragmatic results, and expand cooperation in the fields of finance, third-party markets and tourism.
China also is willing to work with Japan and relevant parties to promote the negotiation of the China-Japan-Korea Free Trade Area and Regional Comprehensive Economic Partnership (RECP), creating more opportunities for the common development of countries in the region.
China supports Japan in running the G20 summit in Osaka this year and is willing to work with all parties to promote global economic governance reform and inject new impetus into world economic development, the Premier said.
Kono Taro and other Japanese officials said last year the exchange visits between the prime ministers of the two nations had brought bilateral relations to a normal track.
Noting the high-level economic dialogue between China and Japan has yielded fruitful results, Kono Taro said exchanges like the first China-Japan innovative cooperation mechanism have promoted reciprocal cooperation between Japan and China in the new era.
Japan is willing to strengthen cooperation with China in the fields of innovation, finance, environmental protection, hydrogen energy, tourism, young people, smart cities, and third-party markets, deepen communication and coordination in multilateral fields, and try to make positive progress in the RCEP negotiations in the year.
State Councilor and Foreign Minister Wang Yi also attended the meeting.