Premier Li Keqiang met with Philip Hammond, special representative of the UK's prime minister and chancellor of the exchequer, at the Diaoyutai State Guesthouse in Beijing on April 26.
As permanent members of the UN Security Council and mutually important partners, Premier Li said the UK and China, based on mutual respects and equal treatment, should respect each other's core benefits and major concerns, to ensure healthy development of the Sino-UK relations.
The Premier added, the two sides have reached consensus on resuming the China-UK Economic and Financial Dialogue, and China is willing to work with the UK to accumulate positive factors for the next phase of bilateral communications.
Under the current international circumstances, the two sides should safeguard the rule-based multilateral trade mechanism, which helps to promote the global peace, development and prosperity, he said.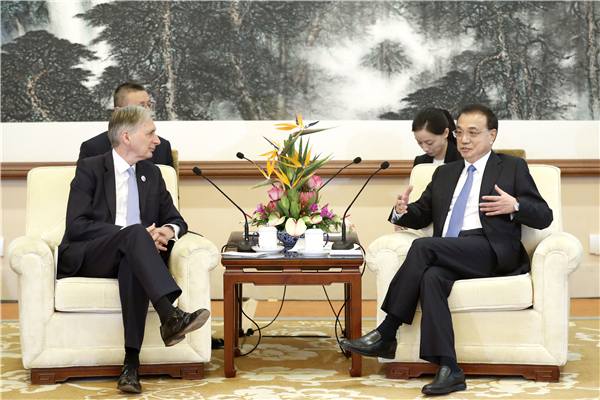 Hammond handed over a letter from the UK's Prime Minister Theresa May to Premier Li, noting that the UK thinks highly of China's efforts in expanding opening-up, protecting multilateralism and supporting free trade.
He also said that the pragmatic cooperation between the two countries have brought both real benefits, and the UK is willing to enhance dialogues and communications with China, widen cooperation in the financial sector, service trade and other areas, to achieve new progresses in the two countries' relations.