Premier Li Keqiang met with Greek Prime Minister Alexis Tsipras who is attending the Second Belt and Road Forum for International Cooperation in Beijing on April 26.
As two ancient civilizations, China and Greece have conducted fruitful cooperation in the spirit of mutual respect, equal treatment and mutual learning. With a favorable location, Greece can be the hinge between Europe and Asia, the Premier said.
China supports the Belt and Road Initiative to be aligned with Greece's developing strategy, the Premier said. China is willing to enhance cooperation in finance, technology, and digital economy, and will be pleasant to see more premium agricultural products from Greece.
The Premier expressed his congratulations to Greece to be a formal member of China and Central and Eastern European cooperation. The China-CEEC is a trans-regional cooperation platform that follows principles of internationalization, marketization and the rule of law, which is positive for Sino-European ties, he added.
China always stands up for European integration, is willing to see a united, prosperous and stable Europe, which is not only beneficial for China and Europe, but also the whole world. The Premier said he hopes Greece will continue make new contributions to China-Europe relations.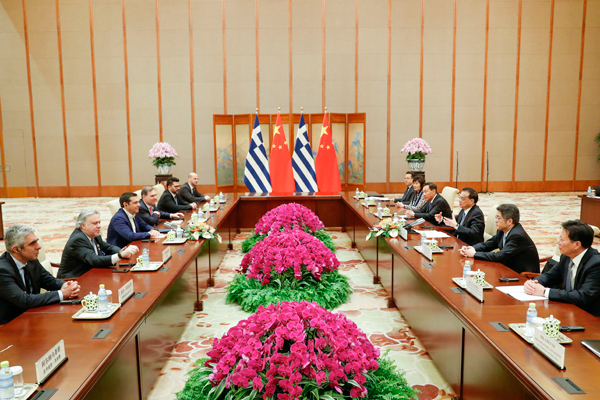 Tsipras echoed that the China-Greece ties have made substantial progress with multiple strategic consensus reached.
China not only spearheads the global economic development but also makes a great market for the world, he added, and Greece is willing to realize a balanced trade partnership with China, hoping that the Chinese enterprises will expand investment in Greece.
Greece is delighted to become the 17th member nation of the Central and Eastern European Countries (CEEC) to establish a cooperation tie with China, which will not only help bring in a prosperous future for Greece per se, but also benefit the development of the CEEC.
As the intersection between the East and the West, Greece wishes to make a hub for the Asia-Europe communication, transportation, economy and trade, and tourism.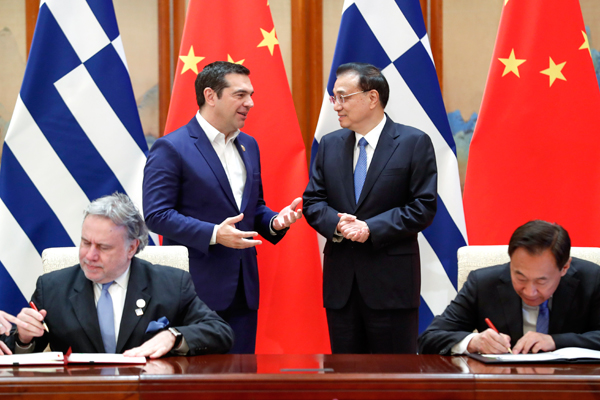 Premier Li and Tsipras witnessed the signing of multiple documents on bilateral cooperation after the meeting.