Premier Li Keqiang met with Singaporean President Halimah Yacob in Beijing on May 15.
Premier Li said China and Singapore have gotten along with each other based on mutual respect, equality and win-win cooperation, bringing benefits to the two peoples.
China is willing to maintain the rising cooperative momentum with Singapore, tapping into more cooperation opportunities with each other's advantages being fully wielded, the Premier said.
Moreover, China is ready to take into account Singapore's developing strategy in the Belt and Road Initiative, such as enhancing exchanges between western China and Singapore, building new logistics channels via land and sea, developing the third-party market and smart cities, as well as skills training.
He also expressed his hope that the two sides will promote cultural communication and people-to-people exchanges, and consolidate public support for bilateral ties.
China is willing to stand by Singapore to deal with global challenges, contributing to world and regional peace and stability, he added.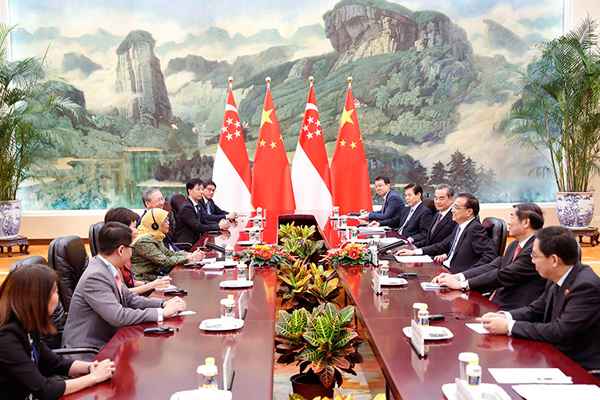 Yacob said Singapore will firmly develop relations with China. At present the bilateral ties are going strong and cooperation projects are on track.
Singapore is a country with different ethnic groups living in harmony, and it is also willing to enhance cultural exchanges with China, she said, adding that Singapore hopes to learn from China's experience in developing new technologies and improve people-to-people exchanges and mutual connection.
Singapore supports an open world system, multilateralism and free trade, on which it will work together with China, Yacob said.
State Councilor Wang Yi and He Lifeng, head of the National Development and Reform Commission, also attended the meeting.