Premier Li Keqiang met with Sri Lankan President Maithripala Sirisena on May 15 in Beijing.
Premier Li said China and Sri Lanka are important partners, citing exchanges between the two countries that go back a thousand years.
China strongly condemned the recent terrorist attacks in Sri Lanka and supported efforts made by the Sri Lankan government to restore peace in the country, he said.
The Premier said President Xi Jinping held a fruitful meeting with the president, looking forward to the future of China-Sri Lankan relations, and sending a positive message.
"We are willing to strengthen civilization exchanges and mutual learning with Sri Lanka, promote mutually beneficial cooperation based on mutual respect and equal treatment, and promote lasting friendship," he said.
He said China is ready to promote the coordination between the Belt and Road Initiative and the development strategies of Sri Lanka, and boost the construction of major cooperation projects.
China is willing to strengthen cooperation with Sri Lanka within the multilateral framework and safeguard the common interests of both sides, he added.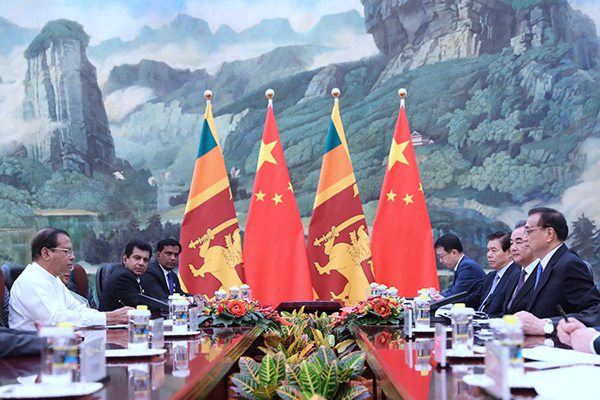 Maithripala Sirisena expressed his gratitude to China for the condolences on the terrorist attacks in Sri Lanka.
Sri Lanka appreciates China's longtime support of Sri Lanka's economic and social development, he said, adding that China is a trusted friend on multilateral occasions such as the United Nations.
Sri Lanka is willing to jointly build the Belt and Road with China, strengthen coordination on international and regional affairs, and continue the friendship and cooperation between the two countries, he said.
State Councilor Wang Yi and He Lifeng, head of the National Development and Reform Commission, also attended the meeting.