Premier Li Keqiang on June 20 met with a group of multinational corporate leaders attending the seventh Global CEO Council roundtable summit in Beijing.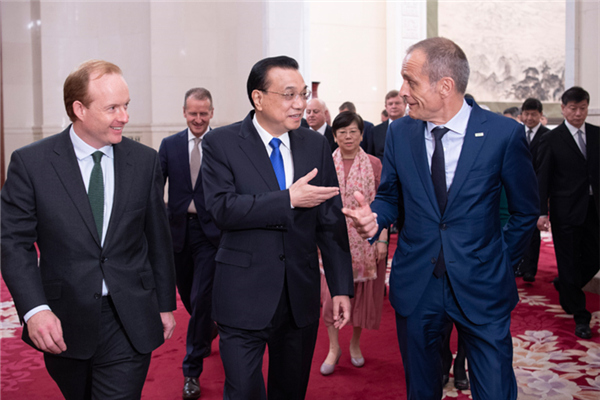 Talking with the CEOs, Premier Li said that their companies have been engaged in China's reform and opening-up since its early days, which has not only brought capital, technology, and management ideas to China, but also exploited a huge market and enjoyed benefits and win-win results.
"As there are more unstable and uncertain factors in the international situation, we should promote stable growth of the global economy and trade, improve the global industrial chain, and strive to maintain a peaceful international order," he said.
China will continue its reform and opening-up, Premier Li said, to create a market-oriented, rule-of-law, and global-oriented business climate. He said China welcomes enterprises from all countries to expand investment and share the country's development opportunities.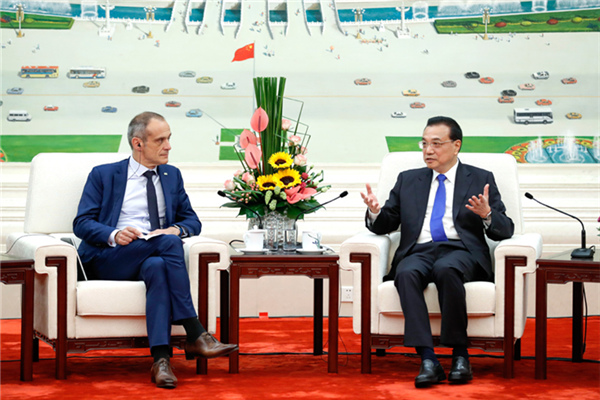 With a population of nearly 1.4 billion, China is an ever-expanding market, he said.
"Our goal is to meet people's desire for better lives, and to achieve this goal, China needs more quality products and services, to restructure the economy and upgrade industries, which offers a vast space for foreign enterprises in the Chinese market," he said.
Permission for foreign investment has been available throughout the whole manufacturing industry, the Premier said, and it will be the same with the service industry soon.
In the meantime, Chinese enterprises should improve themselves via fair competition while engaging in international cooperation, in a bid to realize win-win blueprints.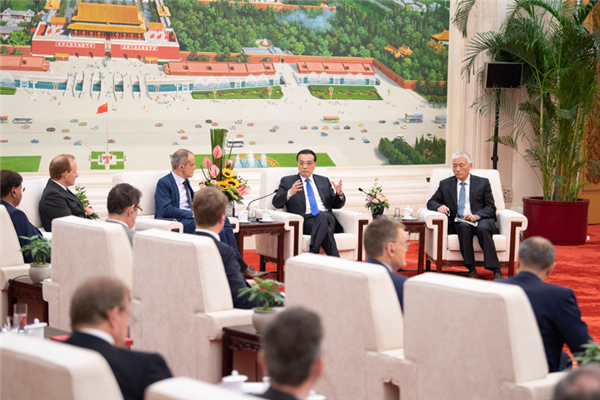 China sticks with innovative development strategies, Premier Li said, and to protect intellectual property rights therefore is to protect innovation.
All enterprises registered in China will enjoy a fair playing field, and all of their legal rights, including intellectual property rights, will be protected.
China will preferably align the Belt and Road Initiative with the development strategies of other nations under the principle of joint discussion, construction, and sharing. And China will stay a stickler for opening-up, environmentalism, and honesty, Premier Li said.
China will stay in line with the market and commercial rules, in order to facilitate sustainable cooperation, the Premier said.
China remains an advocate for cultural exchange, mutual respect, equal treatment, and learning from each other, and China will safeguard free trade and fulfill joint development, he said.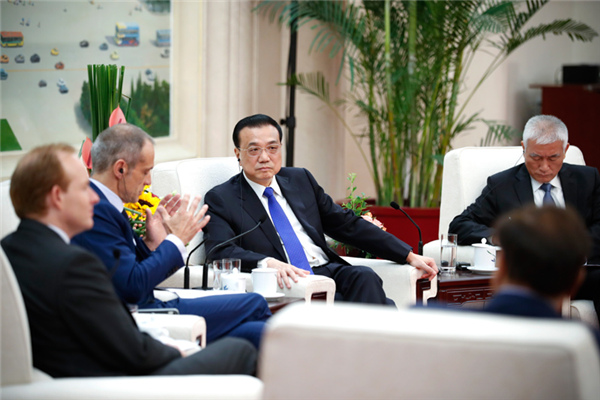 Leaders from nearly 20 Fortune 500 enterprises, including Schneider Electric, Swire Group, and Pfizer, exchanged views on issues like integrated development, innovation and the Belt and Road Initiative.
All the entrepreneurs extended their earnest congratulations on the 70th anniversary of the founding of the People's Republic of China and appreciation to China's abundant achievements.
Despite the diversity of their backgrounds, they said they are ready to devote themselves to cooperation with China, and look forward to the broad prospects of China's commitment to deepening reform and expanding opening-up.
They also expressed their hopes to take an active part in the cooperation in various fields including healthcare, finance, automobile, digital economy, and 5G technology.