Premier Li Keqiang met with Executive Chairman of the World Economic Forum Klaus Schwab on July 1 in Dalian, Northeast China's Liaoning province.
China's cooperation with WEF began almost simultaneously with the reform and opening-up. Since then, the two sides have conducted effective cooperation, providing an important platform for discussing global economic governance, the Premier said.
China is willing to deepen the partnership with WEF in more areas. The two sides should grasp the opportunity of a new round of industrial revolution to improve Summer Davos to create a new playing ground for new leading forces, the Premier said, adding that multilateralism and free trade should be defended for an open and inclusive world economic system.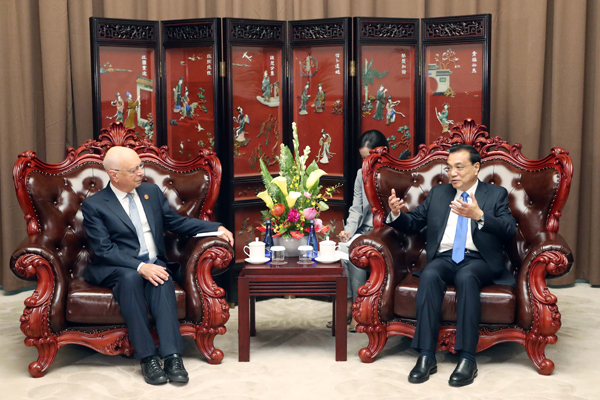 Schwab hailed the cooperation that worked out well over the past 40 years and extended his gratitude for China's support. Devoted to achieving sustainable development, the forum puts great importance on cooperation with China, and is ready to push their relations forward to help with China's development.
State Councilor Wang Yi and He Lifeng, head of the National Development and Reform Commission, also attended the meeting.