A meeting was held on July 2 during the 2019 Summer Davos, where Premier Li Keqiang answered questions from representatives of various fields such as commercial and financial areas, think tanks and the media.
The question topics included China's business environment, industrial chain adjustment, enterprise innovation, financial sector's opening-up, and the development of private enterprises. Led by Executive Chairman of the World Economic Forum (WEF) Klaus Schwab, the dialogue gathered over 200 representatives from around the world.
Answering questions about the business environment, Premier Li said China is devoted to creating a market-oriented, rule-based and international business environment, and will make it more stable, transparent and predictable.
In March, China passed a foreign investment law, introducing the system of pre-establishment national treatment and negative list for foreign investment. In the future, the negative list will become even shorter, with more opening-up measures, the Premier said.
He also made a commitment that China will make more efforts to protect the legitimate rights and intellectual property rights of foreign firms. Both domestic and foreign companies, as long as they're registered in China, will receive equal treatment, the Premier said.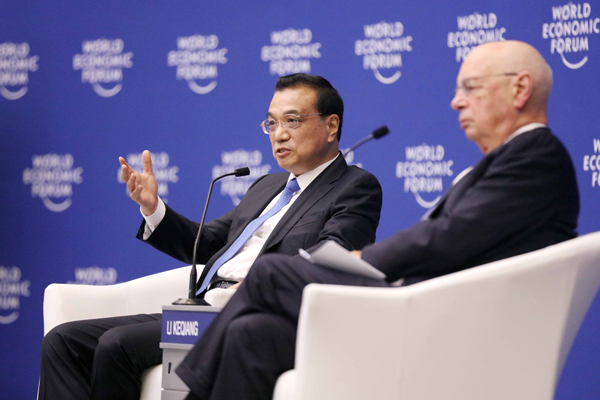 About the industrial chain adjustment, the Premier said a constantly improving global industrial chain has been formed as a result of the international division of labor, so its adjustment is in compliance with industrial development.
In the first five months of this year, foreign investment in China increased against the global trend, with investment in the manufacturing sector growing by over 8 percent year-on-year. It is because China's industrial system can adapt to globalization and it owns an immense and potential market, he said.
China is actually quite competitive in the global industrial chain based on market principles. Therefore, China will reinforce opening-up, support fair competition, and strengthen protection of the legitimate rights of foreign investors.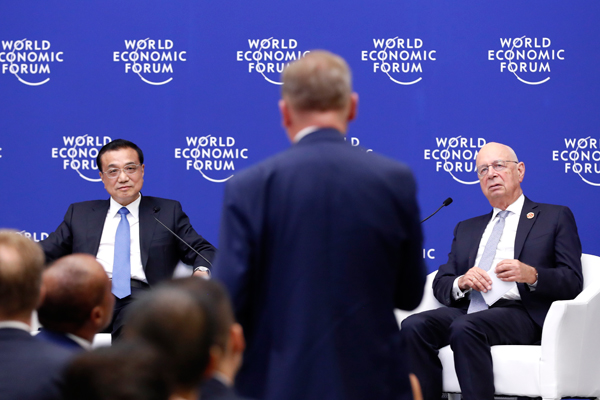 With regard to the financial sector, Premier Li said, China has been continuously making progress in opening-up, which is conducive to upgrading the industry.
In the meantime, Chinese authorities have been beefing up fair supervision to safeguard the rights of domestic and foreign investors as well as consumers.
Against the backdrop of downward economic pressures, China remains an unswerving stickler for steady financial development without over-issuing RMBs. Related currency policies remain stable, with timely preliminary and nuanced adjustments, with RMB exchange rates floating within a reasonable range, the Premier said.
China will strengthen its supervision on financial institutions with or without licenses. China's financial sector will expect further opening-up, with improvements to be made in regulating the corresponding supervision system.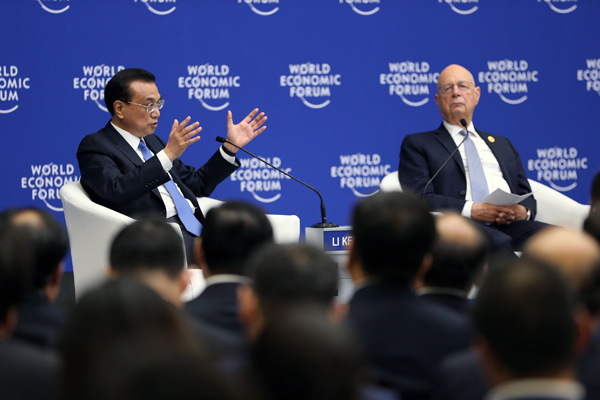 When it comes to private enterprises, the Premier said that China's private enterprises contribute over 80 percent of the urban employment and 60 percent of the GDP, and they are a significant pillar underpinning the economic development.
The Chinese government took all-inclusive tax reduction measures at the beginning of the year to help with difficulties plaguing private enterprises, with tax cuts totaling 200 billion yuan ($29.07 billion) coming into place.
A slew of policies introducing tax and fee cuts that went into force as of May, are expected to benefit many medium and small enterprises, Premier Li added.
Authorities will ensure the implementation of these policies and lower the costs for financing, in order to ensure that enterprises can benefit from the measures.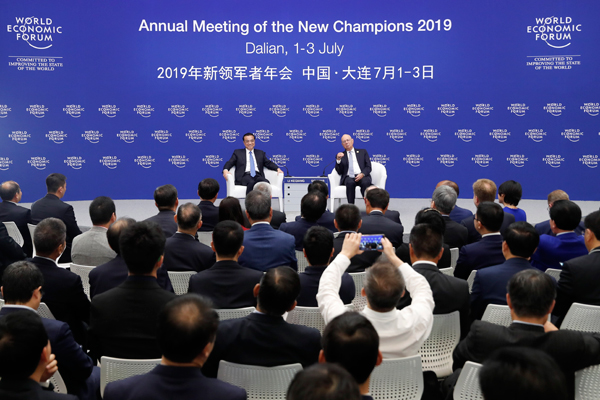 What the Premier said at the meeting, along with his speech at the opening ceremony of the 2019 Summer Davos, received positive comments from attendees, who highly praised China's actions to deepen reform and opening-up and view it as an assurance for promising economic development for China and the world.
All parties are willing to expand cooperation with China in various fields, including investment and trade, push forward reciprocal strategic partnership, and share development opportunities.
State Councilor Xiao Jie also attended the event.