Premier Li Keqiang met with World Economic Forum (WEF) Founder and Executive Chairman Klaus Schwab in Beijing on Wednesday, agreeing on closer cooperation between China and the institution.
Li said the global economic recovery faced much uncertainty and instability in the current complicated global economic situation. Developed and emerging economies need to help each other, jointly respond to challenges and consolidate the momentum of economic recovery, he said.
Li said the Chinese economy has been running smoothly despite the complicated external situation, and the country has made positive progress in structural adjustment.
Facing the downward pressure, China sticks to a policy of seeking progress while maintaining stability, and continues to promote stable growth and improve quality of life.
China will continue with a proactive fiscal policy, a prudent monetary policy and enhance policy coordination, said the premier.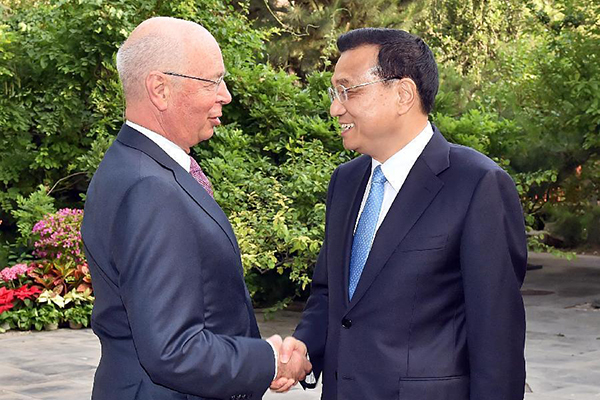 Premier Li Keqiang (R) meets with World Economic Forum (WEF) Founder and Executive Chairman Klaus Schwab in Beijing, China, May 28, 2014.[Photo/Xinhua]
He expressed his hope that those policies would offer a sound environment for development, motivate the people and meet the goals of China's economic and social development of this year.
China hopes to keep in close cooperation with the WEF, Li said, expressing his hope the WEF would play a positive role in boosting understanding between China and the international community.
It was the second meeting between Li and Schwab in a month following Li's participation in the 2014 WEF conference on Africa in Abuja, capital of Nigeria, earlier in May.
Schwab, for his part, said Li's speech at the Abuja conference was very inspiring, and received positive responses from various parties and boosted Africa's confidence in countering challenges.
China's reform and development is conducive to global economic recovery and growth, he said.
Schwab expressed his appreciation for China's support for the WEF, vowing to play a positive role in promoting global economic governance and economic development through such platforms as Summer Davos Forum.