Premier Li Keqiang arrived here on May 8 for a visit aimed at further enhancing the strategic partnership between China and Angola.
Noting that Angola is an example of the fast growing African continent and an important cooperation partner of China in southwest Africa, Li said he is looking forward to an in-depth exchange of views with Angolan leaders on bilateral issues and matters of common concern.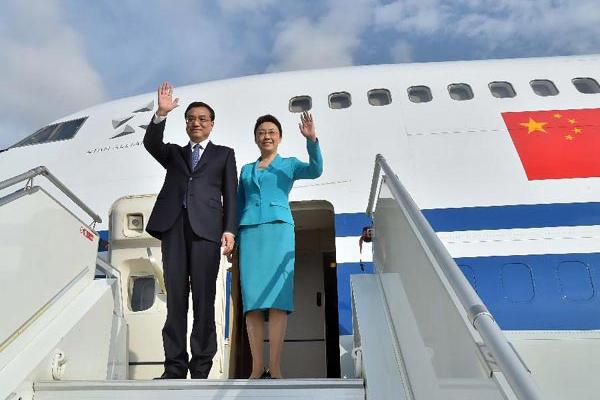 Premier Li Keqiang (L) and his wife Cheng Hong arrive in Luanda, Angola, May 8, 2014.[Photo/Xinhua]
"China would like to expand and enrich its cooperation with Angola on the basis of existing achievements, so as to inject fresh impetus into the development of bilateral ties," he said.
During his stay, Li is scheduled to meet with Angolan President Jose Eduardo dos Santos and hold a seminar with Chinese companies and overseas Chinese, according to the Foreign Ministry of China.
A number of agreements are expected to be signed between the two countries, their enterprises and financial institutions during Li's visit, Chinese Commerce Minister Gao Hucheng said.
"The signing of those agreements will be the biggest highlight of the visit," he said.
Gao did not disclose the financial details of the agreements, but said the documents will cover areas of medical science, hydropower, agriculture and people's livelihoods.
"Angola is the third stop of Premier Li's Africa tour. The visit is of great significance in comprehensively improving China-Africa strategic partnership and consolidating the solidarity and cooperation among developing countries," he said.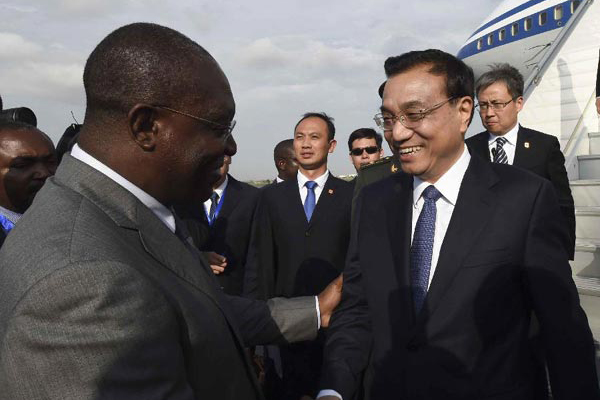 Premier Li Keqiang (front R) is greeted by Angola Vice President Manuel Domingos Vicente (front L) upon his arrival in Luanda, Angola, May 8, 2014.[Photo/Xinhua]
Internal conflict and political instability had ravaged the country for years. Since the end of a civil war in 2002, Angola's economy has been growing rapidly thanks to the resumption of oil exploitation and massive reconstruction programs.
China has participated actively in Angola's postwar reconstruction and played a major role in building and repairing the country's poor infrastructure, including highways, railways, power plants and harbors.
In 2013, trade between the two countries reached 36 billion U.S. dollars. By the end of 2013, China's accumulative investment in Angola had exceeded eight billion dollars. Angola has become China's second largest trading partner in Africa.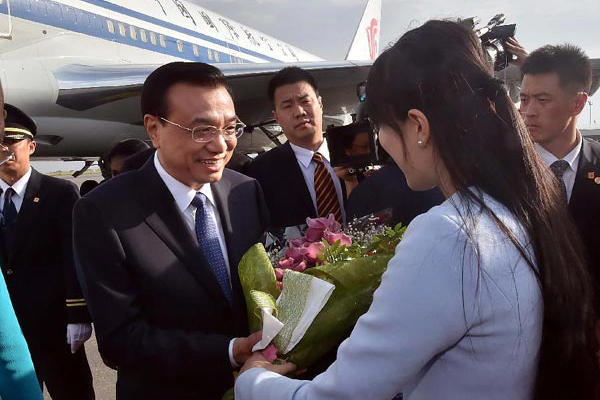 Premier Li Keqiang (front L) receives a bouquet upon his arrival in Luanda, Angola, May 8, 2014.[Photo/Xinhua]
Basilio Cassomo, an economic adviser to the Angolan president, said in an interview with Xinhua that Angola appreciates China's contribution to the reconstruction of his country.
Angola is currently trying to diversify its oil-dependent economy, and Li's visit will usher in a new era in bilateral cooperation and inject new vigor and vitality into the two countries' strategic partnership, he said.
Angola is the third leg of Li's four-nation Africa tour, which has already taken him to Ethiopia and Nigeria. He will then travel to Kenya.