Open innovation important in promoting common development, prosperity: Premier Li Keqiang
Updated:
Oct 15,2014 1:02 AM
english.gov.cn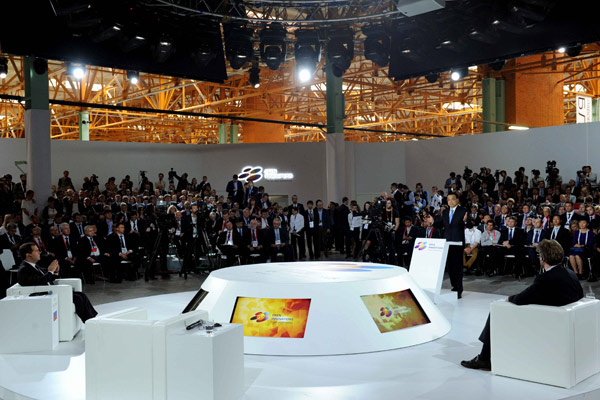 Premier Li Keqiang addresses the opening ceremony of Open Innovations Forum in Moscow, capital of Russia, Oct 14, 2014.[Photo by Zhang Duo/Xinhua]
Moscow -- With economic globalization and informatization advancing, all countries of the world need to work together to achieve multiplication of knowledge and value through innovation cooperation, so as to solve development problems and promote common prosperity, Premier Li Keqiang said on Oct 14 at an international forum themed on innovation.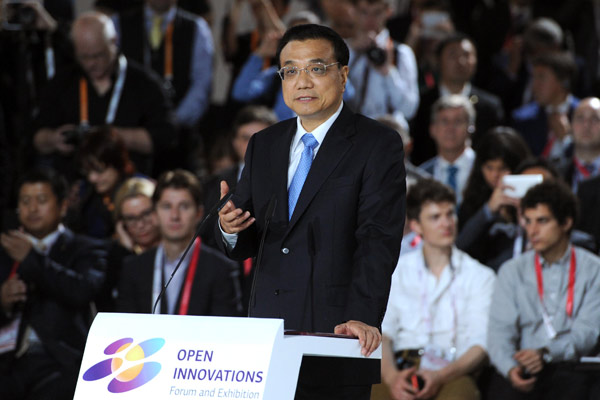 Premier Li Keqiang focused on innovation in his speech at the opening ceremony of an international forum in Moscow. Noting that innovation is the key to advancing development, Li said China will further eliminate restraints on innovation, create an environment that protects innovation, devise a mechanism that inspires innovation and develops an innovation-driven economy. Li's Russian counterpart, Dmitry Medvedev, attended the event.