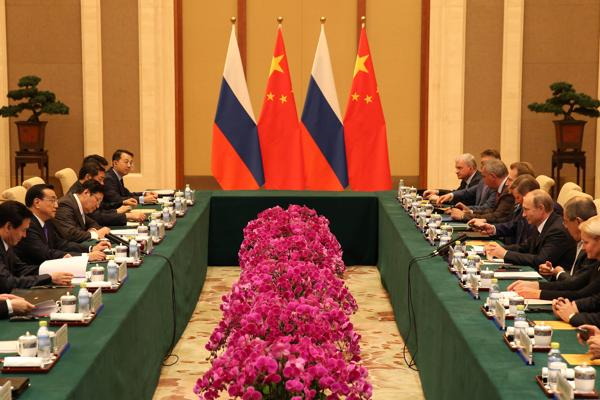 [Photo/Xinhua]
Premier Li Keqiang met with visiting Russian President Vladimir Putin on Sept 2 who is in Beijing for the country's V-Day celebrations.
Premier Li told Putin the Chinese side is willing to strengthen coordination on development strategies and cooperation initiatives of each side and closely coordinate with Russia in international and regional issues.
China is also willing to safeguard the victory results of the anti-Fascist war and international justice with Russia, promoting peace, stability and prosperity for the two countries, the Eurasian continent and the world, the Premier said.
Putin said the two countries share the same position in safeguarding the results of the anti-Fascist war and other major international issues.
"It is very important for us to celebrate the anniversary together. The peoples of the two countries have shown the world that we hold the same stance on the achievements of World War II," Putin said.
"We both object to attempts to deny or revise history," he said.
Premier Li said the event is to commemorate victory in the war, and also to protect peace in the region and around the world.
"Let's protect the achievements of victory of World War II together," Premier Li said.
The Premier said China is willing to cooperate with Russia in fields including productivity, infrastructure, energy, aeronautical and space technologies, as well as development in the Far East.
Putin said that he will make good use of the visit to discuss bilateral ties, which he said are developing "very smoothly".
Russia is confident in the Chinese economy and Russia-China cooperation, and is willing to advance cooperation with China in energy, aeronautics, petrochemical and other fields, according to Putin.
Putin called for expanding cooperation on mutual investment, financial insurance, information technology and in other newly emerging fields, in a bid to inject new momentum to the economic growth of the two countries.