Premier Li Keqiang met Ethiopian Prime Minister Hailemariam Desalegn and said China is "full of confidence" over the bright future of China-Ethiopia ties and mutually beneficial cooperation.
The Ethiopian prime minister is on a visit to China and attended the V-Day commemorations.
Premier Li said that Ethiopia is a good friend and important partner of China in Africa and the people of both countries bravely fought against fascist aggression and contributed greatly to victory in the World Anti-Fascist War.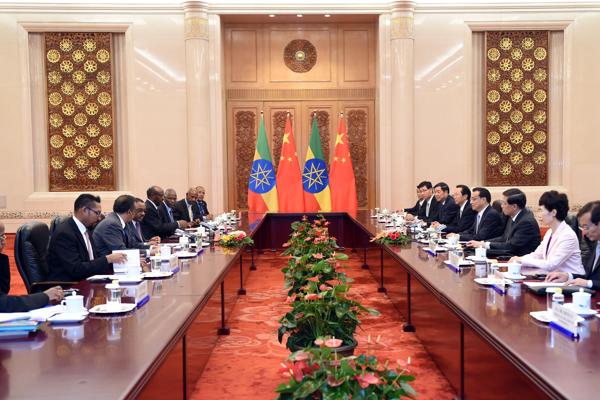 The China-Ethiopian relationship has always been on the front line of China-Africa cooperation, and China firmly supports Ethiopian efforts to boost its economy and improve people's livelihood and it is ready to provide help within its capacity, the Premier said.
"Last year I went to the country, and I learned myself about the profound feelings and friendship of the Ethiopian people to the Chinese people," Li said.
The Premier said Ethiopia is "a priority partner" when China embarks on production capacity cooperation with Africa.
China is willing to strengthen cooperative efforts with the country in regard to fields such as infrastructure construction, human resources development, industrial park construction, integrated development of energy resources, and investment and financing.
Production capacity cooperation is expected to boost the industrialization process of the country and its independent, sustainable development, he added.
Desalegn said Ethiopia is glad to become a priority partner of China regarding production capacity cooperation with Afric.
Ethiopia is ready to learn from the experience of China's development, improve investment opportunities, and it welcomes expanded investment of Chinese enterprises to the country, he said.
Chinese businesses are welcome to participate in infrastructure, energy, agriculture and industrial park projects, he added.
After their meeting, Li and his counterpart witnessed the signing of cooperative documents regarding the economy, technology, electricity, finance, energy and aviation.