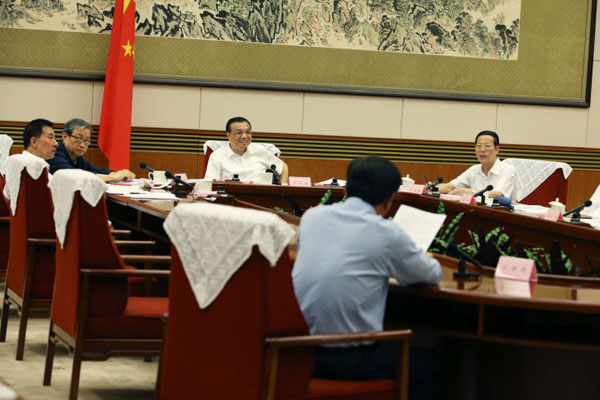 Premier Li Keqiang presides over a seminar on reform and development of State-owned enterprises on Sept 18.[Photo/Xinhua]
Premier Li Keqiang has urged State-owned enterprises (SOEs) to press ahead with reforms to unlock vitality.
The SOEs are an important foundation for national development but are in urgent need of reforms as languid mechanism and poor management have resulted in declining profits, Premier Li said on Sept 18 while presiding over a meeting on SOE reforms.
China has about 150,000 SOEs, which hold more than 100 trillion yuan ($15.7 trillion) in assets and employ over 30 million people. They posted a 2.3 percent decline in profits in the Jan-July period.
China issued a guideline on Sept 13 to deepen SOE reforms. With the aim of making SOEs more creative and internationally competitive, it pledged measures to modernize SOEs, enhance management of State assets, promote mixed ownership and prevent the erosion of State assets.
The Premier urged the SOEs to come up with their own supporting policies to ensure the reform ambitions laid out in the guideline are met.
The SOEs must improve their management through market-oriented reforms, such as mixed-ownership reforms and a modern corporate system, Premier Li said.
These State firms should improve their competitiveness, press ahead with merge and revamping, and waste no time to deal with "zombie" enterprises that are a burden to the economy, Li said.
He added that innovation and entrepreneurship should play a role in the SOE reforms. "Innovation and entrepreneurship are not only the way for small- and medium-sized enterprises to prosper, they are also crucial for big enterprises, especially the SOEs."
The SOEs must proactively take part in international cooperation and competition, the Premier said, noting that China's Belt and Road Initiative and other endeavors aimed at international production capacity cooperation present many opportunities.
He also emphasized efforts to "correctly handle" the relationship between the government and the market so that streamlined administration as well as good services and supervision can nurture a better business climate.