Premier Li Keqiang stressed expanding bilateral pragmatic cooperation and reaffirmed China's commitment to opening-up, while talking with Singaporean Prime Minister Lee Hsien Loong on Nov 12 during his official visit to the city-state.
Premier Li noted that this year marks the 40th anniversary of China's opening-up and reform, and recalled that 40 years ago, the late Chinese leader Deng Xiaoping paid a visit to Singapore on the same day.
He thanked Singapore for being deeply involved in China's reform and opening-up, and expressed willingness to continue to strengthen bilateral cooperation to achieve win-win results and mutual benefits.
During their talk, Premier Li said China and Singapore enjoy complementary advantages, as well as broad prospects and huge potential for cooperation. He particularly stressed facilitating knowledge cooperation with Singapore.
The Premier affirmed the fruitful results in bilateral cooperation projects over the 40 years, especially innovation programs such as Suzhou Industrial Park.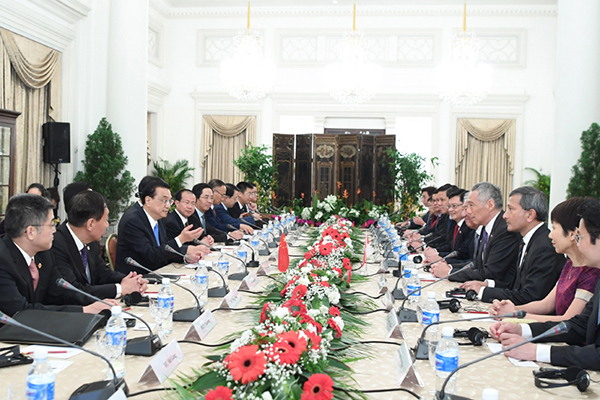 Premier Li said the two sides should actively expand cooperation in staff training in finance and sci-tech through upgrading the free trade agreement (FTA).
Upgrading the FTA will bring real benefits to people and companies of the two countries and send a strong signal of further expanding trade and investment, Lee said.
Both sides also agreed to actively expand cooperation in e-commerce and building smart cities.
After their talk, both leaders witnessed the signing of a memorandum of understanding on the New Land-Sea Corridor, which consists of a number of cargo routes by land and sea connecting central and southwest China to Southeast Asia, to further improve connectivity between the two countries and beyond.
With the signing, China and Singapore should build on the momentum and further boost two-way connectivity, Premier Li said.
The Singaporean leader said his country will join hands with China to build the new corridor to facilitate transport and trade between the two sides.
Premier Li said the memo also sent a positive signal on the issue of South China Sea that the corridor will help China open a shortcut for Southeast Asian countries to enter the Chinese market.
The Premier also highlighted improving China's business environment during the talk. He noted that over the years, Singapore became China's largest source of foreign investment. "We will foster a more convenient investment environment, and China will continue to be an important destination of foreign investment," said the Premier.
Lee said that with the upgraded FTA, bilateral cooperation will continue to be expanded, and China will continue to open up its market.
Premier Li also reaffirmed China's determination to deepen reform and open up, and added the policy remains a key to its modernization.