China is the largest trading partner for Singapore, and Singapore is China's largest source of foreign investment, said Premier Li Keqiang, adding that China welcomes more investment from Singaporean business circles.
Premier Li made the remarks at the 44th Singapore Lecture on Nov 13.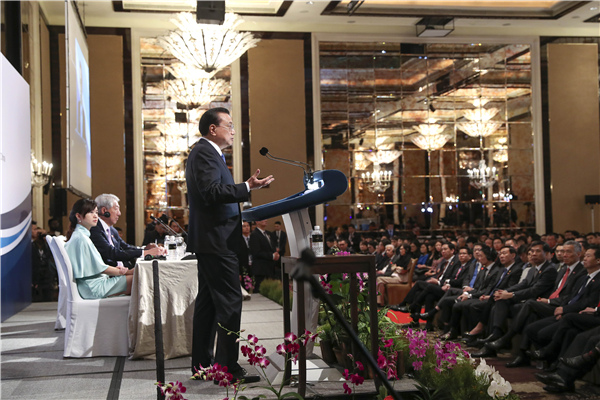 The Singapore Lecture is one of Singapore's highest-level venues for academic discussions. This lecture was attended by more than 500 people coming from political, business and academic fields.
"My purpose on this visit is to push China-Singapore relations to a new stage," Premier Li said.
He said Deng Xiaoping visited Singapore 40 years ago when China started its journey of reform and opening-up. Over the past four decades, China's reform and opening-up has drawn many successful experiences from Singapore, and at the same time Singapore also benefited greatly from its deep involvement in the process.
Premier Li said establishing an open economy enables China to integrate its economy around the globe in a profound way, which is not only the country's direction for the future, but also a development idea it firmly believes.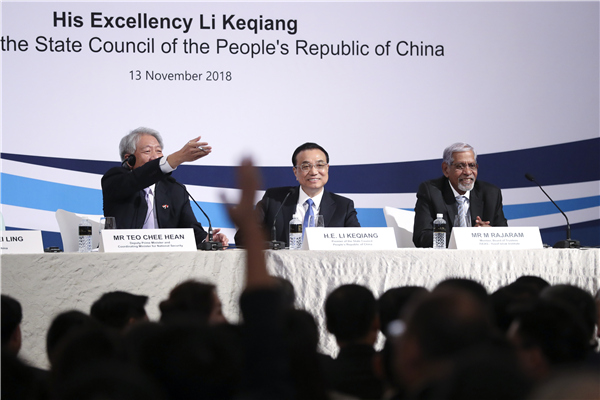 China will never withhold its steps in opening-up, and will continue to deepen reform with more firm measures to streamline administration and cut taxes and fees, Premier Li said.
He also pledged that China will create a fair and more optimized business environment for enterprises with varied structures.
"We welcome Singapore to seize opportunities brought by China's new round of opening-up, and work with us to upgrade our pragmatic cooperation," the Premier said.
According to the Premier, China will continue to expand opening-up in the service sector, as well as basic industries. Currently, large enterprises from Europe and the US already have set up solely-invested petrochemical companies in China, and he hoped Singapore and other ASEAN nations also could seize the opportunity.
He stressed that China has built a market-oriented, law-based and international business environment, and welcomes more and more investment.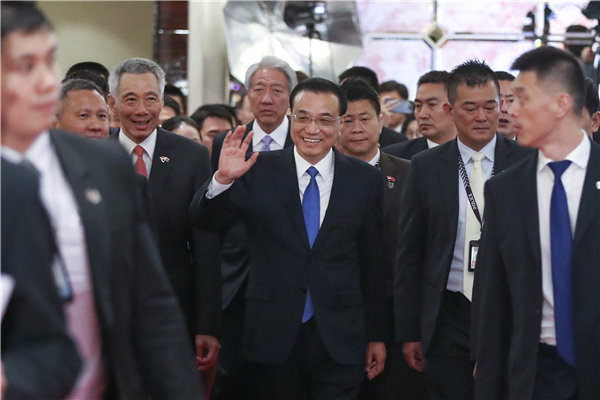 "We are waiting for your more investment in China," Premier Li concluded, with his speech earning warm applause.