The upgraded China-ASEAN free trade agreement took effect for all members a day after Premier Li Keqiang and Singaporean Prime Minister Lee Hsien Loong witnessed the signing of significant documents on upgrading the China-Singapore FTA.
"Yesterday, all domestic procedures have come to an end on upgrading the China-ASEAN FTA," Premier Li said at the 21st China-ASEAN (10+1) leaders' meeting held in Singapore on Nov 14.
He added that this will further enhance China-ASEAN relations and send a positive signal to the international community on maintaining multilateralism and free trade.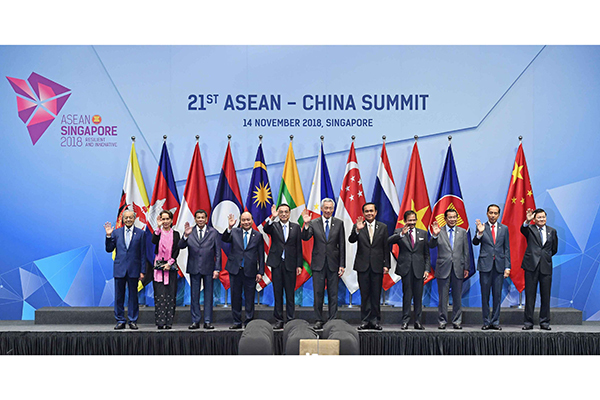 Multilateralism is the common interest
It is the common voice of all attending leaders to take upgrading the China-ASEAN FTA as an opportunity for an all-around upgrade of China-ASEAN trade and investment cooperation.
Philippine President Rodrigo Duterte said the protocol on upgrading China-ASEAN FTA showed the two sides have been continuously promoting trade liberalization and investment facilitation.
"We believe that China and ASEAN can continue to promote trade and investment cooperation and maintain multilateralism, which remain our common interests," Duterte said.
Malaysian Prime Minister Mahathir Mohamad said trade is very crucial to China and ASEAN, adding he hoped to continue to keep communications with China and tap trade potential.
China and ASEAN promoted regional peace, stability and economic growth, said Brunei head of state Sultan Haji Hassanal Bolkiah, who called for the two sides to continue to maintain the momentum and expand cooperation to bring benefits to the region.
Indonesian President Joko Widodo quoted a Chinese proverb, that one strand of silk does not make a thread, and one tree does not make a forest. "We can get a sense of the impact by uncertainties in the world economy, featured by rising protectionism and zero-sum game and many challenges the region has encountered," he said.
To handle this change, China and ASEAN have no choice but to strengthen cooperation and make themselves the pillar for peace and security, stability and prosperity, he said.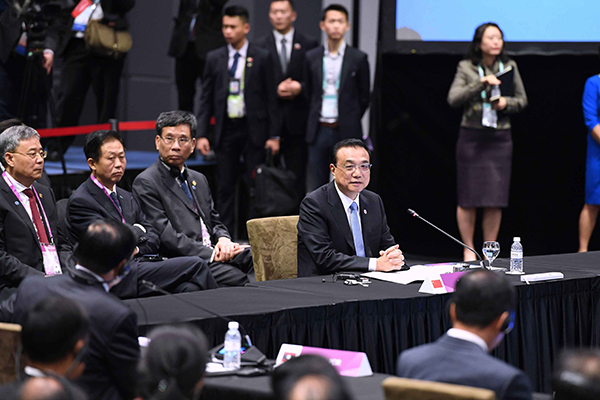 Challenges and opportunities
Singaporean Prime Minister Lee Hsien Loong, whose country holds the rotating ASEAN chairmanship this year, said in his speech that China and ASEAN share a strong, substantial and mutually beneficial relationship, and bilateral economic ties are robust.
"Both ASEAN and China endorse open and rule-based multilateralism, and they supports expanding opening-up and mutual connection," Lee said. "The implementation of the protocol on upgrading China-ASEAN FTA will not only promote bilateral investment and trade, but will also release a signal of supporting multilateralism and trade cooperation."
After the conclusion of the ASEAN leaders' speeches, Premier Li said this year marks the 15th anniversary of the establishment of China-ASEAN strategic partnership. These years' of experiences deserve to be reviewed and summarized; that is, China and ASEAN should stick to mutual respect and seek common ground while reserving differences, uphold open cooperation and common development, and learn from each other.
"Nowadays the unstable factors are increasing, with protectionism and unilateralism emerging, which bring unprecedented challenges to East Asia, but there are still opportunities," the Premier said.
The deepening cooperation and partnership with ASEAN to foster a closer community of a shared future is a contribution for all human society, he said.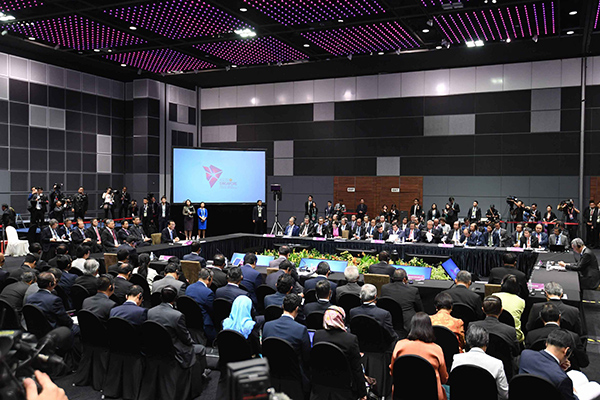 China-ASEAN cooperation
Many ASEAN leaders mentioned the same numbers: China has been ASEAN's biggest trade partner for eight consecutive years; in 2017, bilateral trade volume capped $442 billion, accounting for 17 percent of ASEAN's total foreign trade volume. Therefore, Premier Li suggested a strengthened strategic project with ASEAN, furthering cooperation in trade, innovation and people-to-people exchanges, as well as security.
"Just now several of my counterparts mentioned the aim of achieving $1 trillion in bilateral trade by 2020, and $150 billion of investment," Premier Li said, "so we should break unreasonable trade barriers and dig up more potential through various channels."
China and ASEAN should team up to work out a plan to lead enterprises in reaching this goal, the Premier suggested.
Those at the meeting also passed the China-ASEAN Strategic Partnership Vision 2030, and published a joint declaration on technological innovation cooperation. Before the meeting, negotiation on the Code of Conduct in the South China Sea made remarkable progress.
"We all support and maintain international order based on rules," Premier Li said.
China is willing to join ASEAN to complete negotiation on the Code of Conduct in the South China Sea within three years to maintain peace and stability in the South China Sea, meanwhile promoting free trade and boosting an upgrade of the China-ASEAN FTA, the Premier added.