Premier Li Keqiang attended panel discussions with NPC deputies from South China's Guangdong province during the second session of the 13th National People's Congress on March 7.
The Premier said that Guangdong ranks first in economic development in China, with an economic aggregate that accounts for 10 percent of the country's total. In the previous year, Guangdong's economic growth outpaced the national average.
Guangdong's rapid development not only has benefited its own people, but also provided jobs for over 20 million migrant workers from all over China, playing an important role in promoting economic growth and stabilizing employment.
As a pioneer in advancing reform and opening-up, Guangdong should shoulder its responsibility to ensure its economy operates within an appropriate range and make irreplaceable contributions to the country's development, Premier Li added.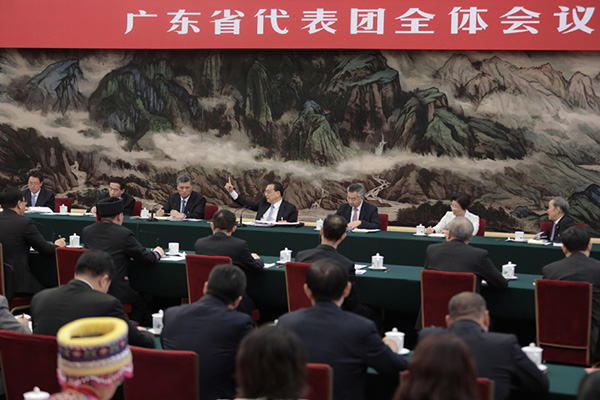 Noting that Guangdong boasts the largest number of market entities in the country, the Premier urged the province to further deepen reforms to withstand downward pressure by stimulating market vigor.
"Guangdong should build a first-class business environment in terms of international standards, to become a top-level region with an active economy," the Premier said.