Premier Li Keqiang joined a panel discussion with representatives from Central China's Hubei province on the sidelines of the second session of the 13th National People's Congress on March 8.
As an important older industrial base, Hubei boasts a large number of scientific research institutions and talents, which should be combined through the market to replace old growth drivers with new ones, Premier Li said.
He said he hopes the province will continue to innovate the system and mechanism of science and technology, thus stimulating the enthusiasm of researchers engaged in basic research.
The Premier also expects Hubei to promote mass entrepreneurship and innovation, as well as business innovation, technological innovation and model innovation, and to tap the potential for the development of emerging industries.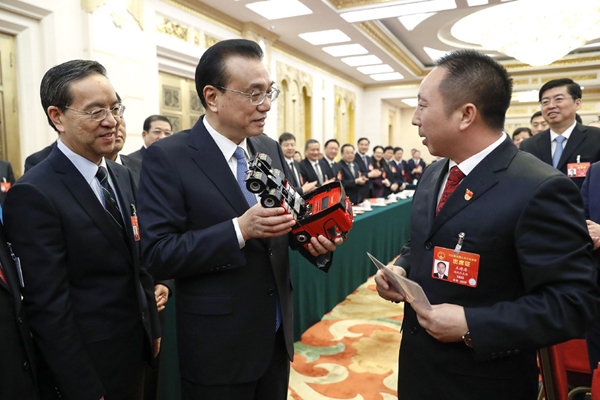 To build a first-class business environment that is market-oriented, law-based and internationalized, Premier Li said, more efforts are needed to cut taxes and fees, lower operational costs, and reduce institutional transaction costs.
The Premier hailed Hubei's major indexes in economic and social development that last year were higher than the average level of the country. He said he hopes the province continues administrative reform, combined with improved infrastructure construction.
Premier Li said a good business environment is good for attracting talent, so market vitality can be stimulated to withstand downward pressure. He encouraged Hubei to keep its leading place in the central part of the country and catch up with the developing pace of the eastern region.