Li Keqiang
Premier of the State Council
People's Republic of China
6 February 2016
Fellow Comrades,
Dear Friends,
The Chinese New Year of the Monkey is just around the corner. On this joyous occasion of family reunion and nationwide celebration, I wish to extend, on behalf of the CPC Central Committee and the State Council, festive greetings to people of all ethnic groups in China, and to our compatriots in Hong Kong and Macao, compatriots in Taiwan, as well as overseas Chinese nationals. I also wish to express sincere greetings to those who remain in their work posts during the holiday season.
The Spring Festival that heralds the Chinese New Year is the most important and most celebrated traditional festival in China. Wherever they are, people go back home at this time of the year. They get together with their families, visit their elderly and start wishing for a prosperous new year. The Spring Festival is a time to celebrate one's love for the family and the nation. The tradition that has lasted for thousands of years has indeed drawn a spiritual bond among every Chinese in the world.
Over the past year, under the strong leadership of the CPC Central Committee with Comrade Xi Jinping as the General Secretary, China's reform and development has braved the storms and maintained medium-to-high growth despite the sluggish world economy. We have continued to press ahead with structural reforms and the innovation-driven development strategy. Structural adjustment has produced fruitful outcomes and mass entrepreneurship and innovation has become the prevailing trend. New drivers of growth have been fast accumulating, with tens of thousands of newly registered firms emerging every day and a total of more than 13 million jobs created the whole year round. The Party and the government have paid more attention to the improvement of people's lives. Household income has increased in sync with the GDP and fresh progress has been made in various social undertakings. Fairness and justice have increasingly taken hold and people have got paid with greater returns for their hard work. The past year has also seen times when our hearts were drawn closer together through responding to serious natural disasters and public security contingencies. Those events reminded us that the security of the people should always remain our top priority. In the early hours this morning, Gaoxiong of Taiwan was hit by a powerful magnitude 6.7 earthquake. I hereby extend deep sympathies to our compatriots in Taiwan.
The Year of the Monkey promises vigor and vitality. Standing at a new starting point in history, people of all ethnic groups in China are working in unison to build a society of initial prosperity in all respects and achieve the great renewal of the Chinese nation. We will follow the four-pronged comprehensive strategy and the philosophy of achieving innovative, coordinated, green, open and inclusive development in everything we do, in an endeavor to write a new chapter of national development in China.
We will give top priority to development with a greater sense of urgency. We will bring into full play the incentives of all sectors, rise up to challenges with full confidence and work tenaciously with an unyielding spirit, so as to ensure that the 13th Five-Year Plan set off to a good start this year.
While expanding aggregate demand as appropriate, we will press ahead with structural reforms, particularly reforms on the supply side, in order to remove hindrances to development. We will take initiatives to unleash the creativity and ingenuity of the hundreds of millions of people, and foster new growth drivers while reviving traditional ones. By doing so, we will lay a solid foundation for steady and sustained development of the Chinese economy.
We will address practical and prominent issues bearing on the immediate interests of the people to the best of our ability. Through fighting poverty, we will bring to poor families care and warmth from the Party, the government and the society. More opportunities will be created that allow ordinary people to build fortune and realize life's potential with their wisdom and hard work. And good moral principles and social conduct will be advocated in society. All this will serve to deliver to the people a happier life with more secure jobs, greater confidence in the future and a stronger sense of satisfaction.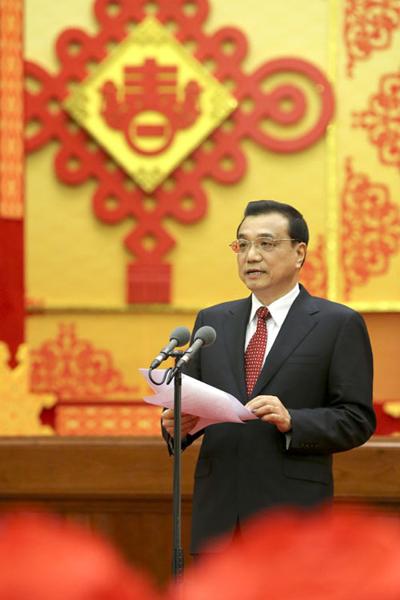 Comrades and Friends,
We believe that hard work pays back and with great efforts comes national revival. To fulfill the grand vision of the Chinese nation requires concerted efforts of the entire Chinese people. Let us rally closely around the CPC Central Committee with Comrade Xi Jinping as the General Secretary, and strive forward with one heart and mind and a strong resolve to complete the building of a moderately prosperous society in an all-around way, make China a modernized socialist country that is prosperous, strong, democratic, harmonious and culturally advanced and realize the Chinese Dream of the great renewal of the Chinese nation.
I wish all of you a happy Spring Festival and good health in the New Year! I also wish people of all ethnic groups in China and their family happiness and good fortune in the year ahead.