On the morning of 20 Sept local time in New York, Premier Li Keqiang met with over a dozen of prominent figures from US economic, financial, academic and media circles at Waldorf Astoria and answered questions regarding China-US relations and other issues of common interest.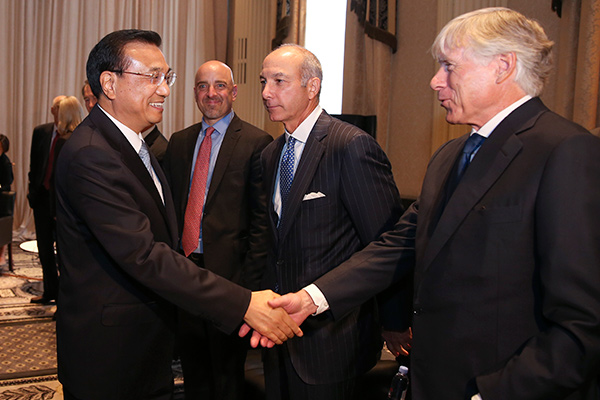 Among those present were: former Mayor of New York City and founder of Bloomberg LP Michael Bloomberg, former Secretary of State Dr. Henry Kissinger, former Secretary of the US Treasury Henry Paulson, IBM Chair and CEO Ginni Rometty, Chairman and CEO of the Blackstone Group Steve Schwarzman, Chairman and CEO of Dow Chemical Company Andrew Liveris, President and CEO of MetLife Steve Kandarian, President of the Council on Foreign Relations Richard Haass, and PBS anchor Charlie Rose. The following is a transcript of Premier Li's remarks at the roundtable:
In his opening remarks, Premier Li said: I would like to thank Mr. Bloomberg for moderating today's event. We may not have too many participants today, but I appreciate the presence of so many towering figures and important representatives from the business community, financial sector, think tanks and media.
I particularly appreciate this opportunity to meet my old friends Dr. Kissinger, Secretary Paulson and other old friends. Maybe there are a few that I'm meeting for the first time. I remember receiving a copy of On China from Dr. Kissinger and a copy of On the Brink from Secretary Paulson. China and the US not only have stable political ties, but also enjoy very close business cooperation. I was told that in every second each day, a Chinese is buying an iPhone. Maybe those Chinese customers buying the iPhone are not aware that the real Big Apple is the New York City.
This time I've come to the New York City to attend the General Debate of the UN General Assembly and a series of high-level UN events. And I cherish this opportunity for discussions with prominent figures from relevant circles in New York to exchange views with you on China-US relations and issues of mutual interest.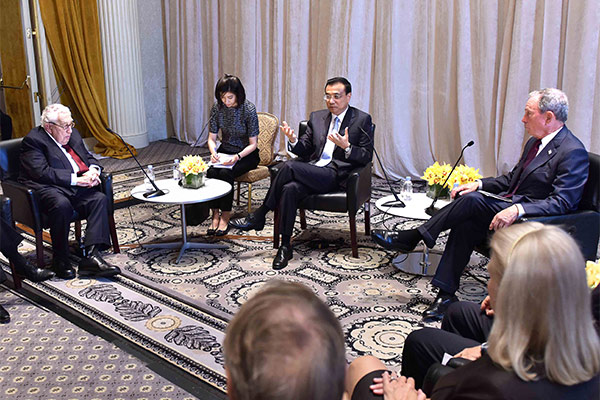 Responding to a question on the Belt and Road initiative, Premier Li said: China and the US are respectively the world's biggest developing and developed countries. A growing and stable China-US relationship is in the interest of the people of both countries. It is also conducive to global peace, development and stability.
There were Silk Roads both on land and at sea for interactions between ancient China and countries in other parts of the world. In order to enhance connectivity with other countries, particularly countries in our neighborhood, and facilitate the flow of goods and people, the Chinese government put forward the initiative of the Silk Road Economic Belt and the 21st Century Maritime Silk Road (the Belt and Road initiative). "Silk" is the very key word in this new initiative. This means that the initiative is about exchanging commerce. It is about interactions between countries in a peaceful and stable environment. And it is about the flow of goods instead of fight between soldiers.
This Belt and Road initiative is mainly oriented at China having closer interactions with neighboring countries and those on the Eurasian continent. And an important principle guiding this initiative is for China to align this initiative with the development strategies of countries participating in this initiative, instead of for this initiative to replace the development strategies of others. The advantage of doing so is that it will make it much easier for the countries involved to link up their transportation infrastructure such as railways, roads and ports to facilitate commerce, and naturally that will bring greater benefits to people of both sides.
The initiative is first and foremost about China aligning its development strategies between neighboring countries. If countries further away are interested in taking a part, we are open to cooperation, but certainly on a voluntary basis from both sides.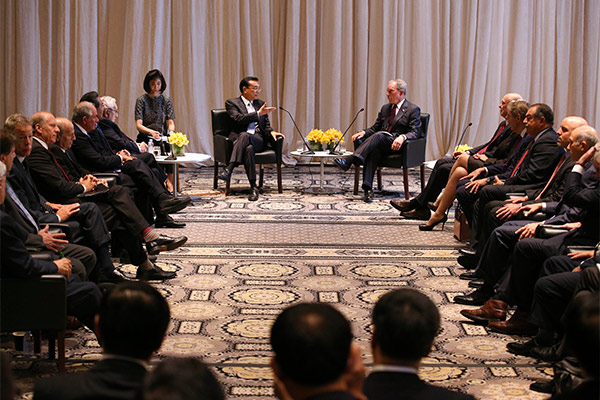 When asked about China-US relations and market environment in China, Premier Li said: Given the differences in our cultural background and national conditions, I believe it is only natural for China and the US to have frictions or run into problems in growing this relationship. But what's more important is for us to bear in mind the mainstream and the general trend in China-US ties. In the past several decades since diplomatic relations were established, we have seen much rain and winds in growing this relationship. But after each rain, the sky only gets even clearer. And I believe it is hard for anyone to imagine how much this relationship has grown in the past several decades. Before we established diplomatic ties, we had a mere sum of US$4 billion of two-way trade. But the figure last year surged to US$560 billion, not to mention the people-to-people flow, which doubled in the past five years. This doesn't mean that I hope there will be more rains so we can have clearer skies. Hopefully there will be less rain or just a drizzle, and more clear sunny days.
Talking about mutual investment, I also heard complaints from some business people. Before we normalized our relations, there was virtually zero mutual investment. And there was also zero complaint too. But now, US investment in China has grown to over US$70 billion. So how is it possible for it to be completely problem-free. But I will make it clear here that China will only open even wider to the outside world. Now we are having this BIT negotiation with the US on a basis of pre-establishment national treatment and a negative list approach. This sends a very positive message to the business communities in both China and the US for mutual investment to go steady and in a positive direction.
Over the past three years, the Chinese government has made tremendous efforts to streamline its administration and delegate powers to ease the restrictions on doing business. For example, in terms of the number of items and areas where foreign investment is restricted, that number is halved, and we intend to cut it further. Sometimes I would receive letters from some US business people expressing concerns or complaints. Honestly, I take the issues expressed in these letters seriously. I don't want to see individual issues affecting China-US business ties. But at the same time, I also receive reports from Chinese governmental departments. They told me that in the first half of 2016, US investment in China has grown by 1.2 times. I have also seen reports from the USCBC saying that over 90% of US companies making investment in China are making profits. I think these two tally with each other. For such a large economy as China, as it undertakes massive reform, it will take a step-by-step process. There may be some twists and turns in the cooperation process in certain localities or sectors. But the overall trend is that China will only open wider to the world; a door that has been opened cannot be closed again.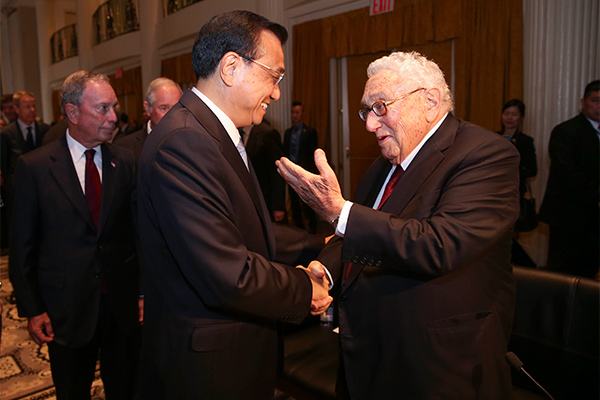 On China's big data and cloud computing industries and access of foreign capital, Premier Li said: Big data and cloud computing are fast-growing industries in China. On the whole, they have played a positive role in China's economic transformation. But at the same time, some problems also surfaced. Recently, there has been a case of someone using big data to commit fraud that has led to family tragedies, theft of trade secrets and unlawful disclosure of personal information. So we are exploring ways to improve relevant regulations. China's big data and cloud computing industries should be open and safe, capable of protecting commercial secrets and personal information and allowing systems to operate in a safe and secure environment. So we will do it bit by bit, and we are ready to discuss with foreign companies how we can find an effective way to develop these industries that we can keep them open and secure.
On the very day that I arrived in New York, I read about the chief of a very important US agency warning that when you are not using Skype or other video communication programs, you need to seal off the camera on your computers physically. Otherwise, you will have your privacy exposed. I already told my ministers that this is very important. Measures to protect information security need to improved.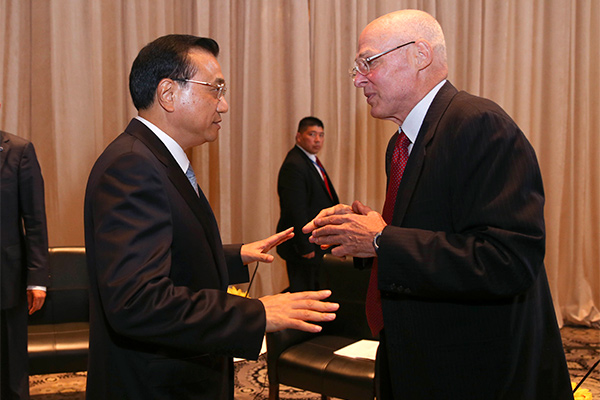 When asked about China-US trade and the BIT negotiations, Premier Li said: Globalization started with trade liberalization across borders. The UK was the first one to benefit from globalization, and the US has been the biggest beneficiary from globalization. And in recent years, China has been one of the major beneficiaries from globalization too. In globalization, benefits can be shared, the comparative advantages of countries can be leveraged, and people's lives can be improved. But for anything, it is impossible for it to have just an upside without any downside. So in the course of globalization, some people may feel their interests hurt, and some sectors have lost their vested interests. Hence, there is this backlash against globalization. But I see recent developments as a hiccup in the course of globalization. On the whole, I believe as we live on the same planet, each individual has his own strength, just as each country has its own comparative advantage. So we need to complement each other. Globalization, trade liberalization and investment facilitation are the trend going forward. We need to address the downsides of globalization, but one should not give up eating for fear of choking, as a Chinese saying goes. I believe China's active efforts in the negotiations of the BIT shows China's commitment to trade liberalization and investment facilitation. In just two years, China has for three times revised its offer in the BIT negotiations. We hope the US will be equally actively engaged in the negotiations. For example, we hope the US will further ease its restrictions on high-tech exports to China. Such exports may not take up a large share in China-US trade, but its impact is a significant one. I believe that through negotiation, our two sides will be able to reach a high standard and mutually beneficial BIT.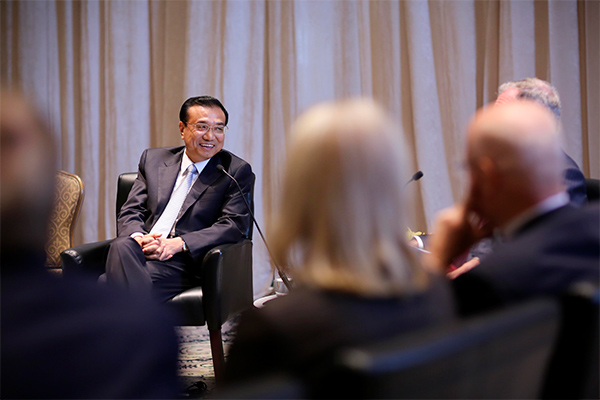 On US presidential election and access to China's insurance market, Premier Li said: I have come here to New York for UN events, but some friends told me that I am not coming at a right time, because it is the campaign season, which is the internal affair of the US. So there is little I can say about this except that no matter who becomes the next president, it is important that China-US relations continue to develop in a sound and steady manner. But one thing is definitely clear, that is, China is a firm defender of free trade, and we always push forward free trade under the WTO framework. This position will not change, because China, together with many other countries, has been a beneficiary of free trade. How can China give up what it has gained from? It doesn't make sense.
Talking about China's insurance market, it has developed for a very short time. Therefore we do lack experience, and we are taking steps to enhance and improve our regulatory structure to protect the policy holders. Every year, the elderly population in China grows by a large margin, so there is a huge insurance market in China. In developing its insurance market, China needs to draw upon the advanced experience of foreign countries and get foreign companies involved in this process, so that this market will be one of bigger vitality and consumers will have more options and choices. I want to tell you that in the most recent revised offer that China put to the BIT negotiations, further commitments on insurance sector opening-up were made, and I believe there is great potential for China-US cooperation in this respect.
When asked about the situation on the Korean Peninsula, Premier Li said: China is a firm defender of the international nuclear nonproliferation regime, and is firmly opposed to nuclear tests by the DPRK. China is committed to the denuclearization, peace and stability of the Korean Peninsula as well as a solution through dialogue and consultation. We don't want to see turmoil, let alone war, on the Peninsula, nor do we what to see large-scale movements of refugees or an arms race in the region. So we hope all relevant countries will work together to get the North back to the negotiating table to find a fundamental solution through negotiations to the nuclear and missile test issue. Not long ago, the UN Security Council adopted Resolution 2270 and China voted in favor of it. Now China is implementing this resolution fully and earnestly in its entirety. I had a discussion about this issue with the US leader in our meeting yesterday. We both believe that China and the US should have further communications on the situation and agree with further response from the Security Council to the latest nuclear test. China hopes that the issue can be fundamentally resolved politically through diplomatic means, as we have seen on the Iranian nuclear issue.