Vice-Premier Zhang Gaoli met with Iranian Foreign Minister Mohammad Javad Zarif in Beijing on Dec 5, pledging to cement substantial cooperation and strategic partnership with Iran.
Zhang recalled President Xi Jinping's state visit to Iran in January when both sides forged a comprehensive strategic partnership.
He said relevant departments of both sides have coordinated closely to implement the outcome of President Xi's visit and made new progress in bilateral cooperation in politics, energy, infrastructure building and culture.
Zhang called on both countries to maintain high-level exchanges, consolidate political foundations and facilitate cooperation on the Belt and Road Initiative.
China and Iran should combine development strategies, enhance cooperation in energy, trade, investment and finance, and map out plans for cooperation in interconnectivity and capacity, the Vice-premier said.
Calling China a trustworthy friend of Iran, Zarif said Iran hopes to participate in the Belt and Road Initiative and strengthen cooperation with China in various areas to enrich the bilateral partnership.
Earlier on Dec 5, Zarif and Chinese Foreign Minister Wang Yi co-chaired the first annual foreign ministers' meeting between China and Iran.
The annual meeting is part of efforts to deepen strategic trust and cooperation on multilateral affairs.
Calling Iran an important country along the Belt and Road, Wang said China expects more progress of bilateral cooperation in economy, trade and infrastructure building.
The Belt and Road Initiative, proposed by President Xi in 2013, refers to the Silk Road Economic Belt and the 21st Century Maritime Silk Road. It aims to build a trade and infrastructure network connecting Asia with Europe and Africa along the ancient trade routes.
Regarding Iran's nuclear deal, known as the Joint Comprehensive Plan of Action, Wang called for sustained, comprehensive and efficient implementation of the deal.
Zarif said he appreciated China's efforts, saying that Iran expects the deal to be fulfilled without disruption.
Iran and other world powers, namely Britain, China, France, Russia, the United States and Germany, reached the nuclear deal in July 2015 to end disputes over Tehran's nuclear program.
The deal, which went into effect in January, scraps a major part of Iran's nuclear activities in return for an easing of international and western sanctions on Iran's energy and financial sectors.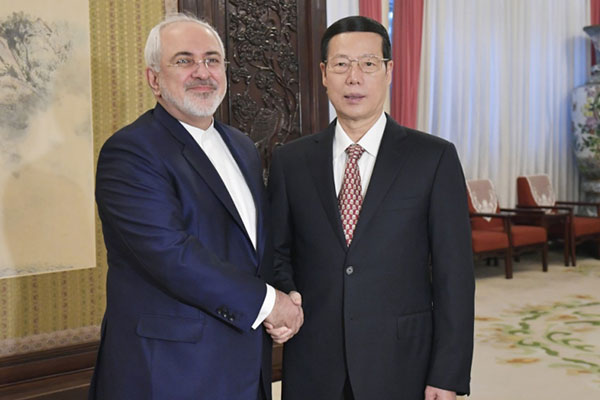 Vice-Premier Zhang Gaoli meets Iran's foreign minister Mohammad Javad Zarif in Beijing on Dec 5, 2016.[Photo/Xinhua]