Vice-premier urges improving rural living conditions
Updated:
Dec 14,2016 7:17 AM
Xinhua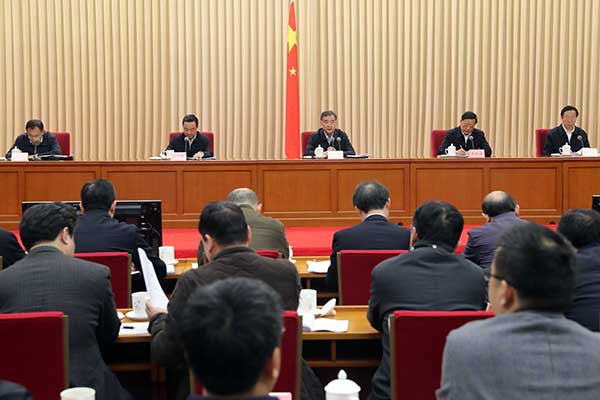 Vice-Premier Wang Yang (C, back) attends a national teleconference on improving the working and living conditions in the rural areas, in Beijing, capital of China, Dec 13, 2016.[Photo/Xinhua]
BEIJING — Vice-Premier Wang Yang on Dec 13 stressed improvement of living condition in the country's rural areas to further boost rural development.
Improving living condition in rural areas is a significant step to enhance China's efforts in narrowing the urban-rural development gap and boosting coordinated development, Wang told a national tele-conference on Dec 13.
The vice-premier underscored continued efforts to strengthen garbage and sewage control in the rural areas and enhance the protection of traditional houses and villages of historic and cultural importance.
Improving rural living condition should be integrated with promoting rural economic development, passing on traditional culture and protecting natural environment, Wang said.
He also called for more works to be done to remove safety loopholes and improve management of infrastructure construction in the rural areas.