AMMAN — China and Jordan are keen to boost ties in various fields and explore further opportunities for increased cooperation, Vice-Premier Liu Yandong said on April 20.
Liu made her remarks at a seminar on April 20 on the occasion of the 40th anniversary of the diplomatic ties between Jordan and China, where she stressed that ties between the two countries are strategic and solid in various fields.
"China supports the development process in Jordan and is keen on increased collaboration with Jordan," Liu said during the seminar.
Ties between Jordan and China are on the rise with trade exchange exceeding $3.1 billion in 2016, she said.
She added that China is Jordan's second largest trade partner, noting that there are tens of Chinese companies investing in Jordan.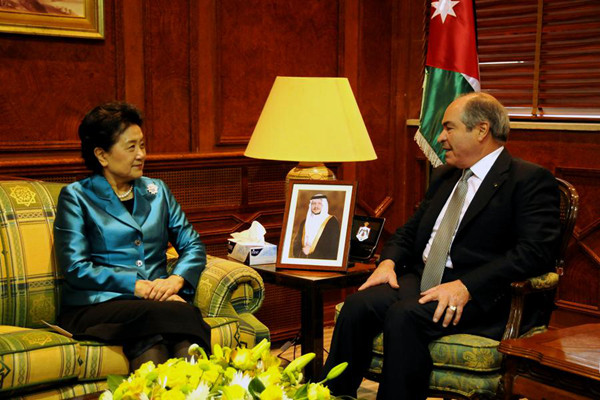 Vice-Premier meets Prime Minister Hani al-Mulki of Jordan in Amman on April 20.[Photo/Xinhua]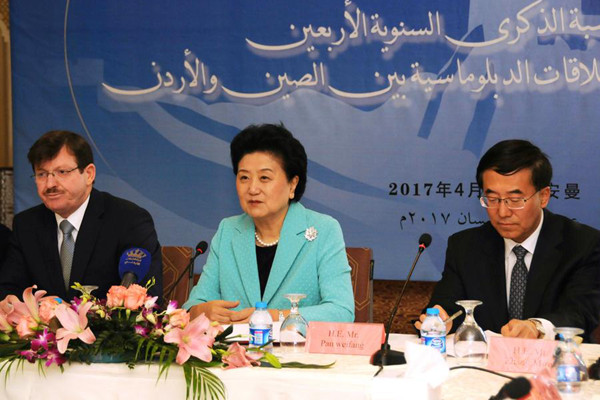 Vice-Premier Liu Yandong attends a seminar commemorating the 40th anniversary of diplomatic ties between China and Jordan on April 20.[Photo/Xinhua]
She also highlighted cooperation in the field of energy as key sector where there is tremendous potential for increased partnerships.
Jordan's Health Minister Mahmoud Shayyab said there are several agreements for cooperation between Jordan and China.
He added that there is large room for increased cooperation in the field of tourism.
According to Jordanian officials, the number of Chinese tourists visiting Jordan in 2016 increased by 40 percent.
Also on April 20, Prince Faisal, the Regent, received Vice-Premier Liu and discussed means to boost ties in various areas.
Discussions between the two sides also focused on developments in the Middle East and efforts exerted to reach political solutions to crises in the region.
They also looked into efforts to combat terrorism and extremism, which threaten global peace and security.
Prince Faisal and Vice-Premier Liu also discussed efforts under way to revive the peace talks between the Palestinians and the Israelis based on the two-state solution, the Arab peace initiative and the international legitimacy resolutions.
In this regard, Liu voiced China's support to Jordan and its efforts in attaining Middle East peace.