BEIJING — Vice-Premier Han Zheng stressed to take bolder and more effective measures to implement the proactive fiscal policy.
Han, also a member of the Standing Committee of the Political Bureau of the Communist Party of China Central Committee, made the remarks when presiding over a meeting after an inspection of the Ministry of Finance (MOF) on Feb 15.
At the meeting, Han studied major issues, including the launch of another round of tax cuts and fighting the "three critical battles" against risks, poverty and pollution.
The MOF should stick to the basic tone of seeking progress while maintaining stability, promote high-quality development and take coordinated steps to ensure steady growth, advance reform, make structural adjustments, improve living standards and guard against risks, Han stressed.
He said that larger tax cuts will be helpful in improving the country's income distribution system and the tax structure and better serve China's current macro policy.
The MOF should relieve the social insurance payment burden of firms, strengthen the management of the fiscal revenue and expenditure and create a sound policy environment for fair competition, Han said.
Han underlined that measures should be in place to effectively prevent and handle financial risks, reinforce the monitoring of the local government debt risk and deploy more funds to facilitate winning the battles against poverty and pollution.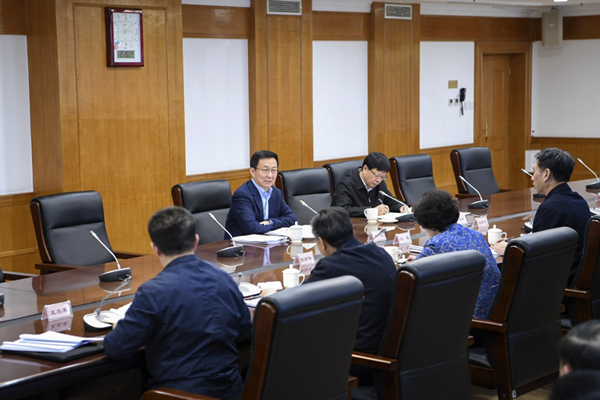 Vice-Premier Han Zheng, also a member of the Standing Committee of the Political Bureau of the Communist Party of China Central Committee, presides over a meeting after an inspection of the Ministry of Finance (MOF) in Beijing, capital of China, Feb 15, 2019.[Photo/Xinhua]