China does not intend to assume a role as Big Brother, but instead seeks to build a community of a shared future with all its neighbors, Premier Li Keqiang said in Beijing on May 31.
"There are no grounds for China to become a superpower, and neither does China have the intention to be one," Premier Li said.
"China has a long way to go to realize modernization. It needs a stable regional and peaceful international environment, and China is committed to safeguarding that environment."
The Premier made the remarks while answering a question from Suthichai Yoon, chief adviser of Nation Multimedia Group, at the Great Hall of the People on May 31 during a meeting with a delegation from 21 Asian media outlets. The media representatives gathered in Beijing for the two-day annual board meeting of the Asia News Network.
The ANN, founded in 1999, is one of the world's biggest media alliances. It comprises leading, mostly English-language news groups with a combined readership of at least 14 million.
Zhu Ling, publisher and editor-in-chief of China Daily, is the acting chairman of the ANN for 2015-16.
The event coincides with China Daily's 35th anniversary, which falls on June 1.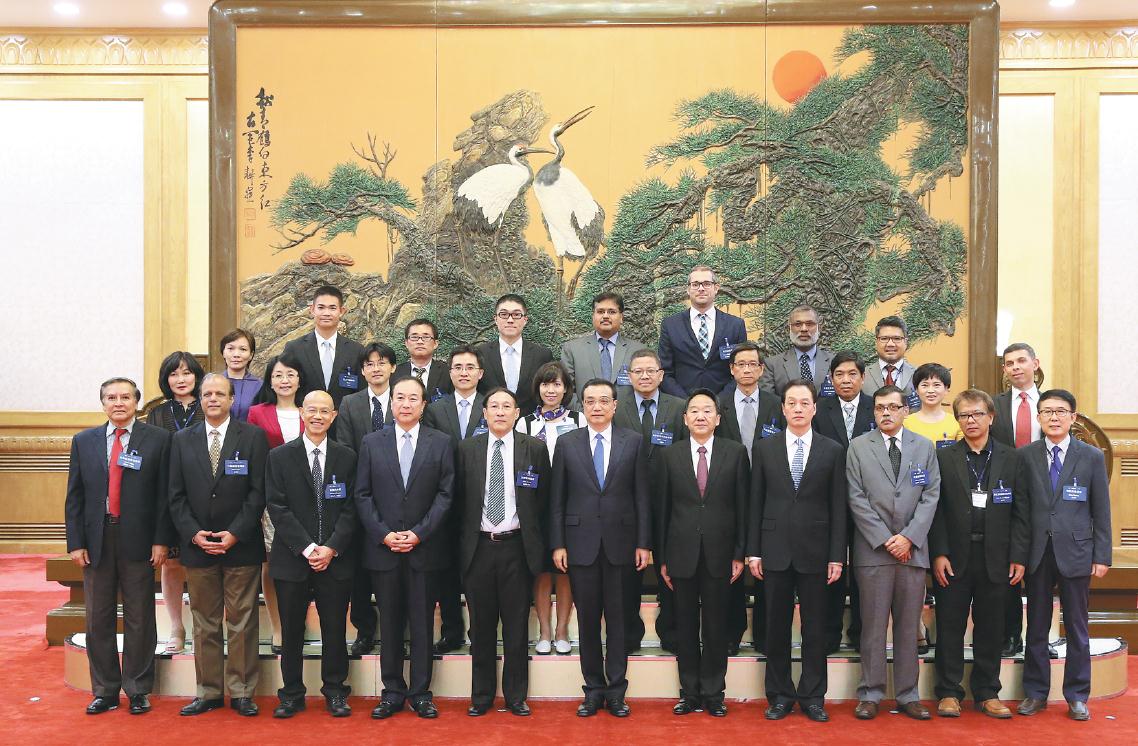 Premier Li Keqiang and representatives from member media outlets of the Asia News Network pose for photo at the Great Hall of the People in Beijing on May 31.[Photo by Wu Zhiyi/China Daily]
Premier Li said that even if China can realize modernization in the coming decades, Beijing will not seek hegemony, and nor will it bully any country, however small that nation is in terms of population or landmass.
Just as a person might accidentally bite his lips, it is only natural that neighbors will have differences, the premier emphasized, but the key is to address such disparities in a calm, diplomatic way.
"I firmly believe that our era is one that needs peace and cooperation," he said. "The common interests among China and its neighbors are way greater than disparities, and we can always optimize the common interests and better manage our differences."
Endy M. Bayuni, editor-in-chief of The Jakarta Post, said he was very impressed that Premier Li answered all of the questions, which Bayuni described as serious and tough ones.
"I am glad he responded to our concerns about where the country is going, as many are worried about the potential of China misusing its growing power."
In answering a question by Phonekeo Volakhoun, editor-in-chief of Vientiane Times of Laos, about the outlook of China-ASEAN relations, Premier Li said that China has consistently supported the integration process of the Association of Southeast Asian Nations and the building of the ASEAN community.
Premier Li said he would attend a summit in Laos in September to mark the 25th anniversary of the establishment of the China-ASEAN dialogue.
"We are committed to pursuing the policy of amity, sincerity, mutual benefit and inclusiveness in developing relations with neighbors," he said.
"We would like to expand political trust with ASEAN members and other Asian countries ... and make concerted efforts to build a close community of a shared future in Asia."
Pana Janviroj, executive director of the ANN, said: "The premier is very candid. He wants to convey China's policies that in recent months have been subject to some skepticism. I'd say he conveys China's policies very well.
"He has confidence, vision and a good understanding of the issues."
Premier Li also took questions from participants from Indonesia, South Korea, Pakistan, Singapore and India regarding a raft of hot spot issues, such as the Korean Peninsula and the South China Sea, and relations with specific countries.
He said that Asia, as one of the most dynamic regions in the world, has played an increasingly important part in the world political and economic arenas.
The Premier said he hoped the Asian news outlets, by following the ANN's goal of improving coverage of Asian affairs by Asian media, can help create an optimal environment for peace and prosperity in the region and around the world.
Premier Li puts visitors at ease during meeting
Meetings with a premier at the Great Hall of the People can be solemn and serious affairs.
But Premier Li Keqiang seems to have an agreeable way to make everyone feel at ease.
Take the meeting on May 31 with the delegation from the Asia News Network as an example.
Pana Janviroj, executive director of the ANN, said in his opening remarks, which he presented in a careful manner, "Members of the Asia News Network are delighted to be in Beijing for our annual editors' meeting and to congratulate China Daily, one of our most active members, on its 35th anniversary."
A smiling Premier then interjected, saying, "You surely are very thoughtful to your colleagues, using this opportunity to express your congratulations on the 35th anniversary of China Daily."
"Thank you," Premier Li said.
Taking a question from Warren Fernandez, editor of the Straits Times, on the South China Sea issue, the Premier said, "Your question shows that you are a senior journalist, but you look so young.
"Looking young is a good thing-maybe you have some secret to keeping fit to share with colleagues."
This paved the way for Premier Li to continue to tackle the serious question regarding the maritime issue.