After Premier Li Keqiang's visit in August, the navel orange base in Ruijin, Jiangxi province has seen a big sale after harvest.
"Premier Li's visit attracted nationwide attention for us. My oranges have already been ordered this year, and may earn 120,000 yuan ($17,434)," said Deng Daqing, a local orange grower.
"The Premier is concerned about the development of old revolutionary areas like Ruijin," Deng said in a joyful tone.
During his visit in August, the Premier learned about local orange production and e-commerce sales and promised that the government would offer more policy support to help fruit growers.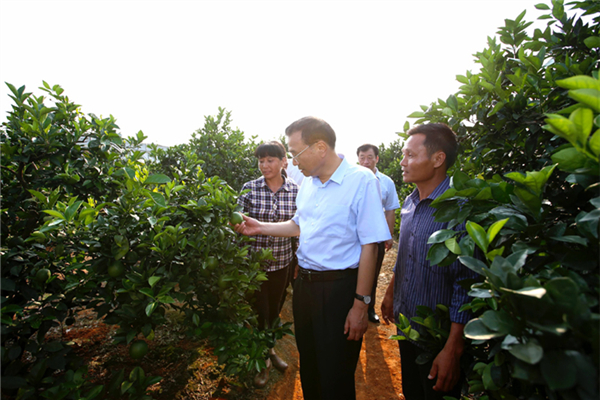 Deng's was one of the poverty-stricken households who earned a living growing rice, like most villagers, until six years ago when he joined the orange base and was trained on how to grow the fruit. His family income doubled that year.
"In the past, the yearly income of my family was only 10,000 yuan. Now, oranges on one or two mu (0.066 to 0.13 hectares) can generate the same amount of income," Deng said.
Currently, there are about 30,000 farmers in the navel orange base in Ruijin; of them, 10 percent are enrolled in the government's poverty alleviation program. A safety tracking mechanism was established in the township via Internet Plus, and by selling oranges through online platforms, the sales volume and local farmers' income greatly increased.
Premier Li said Internet Plus enhanced the quality of navel oranges and ensured safety, promoting the development of the whole industry.
"We hope our oranges can be sold to the whole world, and more and more people can shake off poverty. We should never let the Premier's expectations down," a villager told reporters.