As a road map to the future of China's manufacturing industry, "Made in China 2025" has been one of the keywords in Premier Li Keqiang's narrative since it was first proposed in March 2015 at the annual plenary meeting of the National People's Congress.
"We must lead China to become a world manufacturing power from the workshop of the world," the Premier said on March 9, 2015.
The 10-year guideline was officially issued by the State Council on May 19.
It plans to cultivate innovation and research capability, and build green and smart manufacturing with the integration of information utilization.
It also urged improving the quality of Chinese products and brands, building a solid foundation of manufacturing by mastering key basic components, technologies and materials.
Ten industries were highlighted in the guideline — information technology, high-end numerical control machinery and automation, aerospace and aviation equipment, maritime engineering equipment and high-tech vessel manufacturing, rail equipment, energy-saving vehicles, electrical equipment, new materials, biomedicine and high-performance medical apparatus, and agricultural equipment.
According to an official statement, the program is China's answer to the new global tide of technology progress and the recent reindustrialization strategies by Western powers — such as "Industry 4.0", the German government's high-tech strategy released in 2013.
Since then, the Premier has issued several policies and made many comments to promote the strategy.
Equipment manufacturing as 'major arena'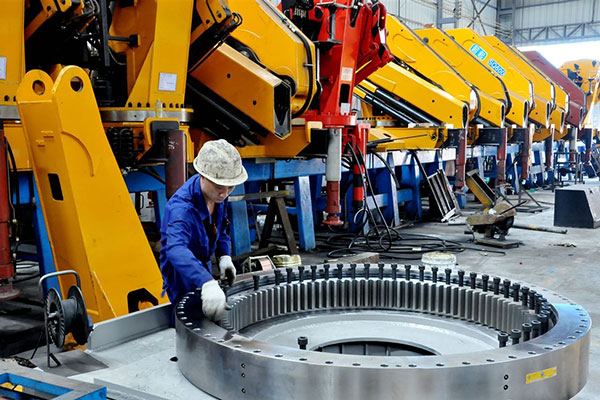 China should make equipment manufacturing the "major arena" for the country's technological innovation, Premier Li said while presiding over a State Council executive meeting on June 17, 2015.
He urged developing and exporting Chinese equipment, such as nuclear power equipment, instead of just exporting low-end consumer goods.
Since China launched its economic reform, most of the world's consumer goods have been made in China, Premier Li said, but the brands — as well as the equipment to produce them — are usually from overseas.
He also said that, as the economy evolves, it will be difficult to maintain growth only by "taking advantage of the cheap labor force" and contract manufacturing.
Switching the focus from consumer goods to Chinese-made equipment will further upgrade the Chinese economy so that it can maintain continuous development, he said.
Details:>> Equipment manufacturing sector key to tech innovation
New ideas and additive manufacturing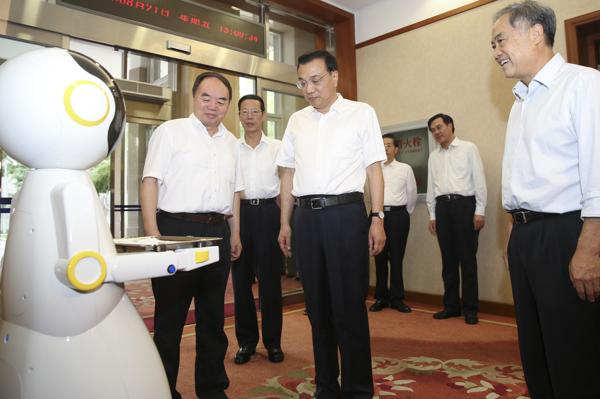 "We must have new ideas if we want to lead China to a high-end economy," the Premier said after he heard a State Council lecture about 3D printing on Aug 21, 2015.
3D printing, he said, as a form of additive manufacturing, can open up our mind not only to manufacturing, but also to other sectors.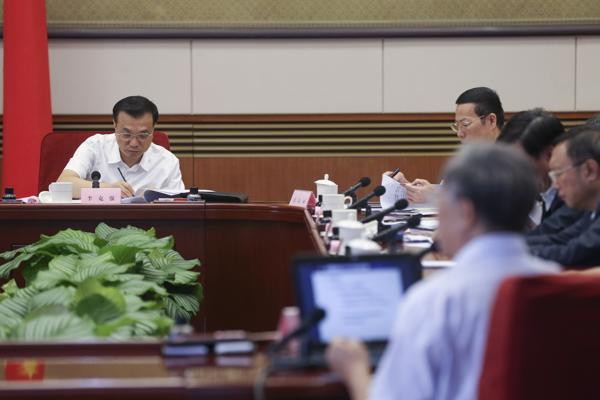 "China is not rich in natural resources. Additive manufacturing can offer a revolutionary change in the way of production," said the Premier.
"The idea of additive manufacturing can also apply to other sectors. For instance, by integrating internet with manufacturing, we have altered the way of marketing and made institutional breakthroughs," he said.
Details:>> Premier mulls pioneering tech to compete with developed world
Supporting new-energy vehicles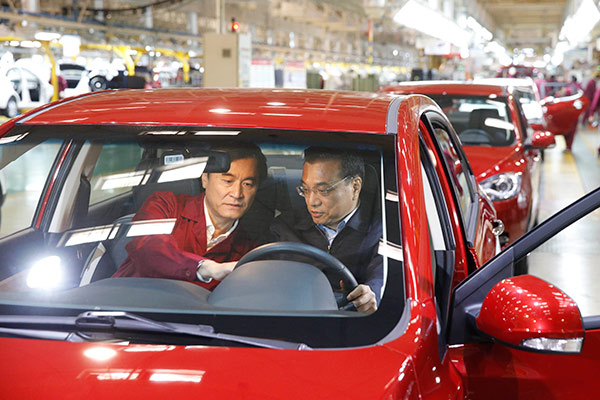 The Premier voiced support for the new-energy vehicles industry while visiting an automaker in East China's Anhui province on Oct 30, 2015.
The government will take multiple measures, including putting forward support policies and improving the charging network, for the development of new energy vehicles, he said.
China's vehicle manufacturers should eye the most advanced technologies in the auto industry, enhance openness and international cooperation, and build up China's national auto brands, he said.
Details: >> Premier supports development of new-energy vehicles
Connecting "Made in China 2025" with Germany's "Industry 4.0"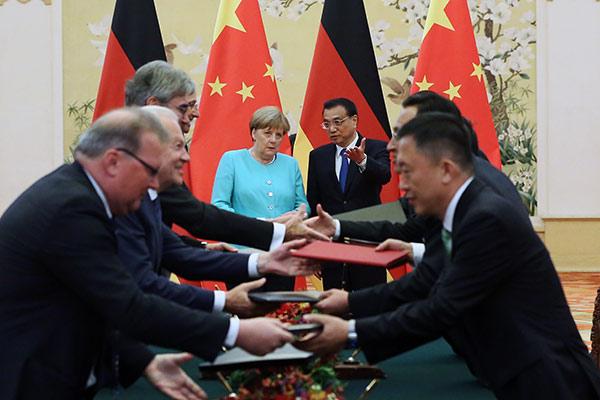 Premier Li Keqiang and German Chancellor Angela Merkel attend a signing ceremony at the Great Hall of the People in Beijing, June 13, 2016.[Photo/China Daily]
Premier called for connection between the "Made in China 2025 and German strategy of "Industry 4.0" when he met with German Chancellor Angela Merkel and President Joachim Gauck in the past two years.
During his meeting with Merkel in east China's Anhui province on Oct 30, 2015, Premier Li said the connection between the two strategies will be a win-win relationship because China has a huge market and integrated industry system, while Germany has advanced technology.
"Both countries can promote new industrial revolution and new business models together," he said.
On March 21, 2016, he said China is willing to introduce advanced technologies from Germany to improve China's cost-effective equipment, during his meeting with Gauck in Beijing.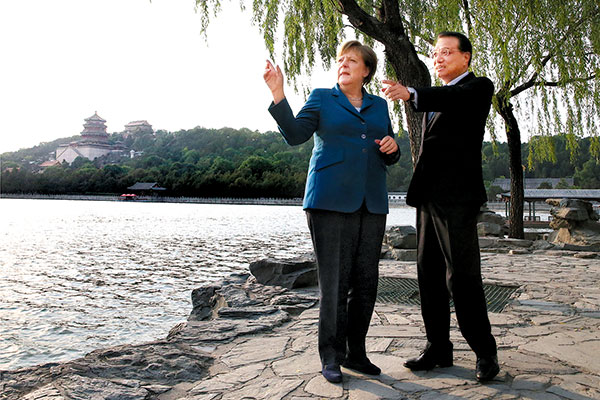 Premier Li Keqiang and German Chancellor Angela Merkel visit Kunming Lake at the Summer Palace in Beijing.[Photo/China Daily]
During Merkel's another visit to China in June 2016, she said Germany would like to speed up the docking of the two strategies through cooperation projects on various fields, including smart manufacturing, new energy automatic, information technology, aviation and third party market.
Details:>> Premier calls for further cooperation with Germany
Using internet to beef up manufacturing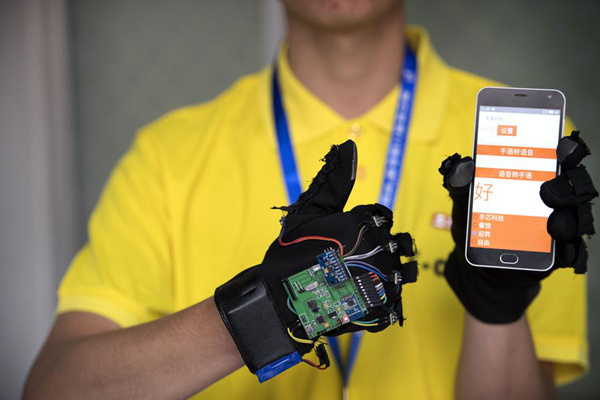 Premier urged integrating two national strategies — "Made in China 2025" and "internet Plus" — by promoting digitalized, networked and smart manufacturing, at the State Council executive meetings on Jan 27 and May 4, 2016.
"Internet industry is an important backup for the 'Made in China 2025' strategy," he said on May 4.
According to a guideline issued by the State Council on May 20, government will help enterprises create internet-based platforms for business with integrated techniques — including industry cloud and big data — as well as new models of production and business.
Manufacturing and internet enterprises are encouraged to create joint ventures of new models, and SMEs can integrate and utilize online and offline resources, and share techniques, facilities and services to optimize supply, said the circular.
Cooperation between the two industries is also encouraged on strategic investment, branding, online sales and logistics.
At the State Council executive meeting on May 4, the Premier cited the examples of Germany and the United States, saying that Germany's Industry 4.0 is mainly manufacturing plus the internet, while the US features internet plus manufacturing. Although the methods and paths are varied, both strategies can enhance their manufacturing industries, said the Premier, urging China to learn from both.
"The feature of internet is 'crowd wisdom', which can greatly save manpower and money. This is essential to develop modern industry," said the Premier.
He referred to examples he learned from his past visits — Chinese home appliance maker Haier enabled its employees to start businesses in the company; a nuclear reactor design of China National Nuclear Corp was worked out by pooling the efforts of thousands of people through the internet.
Details: >> 'Internet Plus' to beef up manufacturing
Integration of manufacturing and internet essential for modern industry
'Turning a plain woman into a fair lady'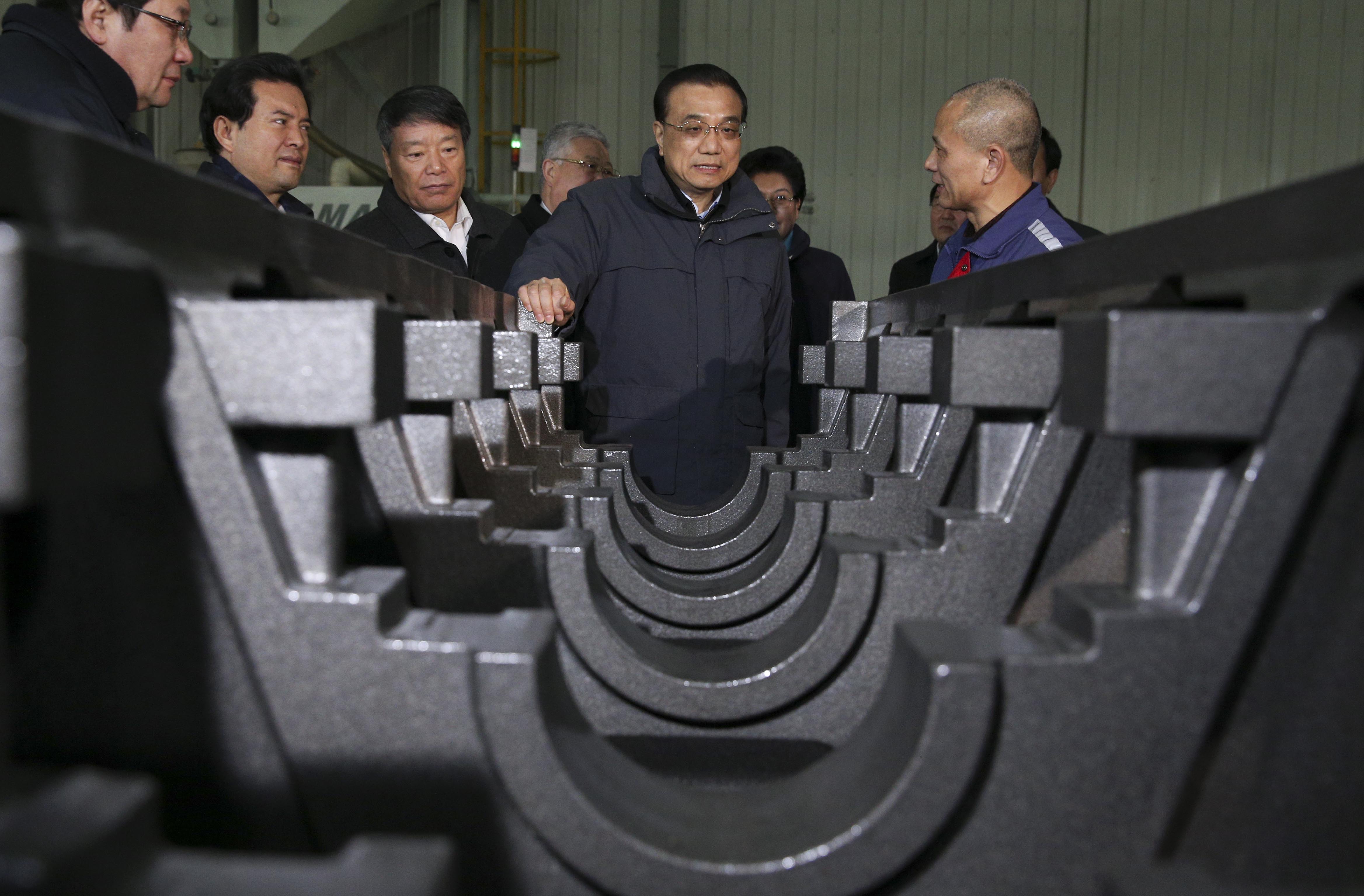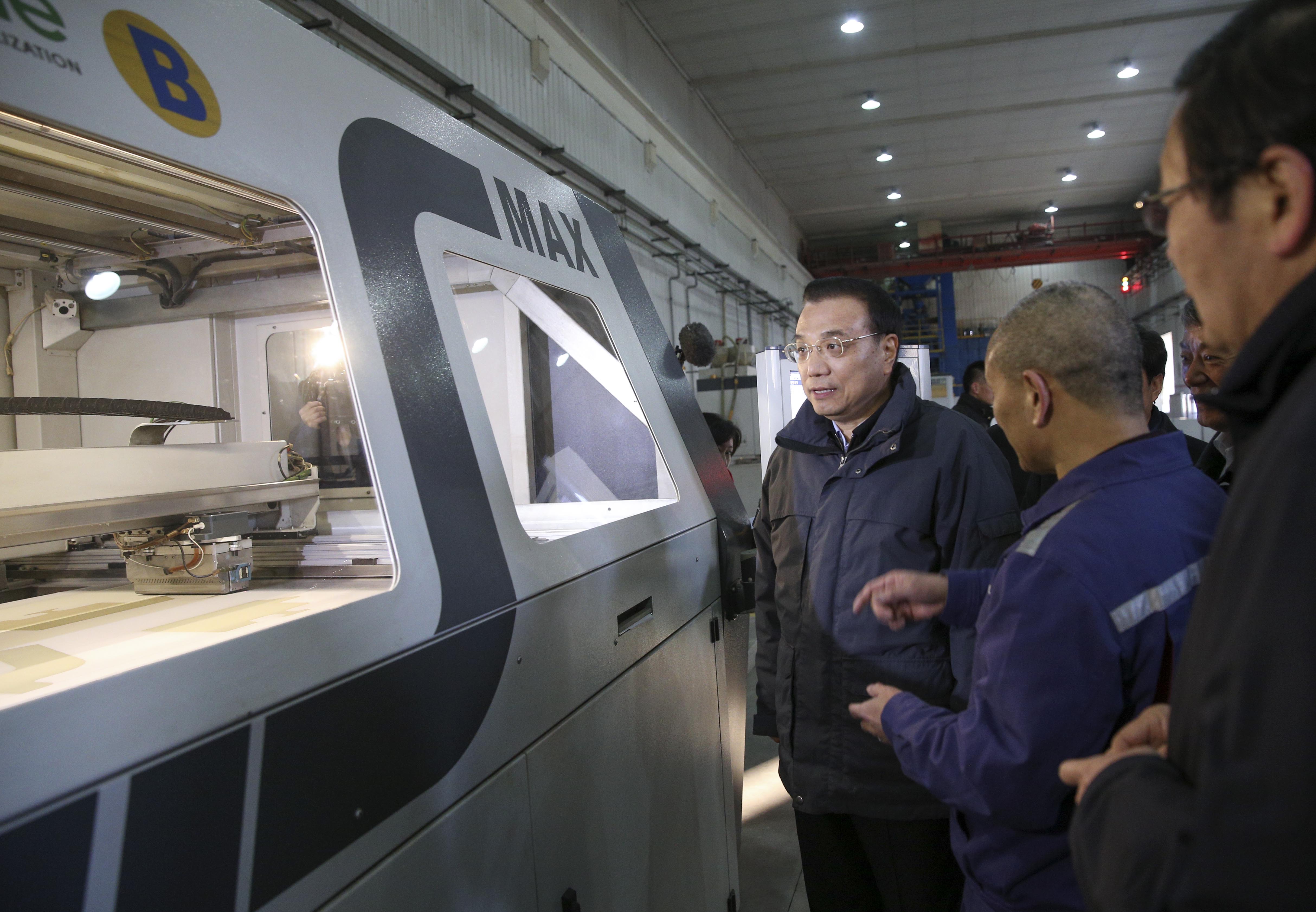 Premier Li Keqiang inspected Kocel Machinery Co Ltd in Yinchuan, capital of Ningxia Hui autonomous region, on Feb 2, 2016.
The company, founded in 1966, used to be a State-owned enterprise foundry. However, after reorganization, it made a revolutionary breakthrough in 3D-printing.
He called the transformation "turning a plain woman into a fair lady", adding that it represents the integration of "Made in China 2025" and the internet, and will lead the transformation of growth engines.
Details: >> Premier Li praises transformation of SOE
Higher standard for equipment makers
On April 6, Premier Li stressed at a State Council executive meeting that higher standards should be adopted to upgrade China's equipment manufacturing.
By 2020, at least 90 percent of its standards for key domestic equipment should be updated to be on par with international ones.
Breakthroughs will be made in such key sectors as robotics, advanced rail transportation equipment, agricultural machinery and high-performance medical equipment, according to a statement issued after the meeting.
Substandard products will be removed from the market to reinforce consumer confidence and enhance the competitive edge of domestic manufacturers.
"Standards and product quality are closely connected. We must have higher standards to make high-quality products. In addition, the purpose of promoting equipment manufacturing standards is to improve the quality of consumer goods and expand domestic and international markets," he said.
Government needs to transfer its emphasis from "setting threshold" to "offering services" and guiding more enterprises to adopt advanced standards, he stressed.
"We should adopt the mechanism of negative list as a new administrative method. Except for sensitive industries regarding individual safety or national security that require strict market access and supervision, the market should play a bigger role in developing other standards," he said.
Details:>> Key makers of equipment face higher standards
Boost consumer goods sector
Measures to establish a more advanced consumer goods sector will be implemented by increasing product variety and quality, and ensuring that more domestic brands achieve a global reputation, according to the State Council executive meeting presided over by Premier Li on May 11.
According to the new project, which will be carried out from 2016 to 2018, more higher-end consumer goods will be provided to customers based on their demands. Enterprises will be encouraged to spend more on R & D funding and take steps to enhance product design.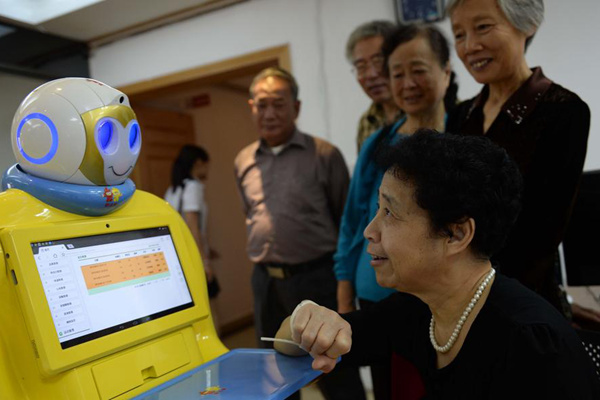 The project also encourages nurturing more products with a greater input of intelligence and expertise, and Chinese national features.
"The government should assist enterprises to lower production costs and improve product quality by streamlining administration. Meanwhile, the government should enforce effective supervision," the Premier said.
Nine types of consumer goods were underlined, including domestic appliances, watches, bicycles, foods as well as culture and sports sectors.
Quality will be emphasized over quantity, which meets the idea of "craftsmanship" in manufacturing that was raised by the Premier during the year's Government Work Report.
"We should encourage enterprises to use flexible and custom-tailored production processes and foster a spirit of craftsmanship of striving for the best, so that more quality products can be made," Premier Li said while delivering the year's Government Work Report in March 2016.
The project is expected to narrow the gap between China's current standards of consumer goods with global standards, and nurture a more well-rounded branding system.
As another step in line with the "Made in China 2025" strategy, the Premier hopes that China will not only become a country strong in equipment manufacturing, but also strong in consumer goods production.
Details:>> China set to boost consumer goods sector
SOEs urged to enhance product quality, cut excess capacity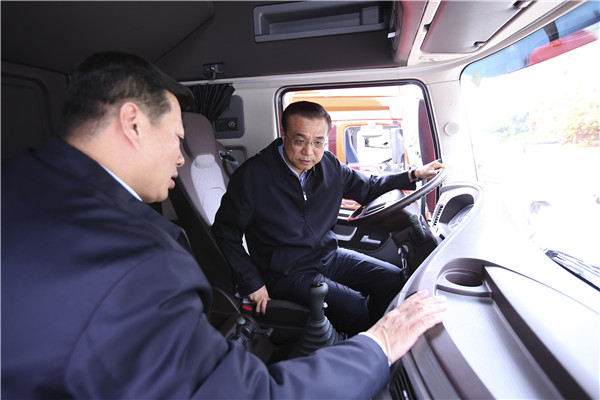 On May 23,2016, he urged State-owned enterprises to remove excess production capacity and enhance product quality during a visit to Central China's Hubei province.
"We need quality reform to upgrade Chinese manufacturing," said Premier Li Keqiang at a heavy truck plant of Dongfeng Commercial Vehicle Co.
"We are still learning advanced techniques from developed countries. We need to further improve production efficiency and craftwork," he said. He also urged the company to attach great importance to customer demands.
"Quality is the core," he added. "We've already had the price advantage compared to overseas products. We can have stronger competitiveness if we improve our quality."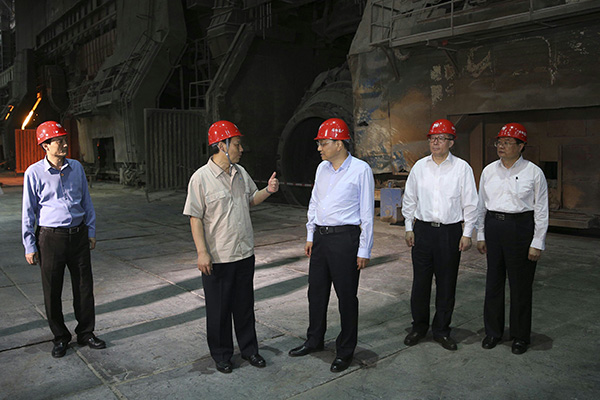 While visiting Wuhan Iron & Steel Group Co, he also urged reducing excess capacity and transferring redundant workers to other posts with financial and policy support from central and local governments.
SOEs in the coal, iron and steel sectors were due to cut 10 percent of production capacity in 2016, according to an executive meeting of the State Council presided over by Premier Li on May 18.
"When cutting excess capacity, redundant workers must be transferred to other jobs instead of being laid off," the Premier told the company.
Details: >> End excess capacity and boost quality, Premier tells SOEs
Upgrade manufacturing by using big data, cloud computing
On May 24, he called for enterprises to upgrade traditional manufacturing by using big data and cloud computing, while attending the China Big Data Industry Summit, in Guiyang, the provincial capital of Southwest China's Guizhou province.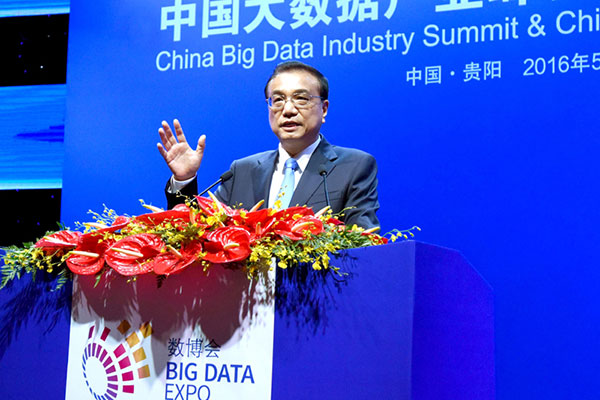 Premier Li Keqiang delivers a speech at the opening ceremony of the China Big Data Industry Summit & China E-commerce Innovation and Development Summit held in Guiyang, Southwest China's Guizhou province, May 25, 2016. [Photo/Xinhua]
"China is now integrating information technologies with production to increase the quality and quantity of goods and cultivate new momentum for a new economy," he said at the summit.
"To achieve that, there must be professionals who know both new and traditional economies. If we can incorporate new technologies, such as big data, into traditional manufacturing, our products will better meet the demands of consumers."
Michael Dell, chairman and CEO of Dell Inc, the global computer manufacturer, said, "The information and communication sector is the key enabler of economic growth in the US.
"Two-thirds of US productivity growth between 1995 and 2005 came from this sector, and since then it has contributed one-third of the growth."
"Big data and innovation play an important role in economic transformation," he added.
Details:>> Premier calls for enterprises to upgrade
Foreign companies also welcomed to join the strategy
The "Made in China 2025" initiative also applies to foreign-invested enterprises, and they are encouraged to pour more investment into high-end, intelligent and green manufacturing in China, according to a circular issued by the State Council on Jan 17, 2017.
The circular is aimed at boosting foreign investment, as part of an effort to build "a new open economic system" in China.