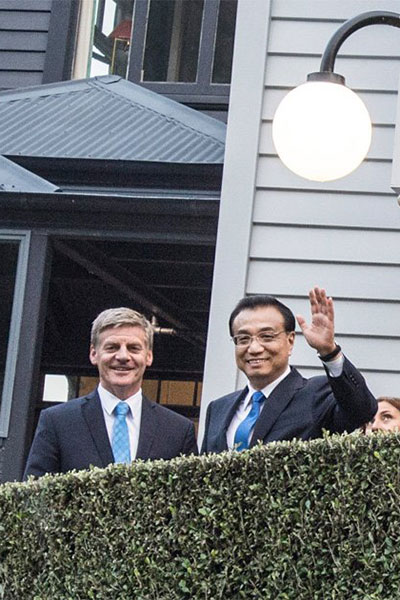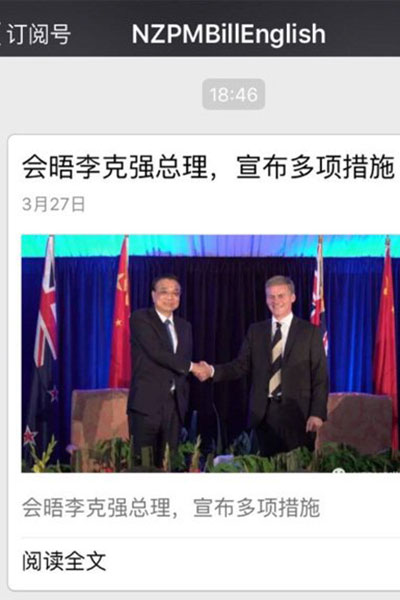 As Premier Li Keqiang started his official visit to New Zealand, Prime Minister Bill English opened a WeChat account and wrote his first post: "Welcome Premier Li Keqiang".
"I'm very glad to have welcomed Premier Li Keqiang in Wellington tonight. Premier Li is to start a four-day visit in New Zealand," wrote the New Zealand PM on the WeChat account "NZPMBillEnglish" on March 26.
He also mentioned that Premier Li had visited New Zealand in 2009. "He knows New Zealand well, and I look forward to discussing with him opportunities for our two countries and the region."
A group of photos were also posted along with the article showing English and his wife, Mary, greeting Premier Li and his wife, Cheng Hong, at the airport.
On March 20, New Zealand's official website of the Department of the Prime Minister and Cabinet published an article expressing their anticipation of the Premier's approaching visit.
On the site, English is quoted as saying, "The visit is an important opportunity to set the agenda for the next stage of our strong relationship and demonstrates our shared commitment to open trade and economic growth."
In 2009, Premier Li visited New Zealand as vice-premier at the invitation of English, then New Zealand's deputy prime minister.
"During Premier Li's visit, we will recall the meeting in 2009. I look forward to seeing him again in New Zealand," English said in an interview.
Upon Premier Li's arrival, Wellington, known as "windy city", experienced some rare sunny weather, and English wrote on Twitter, "Nice to see Premier Li and Madam Cheng brought the better weather with them to Wellington. Great to have them in the country."
On March 27, English wrote another article on his WeChat account, saying, "Today, Premier Li and I held formal talks in Wellington. After the talks, I am pleased to announce that New Zealand and China will launch negotiations on the upgrade of the FTA on April 25."
The two prime ministers also witnessed the signing of a cooperation agreement between China and New Zealand under the framework of the Belt and Road Initiative on March 27. It was the first agreement of its kind with a developed Western economy.