During Premier Li Keqiang's visit to New Zealand, a home appliance research center in Auckland was a noticeable stop.
On March 28, the Premier and his New Zealand counterpart, Bill English, visited the research center jointly started by Fisher & Paykel and Haier, two renowned home appliance manufacturers in NZ and China, respectively.
With the alliance of the two giants, the center has seen innovations in many core components, and plays a key role in producing cutting-edge home appliance.
Upgrading core components
At the exhibition zone of the center, an employee showed two refrigerator compressor components to Premier Li, saying that the new compressor they made could operate in a more stable way while consuming less energy.
"What is the new technology behind it?" the Premier asked.
"In the past, our compressors had to be switched on and off continuously during operation, which consumes a lot of power. But the new one can keep running, with higher efficiency and less energy consumption," he explained.
Fisher & Paykel is the largest employer of research staff in New Zealand, making the center the most innovative part of Haier Group.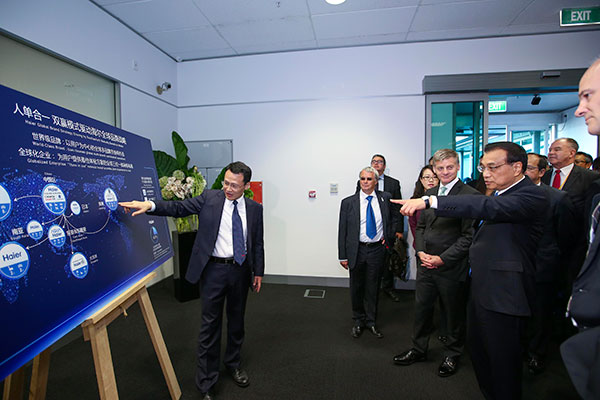 Chinese management in NZ
The Premier was also shown an automatic production line, the data of which was put online for observation by all stakeholders..
"Now, a technician in Auckland's research center is able to get real-time data of the production line in China," an employee said.
"Can workers in the production line give suggestions if they discover flaws?" the Premier asked.
"Yes. We have connected different parties. Technicians, managers, workers and clients are all entitled to raise their voices and make a change."
It is a new management idea in Haier Group. It enables employees to make their own decisions according to market changes, and strive for better wages based on the value they add for clients.
"It breaks the hierarchy in big companies, turning employee from a cog in the production line into a possible innovation starter," the Premier applauded.
In New Zealand, he witnessed the overseas application of a Chinese management idea.
Expanding third-party markets
"Thanks to technology innovations, it was ranked first in the Australian market," the employee said, referring to a washing machine.
Since the research center was started in August 2014, it has developed many home appliance products with leading technologies in the global market, he said.
"It means that China and New Zealand cannot only conduct bilateral cooperation, but also enter third-party markets, achieving multi-win cooperation," Premier Li said.
"I'm so proud of the cooperation between Fisher & Paykel and Haier. It has set an example for technology cooperation between our two countries," English said.