Premier Li Keqiang met Federica Mogherini, high representative of the European Union for Foreign Affairs and Security Policy, in Beijing on April 18.
Premier Li spoke highly of the development of China-EU relations, saying that the current international situation is complicated and changeable, and the trend of anti-globalization and protectionism is on the rise.
"China and the EU, as the world's two big powers, should follow the purposes and principles of the charter of the United Nations, sending positive signals in maintaining regional stability and world peace, coping with global challenges, improving the system of international governance, and promoting economic globalization and fair trade, to respond to the uncertainty of the international situation," the Premier said.
He also noted that China attaches great importance to developing relations with the EU, firmly supports European integration, and hopes the organization maintains unity, stability and prosperity.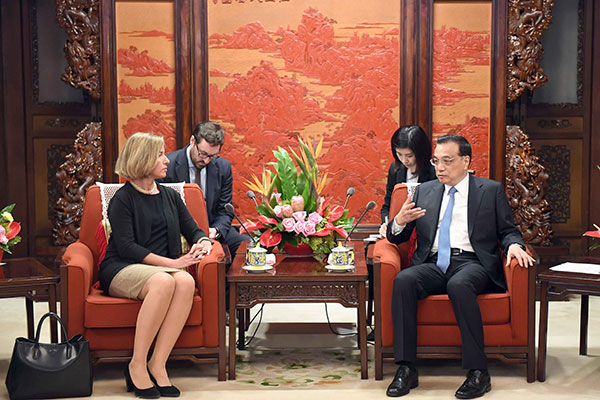 China values the EU's commitment in fulfilling its international obligations, and is willing to work with it with mutual respect and equal treatment to promote pragmatic cooperation in various sectors, including negotiations on the bilateral investment agreement and a feasibility study on bilateral free trade agreement.
"By settling differences through dialogue, bilateral relations will develop within the rule-based framework of international order, thus injecting vitality for the world economy," said the Premier.
Mogherini said that Europe and China bear responsibilities in maintaining international order, coping with global challenges such as terrorism and climate change, as well as promoting world peace and development.
The EU values the multilateral international system and fulfillment of its international obligations, and is willing to strengthen cooperation with China with a constructive attitude.
She said the EU will properly handle differences and facilitate negotiation on the bilateral investment agreement with China
She also expressed good wishes towards the 19th EU-China Summit to be held later this year.