In a visit to Central China's Henan province from May 8 to 9, Premier Li Keqiang asked local authorities to further streamline administration to improve the business environment, and encouraged enterprises to make technological breakthroughs to facilitate China's industrial upgrading.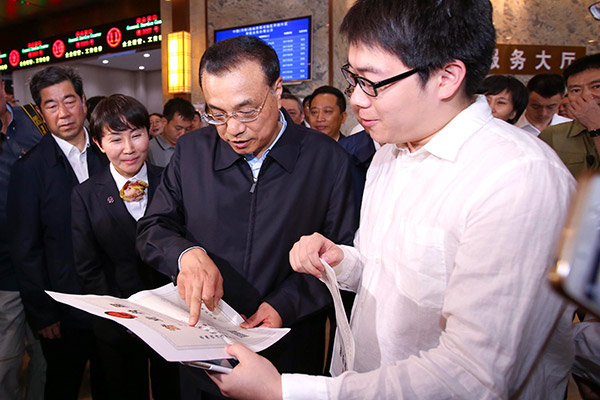 On May 8, Premier Li visited the Kaifeng area of China (Henan) Pilot Free Trade Zone, which is one of the first free trade zones set in the central region. The Premier praised local authorities' efforts in streamlining administration and improving the business environment, by integrating business certifications and licenses and setting up a unified online portal for business registration.
While talking with citizens in the comprehensive service hall, Premier Li learned that many of them came from developed coastal areas or abroad to invest or start businesses in the free trade zone.
As the market competition is becoming increasingly fierce, local government should further streamline administration, delegate power to lower levels, enhance regulations and optimize services to reduce institutional transaction costs, in order to attract more investors and stimulate the entrepreneurship and innovation enthusiasm of the whole society, said the Premier.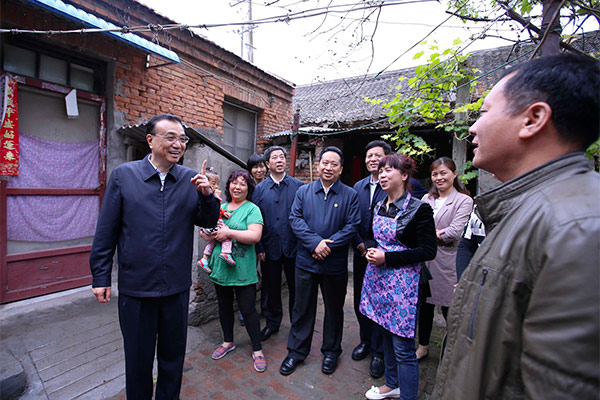 After he heard reports on the renovation work of shantytowns and old districts in Kaifeng, Premier Li paid a visit to residents in Daxing community, where houses are shabby, vulnerable to bad weather, and exposed to old wiring.
Premier Li stressed that shantytowns of this kind should be renovated as soon as possible. Renovation of old historical districts and shantytowns should be given equal weight. Efforts should be made to improve the living conditions of shantytown residents, while protecting historical relics, he said.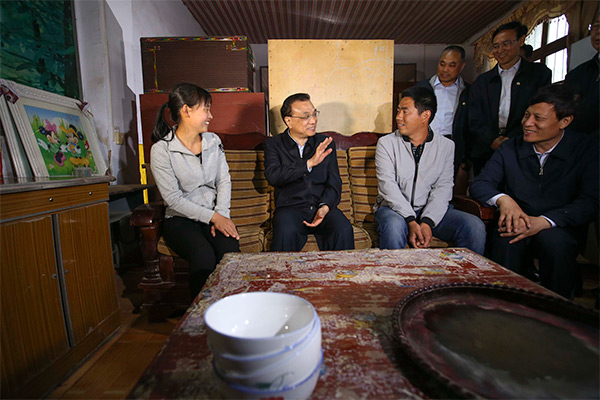 Beach areas along the lower reaches of the Yellow River are prone to floods, where 2 million people of Henan and Shandong provinces live. Premier Li visited villagers in the floodplain areas in Fengqiu county, Xinxiang city of Henan, and asked about their daily life and willingness to move.
Then he visited a community built as a relocation site, and expressed his delight at the improvements in people's lives after moving from the beach area.
The Premier stressed that living conditions in the floodplain areas should be improved. In past years, the government made great progress in resettling local residents, and will continue to push for the tasks to harness the Yellow River and lift the local people out of poverty.
People's willingness should be taken into consideration, and different measures should be adopted to fit local conditions, Premier Li said.
The central government will continue to offer financial support, the Premier said, encouraging development of diverse fundraising approaches and calling for an increase in support of poverty alleviation, infrastructure construction and industrial development.
Priorities should be given to a three-year relocation work of residents in dangerous low-lying beach areas, to ensure safety of the Yellow River basin, and development in the areas, the Premier said.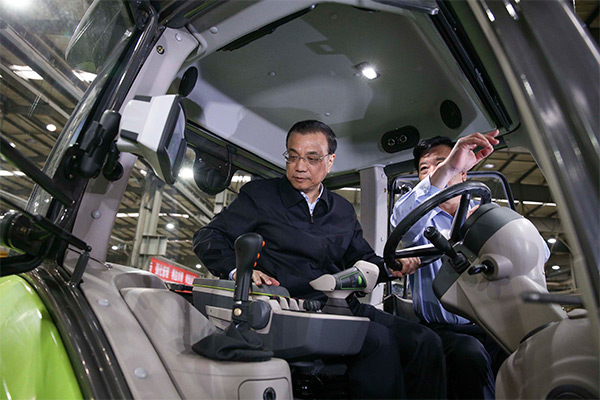 Premier Li showed great concern about manufacturing upgrades. He visited an industrial park of Zoomlion, a heavy industry science and technology company. The Premier praised a China-made, high-powered tractor, urging the company to seize the "Made in China 2025" opportunity, achieve core technological breakthrough and promote the industry toward medium-and high-end stages in the process of supply-side structural reform.
Informed that April-May data shows that the cloud platform of engineering machinery for the Internet of Things developed by Zoomlion surged over the first quarter, the Premier encouraged the company to enhance monitoring to provide a reference for macro-policy decisions.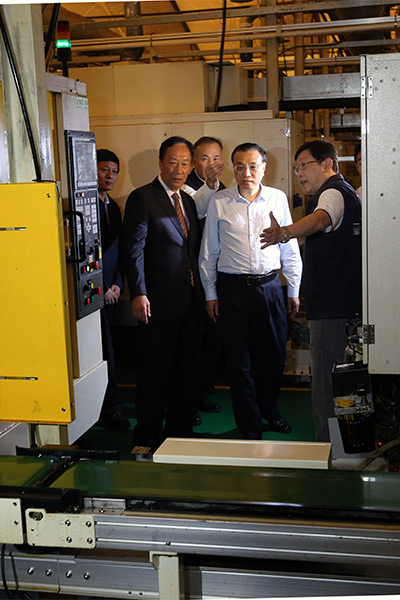 In the science park of Foxconn, Premier Li visited its intelligent production line, assembly workshop and communicated with the makers' team. A person in charge told the Premier that mass innovation and entrepreneurship inspired the wisdom of the employees, offering the younger generation more opportunities through hard work.
The Premier told Terry Gou, president of Foxconn, that China is still a popular destination for overseas investment, and hoped that investors could establish research centers here, and not just manufacturing bases, to grasp the opportunities of China's transformation and upgrades of industrial structure, promote employment and achieve win-win development.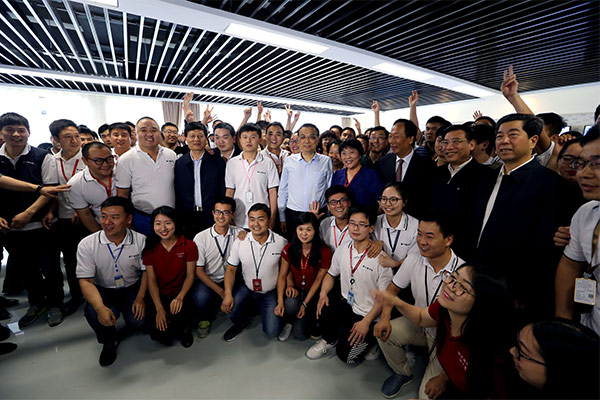 Premier Li affirmed Henan province's achievements in social and economic development. He hoped that the province will make greater progress in expanding reform and opening up, advance adjustment of economic structure and improve people's lives to play an important support role in promoting the rise of the central region.