Premier Li Keqiang on May 16 met with Serbian Prime Minister and President-elect Aleksandar Vucic, who was in Beijing for the Belt and Road Forum for International Cooperation.
Premier Li said Serbia is the first central-eastern European country to establish a comprehensive strategic partnership with China. President Xi Jinping's visit to Serbia last year has further boosted bilateral ties.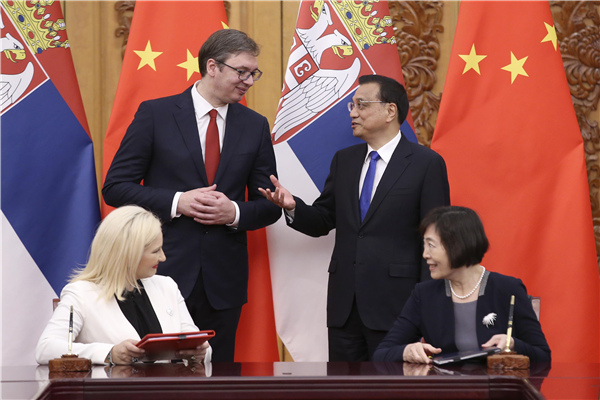 China, said the Premier, is willing to work with Serbia to coordinate each other's development strategies, and deepen mutual beneficial cooperation in all sectors, bringing more benefits to the people of both nations.
Premier Li said the Hungary-Serbia railway is a demonstration project between the two sides in production capacity cooperation, and both nations are willing to press ahead with the project to expand regional connections.
China is willing to increase bilateral trade, conduct agricultural processing cooperation, and increase people-to-people and tourism exchanges with Serbia.
Premier Li said China appreciates Serbia's active participation in the "16 + 1 cooperation", and stands ready to raise the mechanism to a higher level with Serbia and other central and eastern European nations for win-win or even multi-win results.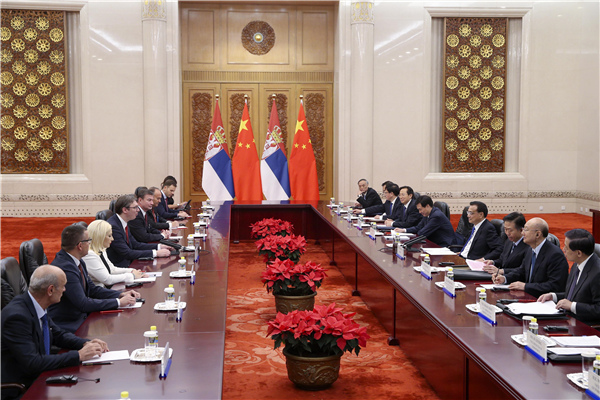 Vucic said Serbia is a reliable friend and partner to China. As bilateral cooperation continues, Serbia firmly believes that China's economic development can be beneficial to other nations.
Serbia is willing to further strengthen bilateral cooperation in production capacity, infrastructure, agriculture, and other sectors, and push forward the "16 + 1 cooperation".
After the meeting, the two leaders witnessed the signing of a series of agreements involving infrastructure, economy, trade, and investment.
State Councilor Yang Jing also attended the meeting.