Premier Li Keqiang met with US delegates attending the 9th round of dialogue between Chinese and US business leaders and former senior officials in Beijing on June 20.
Premier Li exchanged views with them on several issues, including China-US relations, cooperation in key areas and the business environment.
Premier Li said that as the world's biggest developing country and developed country, China and the US are highly complementary in economy, have kept close exchanges in all areas, and enjoyed far more common interests than differences.
Important consensus on developing bilateral ties was reached during a recent meeting between President Xi Jinping and US President Donald Trump.
Premier Li said he believes that as long as the two countries exert themselves to enhance cooperation by treating each other equally with mutual respect, and settle differences with dialogue and negotiation, the bilateral ties will maintain sound development, and benefit both countries and the world at large.
Economic and trade cooperation is the cornerstone of China-US relations, the Premier said.
He said China supports free and fair trade and encourages the two-way opening-up of the market and equal competition. The country will gradually expand market access, continue to optimize the business environment, enhance China's economic competitiveness, and provide more choices for consumers.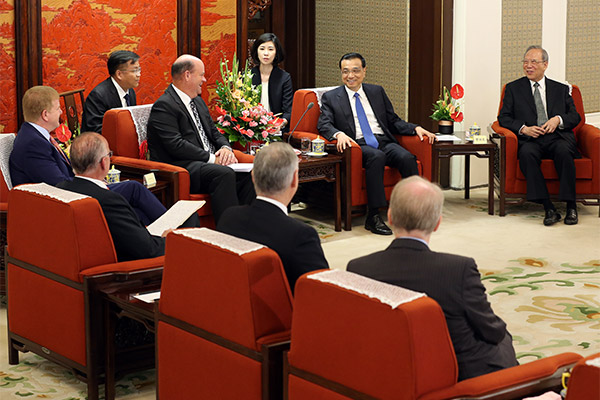 China welcomes overseas enterprises to continue their investment and business in China, and grasp the opportunities amid the rapid development of China's service sector and upgrading of manufacturing, to promote balanced and win-win development of bilateral trade cooperation, the Premier added.
He expressed hopes that Chinese and US business circles will strengthen communications, send a positive signal for bilateral trade cooperation and offer good expectations to the market.
The US delegates said it is of significance for both sides and the world that China-US ties develop steadily and smoothly.
They said US enterprises are optimistic about the prospect of the Chinese market and cooperation with the country. They will pay close attention to China's reform and development agenda and measures to enhance opening up, and hope to make efforts to enhance mutual understanding and overcome differences, promote equally two-way opening, and create more jobs and opportunities for growth.
The US attendees include leaders of prominent multinational companies, such as ConocoPhillips, Western Digital, Applied Materials, Varian Medical Systems, Qualcomm, Federal Express, MasterCard, Cisco Systems, Exxon Mobil, former US Commerce Secretary Carlos Gutierrez, former US Trade Representative Charlene Barshefsky, and delegates from the US Chamber of Commerce and other institutions.