"The economic and financial relationship between the US and China is an integral part of the global economy and the two countries are currently experiencing a critical period. Under such circumstances, China and the US should reduce political barriers in order to promote business cooperation," said Ryan M. Lance, chairman and chief executive officer of ConocoPhillips during the 9th round of dialogue between Chinese and US business leaders and former senior officials.
Premier Li responded that increasing business communication will further advance our mutual political trust.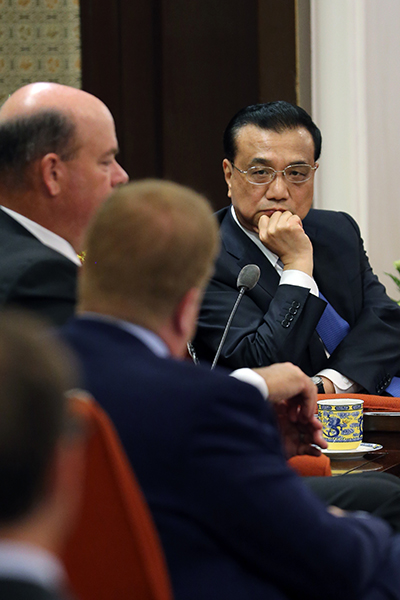 "Although with occasional friction and differences, the scale of bilateral cooperation in the economic and financial fields has largely increased between China and the US," the Premier said.
He added that the two countries can minimize the differences and set off positive signals for bilateral cooperation in the economic and financial fields. And both countries should attach great importance to the two factors — expectation and confidence — under the market economy.
Premier Li agreed with some US entrepreneurs that China-US relations are now at a "crucial stage".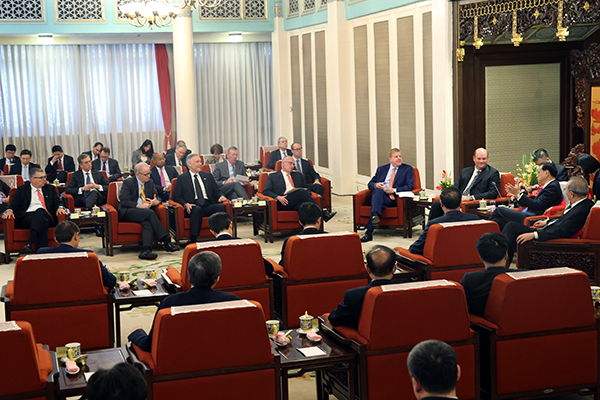 "However, I believe that the bilateral relations will keep moving forward despite twists and turns. And I am always optimistic about this," the Premier said.
Premier Li noted that the total economy of China and the US accounts for 40 percent of the world's economy. Free trade and fair trade have played important roles in preventing conflicts and maintaining global peace and stability. "Economic and trade cooperation has always been an important cornerstone for China-US relations," Premier Li said.
The two countries' economies are highly complementary, exchanges in all sectors are close, and common interests far outweigh differences, Premier Li responded when some American entrepreneurs' expressed doubts about Sino-American trade.
Compared with the exports in the period before China's entry to the WTO, the growth of United States' exports to China surpassed 500 percent, while its global exports only grew more than 90 percent, which indicates how huge China's market is, Premier Li said.
Most of China's imports from the United States are high-tech and high value products. In addition, product brand and sales channels are in the hands of US companies, which means most of the profits go to US companies, while Chinese companies and workers can only earn a small portion of it, according to the Premier.
The Premier confirmed China's trade surplus to the United States but said the surplus is decreasing.
But in the service and trade sector, China has a complete deficit with the United States and all developed countries, he added.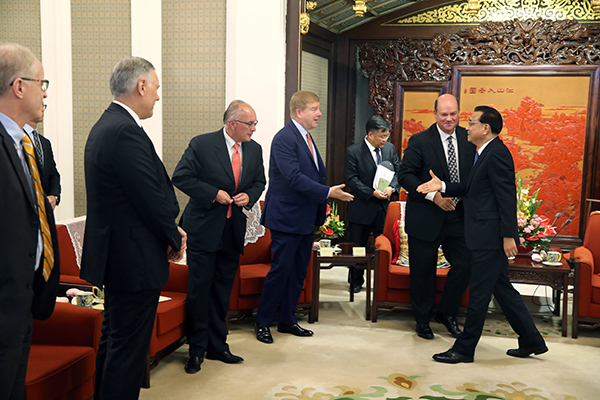 Even so, China is still willing to gradually open up its service industry, make Chinese service companies grow with competition, and provide consumers with more choices, the Premier said.
"We hope that the US side will not focus on the trade deficit between China and the United States, which will affect our expansion in service marketing," he said.
He further pointed out, "China's service industry is developing very rapidly, which is an inevitable trend of China's economic transformation. We will further lower the threshold of foreign capital entry and expand opening-up. We welcome all overseas enterprises, including those from the US, to continue to invest in China and promote bilateral economic and trade cooperation, achieving mutual benefits and a win-win result."