The State Council held its swearing-in ceremony to uphold the Constitution, where Premier Li Keqiang administered the oath in Beijing on July 3.
Sixty-two new heads of the 39 State Council departments and affiliated agencies, appointed between September 2016 and May 2017, swore to uphold the Constitution, as required by two documents that require officials to take an oath to the Constitution.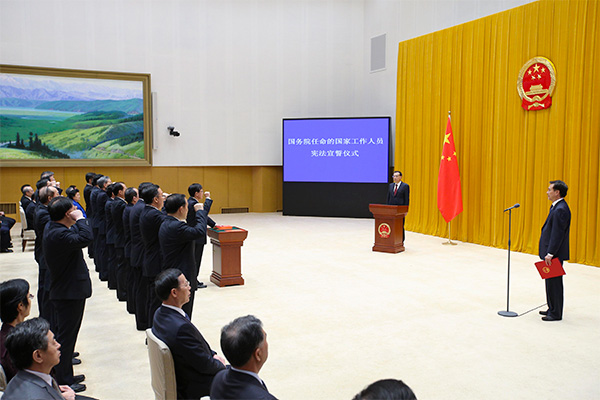 Facing the national flag, everyone attending the solemn ceremony stood up and sang the national anthem. The leader of the oath ceremony placed his left hand upon the Constitution, raised his right fist, and took the oath. Then others lined up, raised their right fists and repeated the oath.
Premier Li then urged everyone to fulfill the pledge to be committed, perform their duties according to the Constitution, serve the people, pledge to be diligent, honest and upright to live up to the expectations of the Party and Chinese people.
Also attending the ceremony were Vice-Premiers Zhang Gaoli, Liu Yandong, Wang Yang and Ma Kai, State Councilors Chang Wanquan and Wang Yong, and as senior officials from other departments under the State Council.