Doing Business 2017, a report released by the World Bank Group, saw China's ranking increased 18 places in the past three years, and especially in terms of convenience for enterprises, the country's ranking climbed 31 places, a good illustration of the continuous efforts made by the central government in building a stable, fair business environment and an open economy.
In the past four years, 618 approval items were cut or delegated to lower levels by the State Council, and 283 items designated by the central government to local levels were cut.
Nearly 90 percent of approvals concerning investment projects at the central government level were canceled, and 87 percent of the pre-approvals in industrial and commercial registration were cut or changed to post-approvals. In addition, hundreds of reform measures have been released to improve the business environment in China.
Premier Li Keqiang said that building an international, legally-based business environment and expanding foreign investment have been significant to China's structural reform and its economic growth at medium to high speed.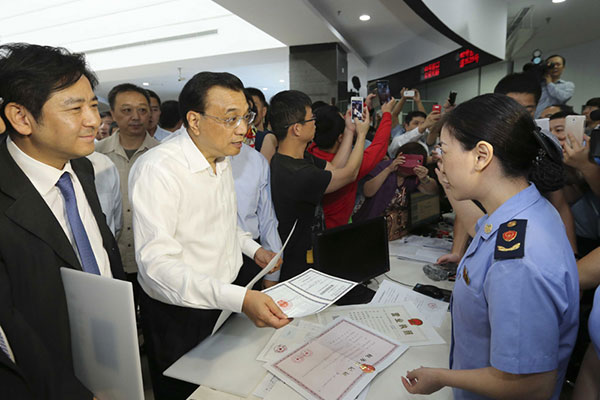 Focusing on supply-side structural reform, China should take the integration of different business certificates into one as the central work in promoting business system reform. Meanwhile, institutional transaction costs for enterprises should be further reduced to create an international, legally-based and convenient business environment.
— In an instruction to a teleconference regarding advancing the reform of business certificate integration, May 26, 2017
The problem for private enterprises is that entrepreneurs do not know how to invest their money due to a lack of smooth channels. So the government should relax market access for private investment.
— At a State Council executive meeting on May 4, 2016
China's door is going to keep on opening wider, and China will keep working to be the most attractive destination for foreign investment.
— Delivering the Government Work Report on March 5, 2017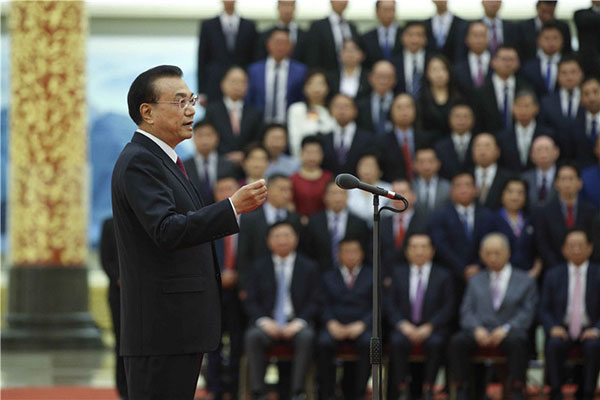 Now, many countries are releasing policies for improving their business environment. Against the global trend, we should further deepen the reform on administrative approvals, and improve the business environment in China.
— At a State Council executive meeting on April 26, 2017
The government will continue to enhance opening-up and optimize the business environment. China is a huge market and has abundant human resources, which makes it the best destination for investment in the manufacturing industries.
— During an inspection to Foxconn in Zhengzhou, Henan province, May 9, 2017
Create a better environment in terms of not only facilities but also policies, so that mass entrepreneurship and innovation can be promoted to a higher level.
— At a State Council executive meeting on June 7, 2017
Lower the threshold for market access, streamline business procedures, and implement policies to cut taxes and fees, so that enterprises can grow with fewer burdens, while China can still be a hot land for investment.
— At a State Council executive meeting on June 7, 2017
We will build a more convenient business environment to attract foreign investment. China, as a hot land for investment and a huge market for commodities, will stand out with more advantages and attractions.
— During a meeting of the Second Global Overseas Chinese Industry and Commerce Convention on June 12, 2017
Business environment is productivity. Local governments should strive to create a favorable environment while seeking projects and introducing preferential policies.
— At a teleconference on streamlining administration on June 13, 2017
As China's reform requires the participation of foreign capital, foreign businessmen and foreign intelligence, foreign enterprises are welcomed to participate in the mergers and reorganization of Chinese enterprises. China will provide foreign investors with easier access to China's service sector, implement the negative list management system, and treat Chinese and foreign companies on an equal basis in accordance with WTO rules.
— Meeting with entrepreneurs attending Summer Davos in Dalian on June 28, 2017
More regulations and rules should be introduced to further stimulate market vitality and create a fair and legal environment. Both domestic and foreign enterprises should be treated equally to promote the healthy development of private investment and attract more foreign investment.
— At a State Council executive meeting on July 5, 2017