Premier Li Keqiang met with 40 foreign ambassadors to China at the Great Hall of the People in Beijing on Sept 30, ahead of the 68th anniversary of the founding of the People's Republic of China.
Premier Li welcomed and talked with the ambassadors, who all assumed office in China in the past year. He hailed the new achievements that China and their countries have made in bilateral relationship and cooperation, and asked them to convey his sincere greetings and best wishes to their state leaders and their nations.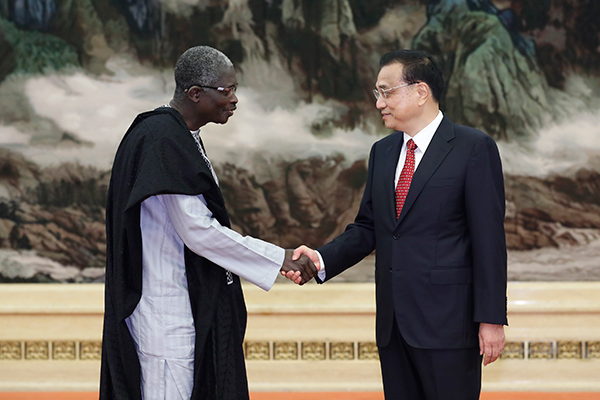 The Premier stressed that China cherishes friendship and cooperation with related countries, and adheres to following the road of peaceful development. China is willing to create a community of a shared future for mankind with countries around the world on the basis of mutual respect, equal treatment and win-win cooperation, he added.
Adhering to the principle of multilateralism and trade and investment liberalization and facilitation, China will strive to expand common interests and overcome challenges and difficulties with all countries, to push ahead lasting peace, common prosperity and sustainable development in regional areas and in the world, the Premier said.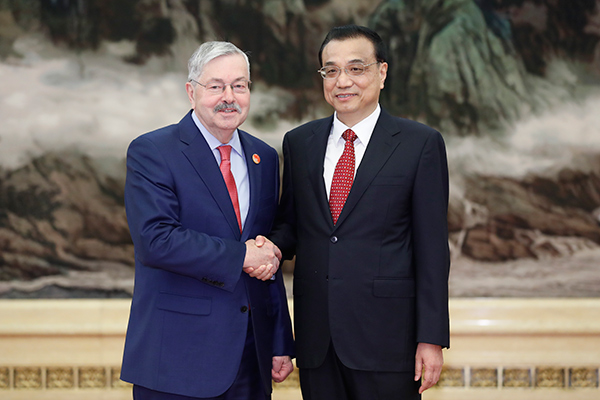 Since China's opening-up and reform started almost 40 years ago, China has achieved remarkable results in its social and economic development, which not only benefited the Chinese people, but also made contributions to global peace and development, the Premier said.
He said China is glad to better link its Belt and Road Initiative with development strategies of other countries to create and share the development opportunities together.
He expressed hopes that the ambassadors could do more to deepen the friendship and cooperation between China and their own countries, consolidate the mutual political trust, deepen pragmatic cooperation and close the people-to-people belt, adding that the Chinese government is willing to provide support and help for their work in China.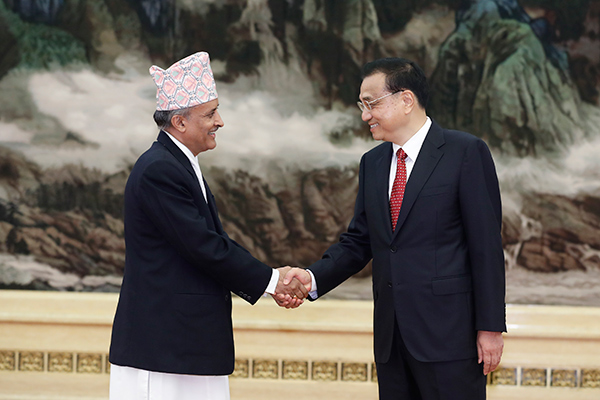 Those ambassadors conveyed greetings from their own governments and people to China's National Day. They said China's development is remarkable, and it plays an important role in safeguarding regional and international stability and promoting prosperity.
All their countries regard the relationship with China as the priority in diplomatic policies, and as ambassadors to China, they said hey could deeply feel the responsibilities. They are glad to make efforts to boost bilateral relations and improve people's well-being in their countries and China, those ambassadors said.
After the meeting, the ambassadors attended the reception marking the 68th anniversary of the founding of the People's Republic of China at the invitation of Premier Li.