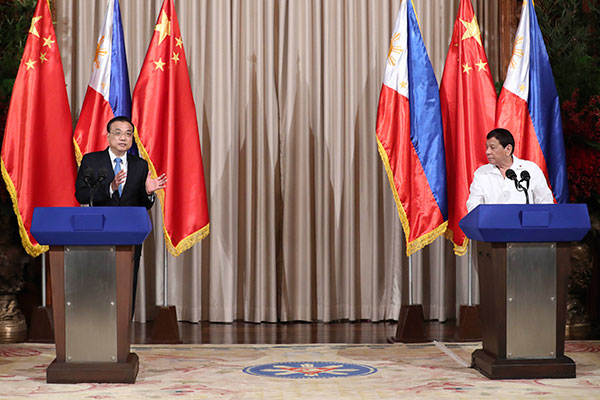 MANILA — China and the Philippines on Nov 15 signed 14 cooperation deals as leaders of the two countries pledged to strengthen "positive momentum" in bilateral relations.
After meeting with Philippine President Rodrigo Duterte, Premier Li Keqiang told the press in Manila that the Chinese-Philippine relations have improved and both sides hope to "work together to make up for the time that we might have lost".
Premier Li is the first Chinese premier to pay an official visit to the Philippines in a decade. He came to the Philippines at a time the bilateral ties are warming up, a development that has continued since Duterte came to office last year.
He said Duterte's visit to China in October last year was an "ice-breaker" and he has come this time to carry forward the traditional friendship.
The two leaders witnessed the signing of the 14 cooperation agreements on infrastructure financing, bridge construction, bond issuance, drug rehabilitation, climate change, intellectual property protection, industrial capacity cooperation.
The leaders also announced the start of work for two river bridges in Manila and two drug rehabilitation centers in Mindanao.
Looking forward, Premier Li said China commends the Philippines' Ambisyon Natin 2040 development strategy and is happy to be involved in the Philippines' large-scale infrastructure programs.
Cooperation strategies, spanning five to 10 years, in areas like infrastructure can be discussed and formulated to send out a message that the China-Philippines relations will continue to go forward, he said.
Premier Li pledged 150 million yuan ($22.7 million) in grants from the Chinese government to assist the reconstruction of war-torn Marawi in the southern Philippines.
The Philippine government in October declared victory over Islamic State (IS)-linked extremists in Marawi, ending nearly five months of fierce fighting that left many parts of the city destroyed.
The Premier said he believed that with Duterte's leadership the rebuilding of Marawi will be completed at a very early day and local people will enjoy an even better life.
For his part, Duterte thanked China for aiding the Philippines in its takeover and rebuilding of Marawi and the assistance given to boost the Philippines' "Build, Build, Build" infrastructure development initiative.
"I am pleased to note the positive turnaround and vigorous momentum of Philippines-China relations," Duterte said. "Practical cooperation in many areas is bringing in an early harvest of tangible benefits."
He said the joint efforts to improve ties have secured peace, stability, and development in the region.