Premier Li Keqiang met with the Chinese team of the 44th World Skills Competition in Beijing on Nov 21.
Premier Li hailed them for their outstanding achievements obtained in the competition. "The new generation of teenagers shoulder the irreplaceable mission in promoting manufacturing and services in China to a medium and high end," he said.
Premier Li encouraged them to work hard to become excellent craftsmen in China, perform their daily work with what they have learned in the competition, and improve the vocational skills in various fields to higher level.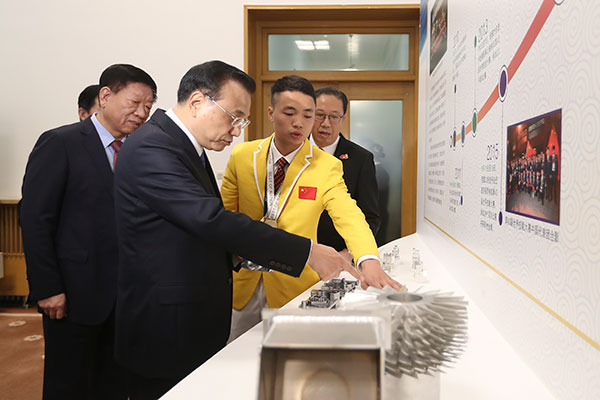 [Photo/China News Service]
He called for efforts to promote the innovation-driven development strategy, the entrepreneurship and innovation initiatives, and the craftsman spirit in the country, which provide strong momentum to China's economy.
There is plenty of room for skilled talents, and they are able to develop their ability to the full, in the course of driving forward a modern and prosperous China, said the Premier.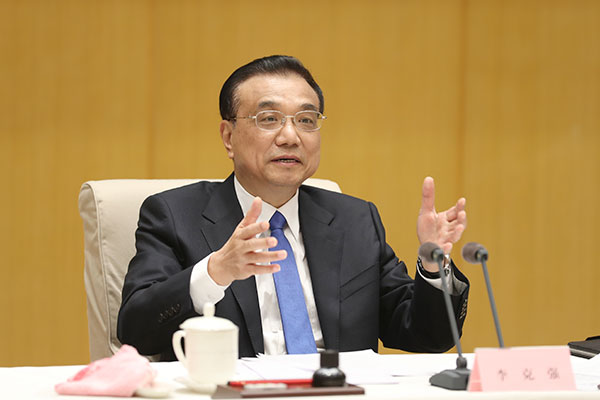 [Photo/China News Service]
The representative from the Ministry of Human Resources and Social Security briefed the Premier on the competition, and medal winners delivered speeches.
Premier Li said the upgraded skills of workers are the premise for the Chinese economy to move to the medium and high end. He hoped technical talents can work on their skills and contribute more with their wisdom.
"Craftsmanship is the soul of quality. Bearing such spirit in mind, Chinese brands will become world brands one day," Premier Li said.
He added that craftsmanship lies in every process and product, which will support the entrepreneurship and the nation's ambition to become a strong manufacturing giant.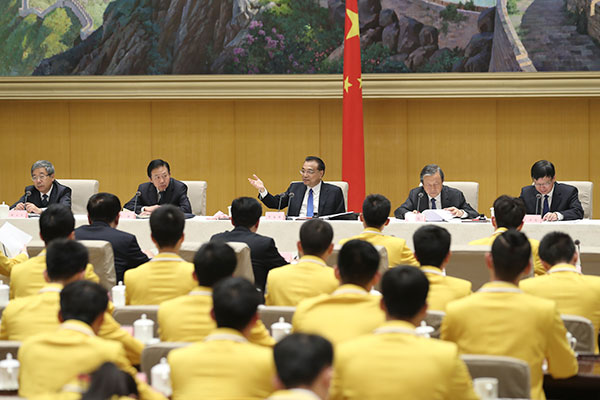 [Photo/China News Service]
With the number of skilled workers reaching 165 million, the quality, scale and structure of such talents still cannot support the economy and society to develop to a higher level.
Premier Li said China should deepen reform and increase input to build a skilled labor force.
He emphasized that more work should be done to expand development paths and increase incomes of skilled workers, bringing more sense of gain to the group.
At the World Skills Competition held in October in Abu Dhabi, United Arab Emirates, 52 Chinese players won 15 gold medals, 7 silvers, 8 bronzes, and 12 excellence awards. The competition in 2021 will be held in Shanghai.
Vice-Premier Ma Kai also attended the event.