SOCHI, Russia — Premier Li Keqiang proposed on Dec 1 to increase the level of trade liberalization and facilitation among the Shanghai Cooperation Organization (SCO) member countries.
He made the proposal when attending the 16th meeting of the Council of the SCO Heads of Government (Prime Ministers) in the Russian city of Sochi.
China "proposes to accelerate consultations to sign a SCO agreement on trade facilitation, conduct a feasibility study of the SCO Free Trade Area in due course, and gradually establish institutional arrangements for regional economic cooperation," Premier Li said.
China proposes to steadily push forward trade liberalization and facilitation from easy to difficult issues, in line with the "step by step" principle, he said.
Premier Li encouraged SCO members to innovate trade modes, and called on them to support cross-border e-commerce development and set up an e-commerce business alliance as soon as possible to benefit from the digital economy.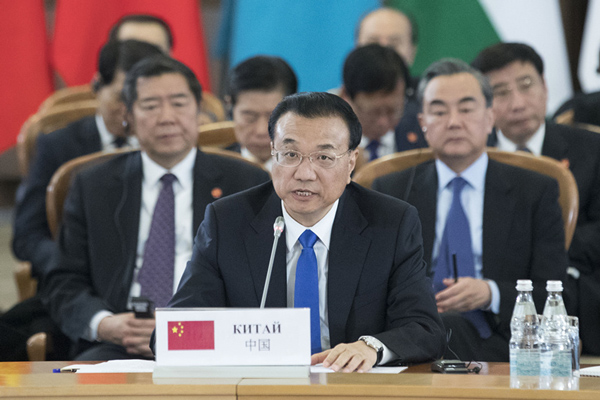 The Premier also urged SCO members to strengthen service trade among themselves and hold consultations on the signing of a framework document for SCO members' trade service cooperation.
Premier Li said that China will host a SCO business forum next year to cement entrepreneurs' contacts. And the first China International Import Expo will be convened in Shanghai next year, a major move by China to support trade liberalization and show its intention to further open up its market to the world. "We hope that all parties will actively support and participate in this expo," he said.
He called on SCO members to seize the opportunity brought by a better world economy and recovering global trade, while working to cut tariff and non-tariff barriers, build a regional market and release the potential for intra-regional trade.
The SCO meeting is the first of its kind after the organization's membership expansion in June to include India and Pakistan.
Other members of the group are China, Kazakhstan, Kyrgyzstan, Russia, Tajikistan, and Uzbekistan.