Premier Li Keqiang held the second annual dialogue with Canadian Prime Minister Justin Trudeau on Dec 4 in Beijing.
The Premier spoke highly of the development of bilateral ties over the past year and appreciated the positive impact of the annual dialogue of the two government leaders and the annual meeting of foreign ministers, as well as the high-level talks on economic strategy, national security and the rule of law.
Both sides agreed to issue the joint statement on climate change and clean growth, and establish ministerial dialogues concerning those issues, the Premier said.
Premier Li said, as economic globalization develops, China and Canada should ride the tide, maintain mutual respect and equal treatment, and expand win-win cooperation and mutual benefits. China is ready to promote communication and cooperation with Canada and properly handle differences, so as to breed more results under the framework of the Sino-Canadian strategic partnership.
"Our economies are highly complementary, making us natural partners in pragmatic cooperation, which will lead to win-win results," Premier Li said.
The Premier said China is willing to expand bilateral trade and investment through making full play of each other's comparative advantages and exploring third-party markets with joint efforts.
"The two countries also should tap their cooperation potential in fields such as clean technology, aerospace, civilian-use nuclear energy and agricultural technology," Premier Li said.
He also hoped both sides will strengthen people-to-people exchanges through the celebration of the China-Canada Tourism Year, and enhance communication and coordination on international and regional affairs, such as climate change.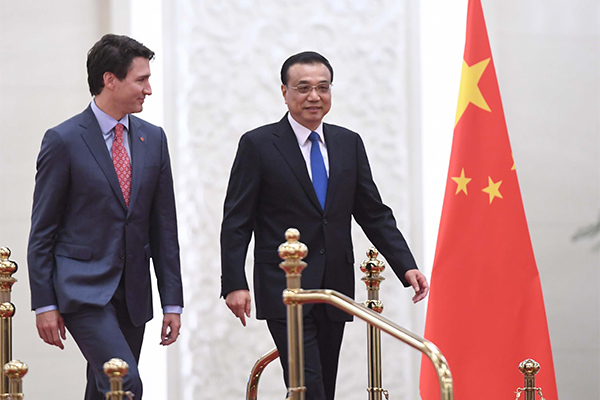 Premier Li stressed that China and Canada, as major trading partners in the world and important players in the Asia-Pacific region, share common interests in facilitating liberation in trade and investment.
"With deepened opening-up and an optimized business environment, China, as a desired destination for international investment, is willing to further explore development opportunities and share achievements with the world, including Canada, " the Premier said.
Trudeau said China has achieved admirable achievements on economic development and is playing an important role in international affairs.
There are huge potentials for exchange and cooperation between the two countries, the prime minister said. Canada is willing to maintain high-level exchanges with China, enhance economic and trade cooperation, expand nongovernmental exchanges and continue the friendship between the two sides to achieve mutual benefits and win-win results.
Canada supports free trade and has actively participated in the process of globalization. Canada is willing to work closely with China to promote globalization and free trade and contribute to global sustainable development, said Trudeau.
The two sides also exchanged ideas on common international and regional issues.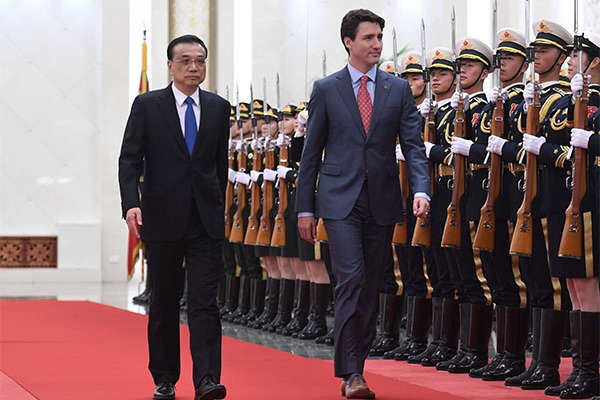 Before the meeting, Premier Li held a welcome ceremony for Trudeau at the Great Hall of the People.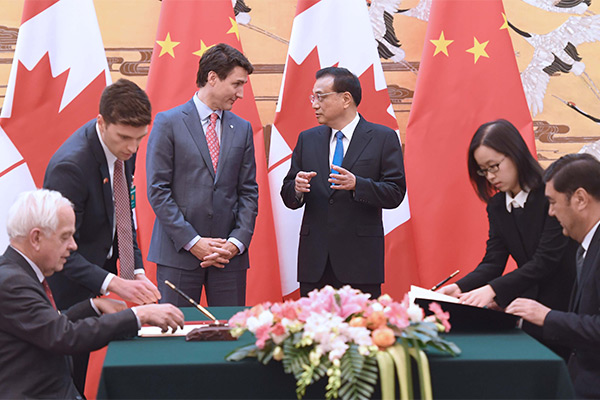 After the meeting, Premier Li and Trudeau witnessed the signing of bilateral cooperation agreements, in several fields, such as education, food safety and energy.