Premier Li Keqiang met with visiting Singaporean Prime Minister Lee Hsien Loong in Beijing on April 8.
Premier Li said that current China-Singapore relations have seen a steady development, with the depth and expansion of bilateral cooperation in various fields continuing to improve. China is willing to further consolidate political mutual trust with Singapore, and enhance coordination in international and regional affairs to promote bilateral relations and practical cooperation to a step forward, the Premier said.
Premier Li said that the two countries should fully use their complementary advantages, and explore more cooperation potential to guide bilateral practical cooperation to a higher level and better quality.
China is willing to align the Belt and Road Initiative with Singapore's development strategies, consolidate the current cooperation mechanism, and deepen cooperation in key projects and fields, such as infrastructure, interconnectivity and finance, Premier Li said.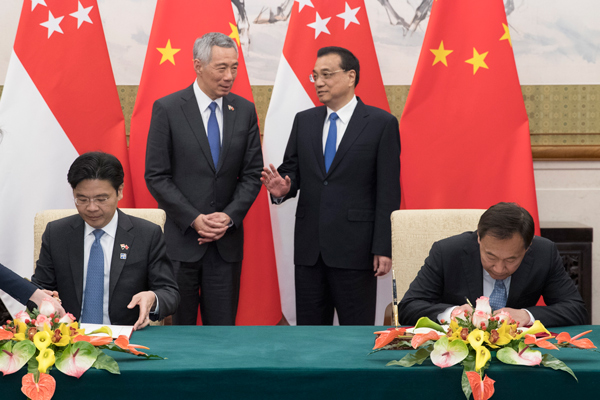 China also is willing to expand cooperation on third-party markets with Singapore, promote cooperation on defense and law enforcement security, and expand exchanges in fields such like education, media and think-tanks, the Premier noted. People-to-people exchanges will be more convenient, bringing more practical benefits to the people of the two countries, he added.
Premier Li stressed that this year marks the 40th anniversary of China's reform and opening-up. It also is the beginning of the second 50 years of the Association of Southeast Asian Nations (ASEAN), and the 15th anniversary of China-ASEAN strategic partnership.
In the future, China will continue to deepen reform, expand opening-up, safeguard the global free trade system with WTO rules as the base, and promote trade and investment liberalization and facilitation, Premier Li said.
China's development also will benefit neighboring countries, Premier Li said. China will construct a community of shared destiny and interests with ASEAN countries, including Singapore, he said.
The Premier expressed the hope that Singapore — holding the rotating presidency of ASEAN, and the coordinator of China-ASEAN relations — will continue to play a constructive role in promoting China-ASEAN relations.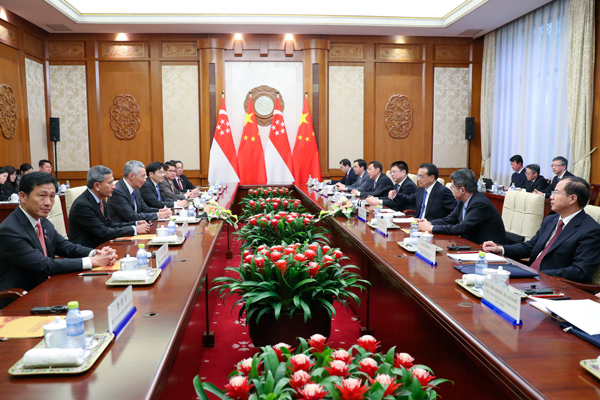 The two countries should work together to oppose any kind of protectionism, promote regional cooperation, and contribute to regional peace and prosperity, the Premier said.
Lee Hsien Loong said that Singapore and China have developed friendly relations and kept in close contact. Bilateral trade and economic cooperation have produced fruitful achievements and people-to-people exchanges are more frequent. Singapore is willing to cooperate with China under the framework of the Belt and Road Initiative, promote interconnectivity, third-party market cooperation and regional development. As the rotating chair of ASEAN, Singapore will play its constructive role and boost Sino-Singapore ties and ASEAN-China relations to new levels.
Noting that trade is the foundation of Singapore, Lee said that the country will continue to support the multilateral trade system and rule-based international order.
The two sides also exchanged views on other international and regional issues of shared interests.
After the meeting, Premier Li and Lee Hsien Loong witnessed the signing of bilateral cooperation documents in the fields of third-party market cooperation, and people-to-people and cultural exchanges.